| | |
| --- | --- |
| | WHOVIANGIRL23's Recent Blog Entries |



Tuesday, November 19, 2013
Happy middle of November lovelies! Can you believe we are already over halfway through November? Time is just FLYING! There's 9 days until my birthday and Thanksgiving, I'm so excited. I decided yesterday that I would go on the hunt for my birthday/Thanksgiving outfit since I was off of work. My first stop was Old Navy since they are my go to for jeans and work pants. I've noticed that all my size 14s are getting baggy, so I figured what the heck, I'll see if I can pour myself into a pair of size 12s (which I've never worn). So I walked around forever, looking at all the different pairs of pants and procrastinating going into the dressing room, because I was positive I would just be met with crushing disappointment. Finally, I grabbed a pair of size 12 skinny jeans and a size 12 pair of khakis (for work) and headed to the dreaded fitting room. I started with the jeans, not really thinking it was gonna happen. Lo and behold, I pull them up with ease, and they zipped and buttoned with no problem. What the heck? I figured it must have been a fluke. So I move on to the khakis. I figured since they weren't jeans, they probably wouldn't fit as easily. Oh, wrong again. Those fit nicely too. So apparently I'm in a size 12 pants now, what the heck? That's a whopping SIX sizes down from my highest size pants that I wore at 237 lbs. Since I had two NSVs back to back like that, I figured that would be it for the day. Right? Apparently not..

Next it was on to Target. I had seen a sweater earlier in the week that I really liked, so I wanted to try it on. But naturally, it wasn't there anymore. I wandered around for a while looking at all the others, but it couldn't find another one that really caught my eye. Just then, one of the girls I worked with happened to walk by and I mentioned that I was disappointed cause we didn't have the sweaters anymore. Turns out she was in the process of trying to find that same sweater for another guest that was in the dressing room. She poked around a few other racks, and came back up to me holding one that she had found. The catch? It was a freakin MEDIUM. I kinda snorted, thinking no way that was going to happen. I mean right, me in a medium? Get out! I shuffled off to the dressing room, and pulled it over my head, expecting to struggle. What do you know, that fit too. It's fitted, but I would rather it be that way, so I can wear it for longer as I continue to shrink. I think those were the first clothes shopping trips I've ever been on that didn't result in tears and depression. Right?

No, the depression hit later after I got home. I have a ridiculous fear of change, and it really shows on this journey. Every time I have a victory either on the scale OR off the scale, I start out being super excited about it, and super proud. A few hours later, I start being really critical. Thinking about how much I have left instead of how much I've already accomplished. I started picking myself apart in the mirror, seeing nothing but fat. Then the voice in my head starts saying that I don't look any different, and that even once I get to my goal, I'm still gonna be fat (which is completely absurd considering there's no way I can be 125 and FAT) and that I should just quit and stay fat since it's what I know. Which all results in me getting really angry and sad, and then bingeing. And of course, that's exactly what happened last night. It's HORRIBLY irritating, and I have to figure out how to handle it better. I have a fear of change, but that needs to stop, because this WHOLE ENTIRE JOURNEY is about change. I'm living a HEALTHY life now, and I need to make my brain realize that THAT is the norm now, NOT my fat life. As silly as it sounds, I know that part of me is super afraid of being skinny, because I don't know anything about it. I know how to be fat. I know how to hide behind baggy clothes, I know how to go through life on my personality, I know not to expect any attention from men because who wants anything to do with a fat girl? I DONT know how to handle compliments about my amazing success, I DONT know how to handle guys talking to me, I DONT know how to handle wearing clothes that highlight my body instead of hiding it, I just DONT KNOW. And I need to learn, and quickly. I can't keep sabotaging myself. It's not healthy, and it's definitely detrimental to everything I am trying to become. I know this journey is as much mental as it is physical, and I have to get better at working through my inner demons.

And now after that mishmash of a blog, heres two pictures..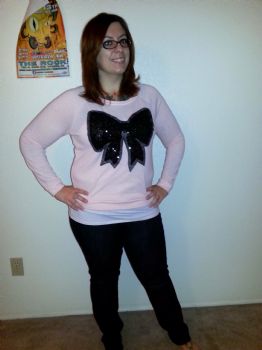 My birthday/Thanksgiving outfit, size 12 jeans and size M sweater!

And another picture from yesterday cause I love my new shirt.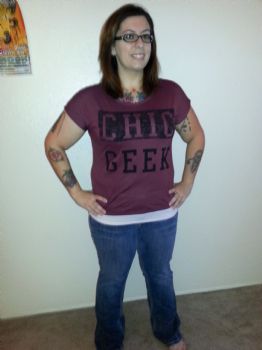 Hope you're all rocking November!





Thursday, November 07, 2013
So while I was taking a shower earlier, I was thinking about the holidays. You see, there are three types of people during the holiday seasons.
1. There are the gainers. They are the ones who eat everything in sight, push exercise to the side, and excuse it all by saying "oh well it's just the holidays, I'll get back on track when the new year starts".
2. The maintainers. These are the ones who might have a crazy balance of exercise and holiday food, a balance that doesn't produce gains, but doesn't produce losses either. They generally stay in the same weight range during the holiday months.
And last but not least, 3. The LOSER. The losers are the ones that we all aspire to be. They are the ones who come out of the holiday months unscathed, because they found that wonderful balance between the holiday indulgent foods, exercise, and their normal healthy diet. They start the new year not with a gain and a cloudy horizon, but with losses and sunny skies.

You see, I have always been #1-2. I've gained upwards of 20 lbs during the months of Oct-Dec before. I've also bounced around the same +5/-5 range because I kept overindulging, and then trying to exercise it away. It's frustrating, and it NEVER works to my advantage. So this year, I'm going to be a LOSER. I am going to find that delicate balance of getting to taste holiday foods, but not losing my way. I am going to continue to challenge myself with exercise, to see how much I can transform my body in the end of 2013. I've already begun this by starting 30 Day Shred (I finished level 1 today!) and finding holiday flavored things that I can treat myself with. My new favorite dessert is 1/2 cup of slow churned peppermint ice cream (100 cals), perched atop a warm Fiber One brownie (90 cals). 190 calories for a dessert that tastes sinful and rich, but isn't blowing my diet? Yes please! I firmly believe that it's ALL about finding that balance. Am I going to have Thanksgiving feast? Heck yea (cause it's my birthday too!), but I'll watch my portion size. Am I going to have Christmas dinner? Heck yea! But does that mean I need to feast every day leading up to (and leading away from) those days? HECK NO. Two splurges in two months DEFINITELY will not hinder my progress, and I can live with TWO days of "wild" eating as opposed to two MONTHS of out of control splurging. I WILL END THIS YEAR AS A LOSER.

So what say you friends? Will you be a LOSER with me?





Friday, November 01, 2013
Well, it's officially November! I didn't rock October like I wanted to, but you can bet I'm gonna blast through November! There's 27 days til my birthday, and I'm challenging myself to see how much I can lose before then! I'm hoping to hit the 170s, because I don't think I've ever weighed that little, and it would be amazing. Plus, cute birthday/thanksgiving outfit!

And now for the emotional bit.. I just made these comparison pictures, and I'm actually crying because of the emotional impact of it. So for those of you that have been following me on my journey for long enough, you'll remember that I went to ComicCon in May of this year, and cosplayed as the eleventh Doctor from Doctor Who. My costume was... Well, I guess good for what I could fit in. I was wearing a men's XL (or was it XXL?) shirt that was really tight (hence the unbuttoned top half), and a size 18 skirt that was TIGHT. I couldn't wear a jacket, because I couldn't find one that would fit me. So I just did what I could, and called it good. Last night was Halloween, and I redid the costume. And let me say.. I am blow away by how it looks. Size L women's shirt that fit great, size 12 (or is it 14? Not sure) skirt, and a size L women's jacket. The left picture is from May, the right picture is from last night.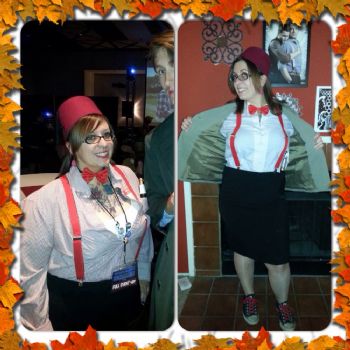 I got a lot of compliments on the costume from last night, and I got none when I wore it in May. I know last night I felt a lot more confident in it, and I rocked it! And NEXT year at ComicCon, I WILL be at my goal weight, and I will wear it again (with new smaller clothes) and rock it harder than I ever have.

Now here is the picture that just tore me apart and made me want to write this blog. I was browsing through old pictures on a friends FB page, and stumbled across one of us all from Halloween last year. I was at my highest weight of 237. I didn't have a costume, because I could not find one that would fit me. I felt miserable, and I was the only one without a costume. I was at rock bottom. It kills me to see myself this big, but what hurts even more is the expression on my face. I look dead. My smile is forced, and it's barely there. I didn't want to be in that picture, because I didn't want documentation of my fat self. I wanted to feel pretty, I wanted a costume. I didn't want to be alive in the condition I was in. Fat and out of control. Then I had a photo snapped of me last night. My smile is radiant. It's real. It reaches my eyes. I felt beautiful. I had a costume that fit and looked great. I was having a wonderful time with my friends, not worried about if I looked fat, because I knew I looked better than I did 54 pounds ago. I put the two pictures together today, and just cried.. Cried because I let myself get that unhappy. But to see how I looked last night warms my heart. Because I'm caring for myself now, and I am learning how to be happy. Without further ado, here is the comparison..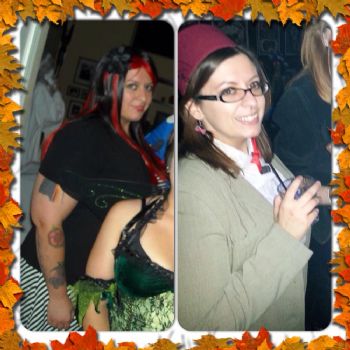 I need to always keep this picture, and look at it when I feel I've done nothing. When I feel like I'm useless, and like I'll never accomplish my goals. This picture literally speaks a thousand words,and I never want to stop listening to what it tells me. I am no longer the empty shell of a person that I had become. I'm finally becoming a real person again, and it feels wonderful.

Please, never think that you can't do it, and that you'll never succeed. Because I am finally living proof that it IS possible, no matter what you think you can't do. Let's rock Movember (yea I'm renaming it, let's MOVE IT)!





Tuesday, October 29, 2013
Well sparkles, it looks like I'm back on the upswing for the moment. Yesterday was my first full day of exercise and perfect eating. I was going to slowly ease back into the exercise, but I said f*ck it and jumped in head first! I need to remind myself that I've been at this for nearly 6 months now, and my body can do more than I think it can.

I originally was planning to start 30 Day Shred on November 1st, but then I said why wait? Yesterday was the 28th, which means it was exactly a month away from my birthday. So I decided, why not start it? If I stay consistent, I'll be right about at the end of the DVD by the time my birthday hits. And I would love to start my 24th year of life being able to say that I'm in the best shape that I've ever been! I took before pictures, I have my measurements from earlier this month (I didn't remeasure, I know nothing has changed), and I've started! Yesterday I did level 1 day 1, and today I did level 1 day 2. And MAN is it hard. Trying to do it today when I was already sore from yesterday was a super challenge. But, I made it through, and tomorrow morning I will blast through day 3! I think a super shakeup challenge like this is just what my body needs. I tend to forget that I'm a lot more fit than I was 54 lbs ago. I still have the thought in my head like "no way can I do difficult workouts, my body won't be able to keep up!" But then I do it, and I find out that I CAN do it. I seriously need to remember that, because I talk myself out of trying a lot of harder workouts. I am NOT 237 pounds anymore, I am 184ish. And if I ever want to get to my goal, I HAVE to push myself. I have to find challenges, and conquer them. I cannot keep doing the same exercises that I did in the beginning, at the same intensity, and expecting them to work.

I really messed up October, and really made no progress. So here are my (slightly) early November goals.
*Finish the 30DS DVD in its entirety
*Break into the 170s
*Turn 24 in the best shape of my life (thus far)
*Teach myself to face challenges, instead of running from them
*Work on not bingeing

I really meant to rock October, and sadly, it didn't happen. I have no one to blame but myself, and I would like to take November by storm. My big goal for this year is to end it somewhere in the 160s. I know it's doable, I just need to stop slacking!

So who's ready to rock the rest of the year with me, so we can start 2014 in the best shape of our lives?

Also, I'm issuing a challenge to you all.. I know it's super easy to support people's success and celebrate their accomplishments.. But when someone is struggling, that's when they need your support and encouragement the most. Next time you see someone on your feed who is struggling or asking for help, reach out. You might be that one person that saves them from that downward spiral.





Friday, October 25, 2013
Okay everyone, it's confession time.. I've had a temporary roommate this week. I could call him an old friend, but the truth is, he's a terrible influence. Some might say he's more like an enemy. You see, he likes to show up at the worst time. Well, for me it's the worst time, but for him, it's the best. It's when I'm the most vulnerable. He likes to wait until I'm feeling untouchable, like a rockstar. Then he comes in with brutal force, and throws me from the stage. Once I'm down there in the crowd, they trample me as he commands them to keep me down. Does this visitor sound familiar to any of you? If not, it's understandable. He goes by many names, has many faces, and has many many brothers and sisters who like to work together with him to completely wreck our lives. I like to call him Sir BingeALot. And lucky me, he's been following me around all week. I tried to lock him outside one day, but after a day, he kicked the door down and came back in. He hid my friends Lady FitnessQueen and Lord HealthyFood. I've been searching for them, but I can't find them anywhere. Sometimes I catch a glimpse of them, almost like someone turning a corner. But once I chase them, they are gone and I run smackdab into Sir BingeALot. His stupid fat belly is always there to catch me. Sound familiar?

Fact is, I've been way off this week. I know that part of it is seasonal depression, because is always get this way around this time of year. It'll only get worse as the real holidays start coming. Combine that with the stress from work, and I'm a mess. Food has always been my vice when I'm super stressed and super depressed. Because although I KNOW for a fact that the food won't make me feel any better in the long run, in that moment, it's my release. It's basically like being a drug addict, you need that fix. If you don't get it, you start to panic. The more you try to replace that addiction with other things, the harder you end up going on a bender. When you are overwhelmed with stress, the LAST thing you do as an addict is think "now how can I rationally take care of this without hurting myself"... No, I think "direct me to the nearest candy bar". It's like a switch flips in my brain, and I'm not even me anymore. Fat Amy, Addict Amy, she's the one who calls the shots. And it's not as simple as just saying "no", because let's face it, addiction is much stronger than that. It's something that even people in recovery struggle with. And I'm fighting.

I know I'm not out of the race, because I continue to keep restarting. Every morning, I restart with a healthy breakfast. I drink drink drink my water. I bring healthy snacks with me. I usually even eat those healthy snacks. And then I just top it all off with unhealthy food. I don't keep it at home, but since I've been working so much lately, I just buy it there. I need to turn this around. I CANNOT and DO NOT want to gain this weight back. Mentally right now, I'm really weak. The voice in my head is saying "look at how much you've screwed up, you might as well just stop since you are failing to turn this around", but I want to squash that voice. I want to rise back to the top.

"This is the Battle of Demon's Run. The Doctor's darkest hour. He'll rise higher than ever before and then fall so much further."
This quote is resonating in my head this morning. I've been rising higher than I've ever been lately. And unfortunately, the higher I rise, the harder I fall. This whole journey is a battle of every demon I have, both internal and external. And weeks like these are my dark hours. But just like the Doctor, I will keep fighting. I will keep rising. I will keep overcoming. This battle is NOT over, no matter how much I fall, how hard I fall, and how long I stay down. In the end, I will always get back up and start that climb once more.





1 2 3 4 5 6 7 8 9 10 11 12 13 14 15 16 17 18 19 20 21 22 23 24 25 26 27 28 29 30 31 32 33 Last Page

Get An Email Alert Each Time WHOVIANGIRL23 Posts