| | |
| --- | --- |
| | ~INDYGIRL's Recent Blog Entries |



Tuesday, December 16, 2014
Singing "All I want for Christmas is a Fitbit Charge" They have a new one coming out! It has a heart rate monitor! I need to save up! I have hope... You see, long before I ever get my heart rate up into a calorie burning zone, the pain form my disabilities kick in and crush me. I hold hope that that won't always be the case as I lose weight. The doctors seemed to think I would never get this far and would have had me having all manner of surgeries, but I never did. I owe it all to GOD that I was able to lose over 200 pounds and do what I do without anything radical... or actually at all. A person who went to GOD as broken as I, would have never dreamed of ever owning a Fitbit in the first place because it would be of no use. Now, I may be in the slow lane compared to my walker and runner friends, but I'm much happier.

My prayer was that I gave up trying and that if HE wanted, HE could just have at it because I was done. Yes, I was mad. I had asked for healing over and over. In giving up, I found release. I found I no longer expected HIM to make me perfect and accepted the progress HE gave me. Miraculous. Progress, not perfection.






Thursday, November 27, 2014

Well, I always wanted something from Victoria's Secret. I found a robe in size large and it was close to fitting but not quite, very motivating. If I would get off my duff and kick things up a notch, I could wear the pretty robe in a size I literally have not worn since I was 13.

I'll be posting progress pics of the robe in January, hopefully fitting the front more closely together.






Tuesday, November 25, 2014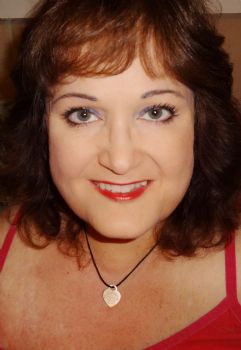 My mother said to me that I shouldn't wear red because I would look like a fire truck... that I shouldn't have a wedding ceremony because I would look like the Pillsbury Doughboy going down the aisle, that nobody would ever want to listen to my advice about losing weight. The doctors thought I would need weight loss surgery and other surgeries or I wouldn't walk again. My husband had no belief that I could make this journey on my own after all my failings... neither did I to tell you the truth.

So, bottom line is, even you can't tell yourself what you can't do unless you try every option available. If you've tried every diet out there, STOP DIETING. Seriously. Work on adding things like fruits, vegetables and water into your plan first. Less room for junk and a good place to start. Add more movement. Can't use your legs, use your arms and get an arm bike. Cost restraints, walk or get bands. ADD healthy choices to your life and never take away and see what a difference it makes. The unhealthy stuff stuff just falls away.






Thursday, November 13, 2014
The Holidays have foods galore sparking around like ornaments on trees glowing to get our attention. What's worse is these are EMOTIONAL FOODS! They bring back memories of childhood or better times, nostalgia.

So we see, we want. Ask yourself a few questions about EMOTIONAL FOODS:

1) Ask yourself WHAT you are wanting to FEEL. Warm, safe and comforted is usually my answer. During the holidays, nostalgic comes to mind. So how can I come by those same feelings without food? Warm luxury soft blankets, funny favorite movies, scented candles, old photos...

2) IF doing something makes you sad or really uncomfortable, don't do it. Looking through old photos brings back good memories to me, but then I get sad missing people and want to kill the pain with food. It used to be that when I was younger, people would bring up how I needed to lose weight at family dinners. Now, I would shut them down by saying "If you really cared, you would bring this up in private and not at a family dinner." If that didn't work, I would start a new tradition and avoid the negative nellies all together. There is no reason to put yourself in painful situations that make you want to overeat or binge later. Love yourself and protect yourself like you would your child.

3) I want a cookie... Well, if I have one, and I going to eat the whole box? PROBABLY! So here is the trick! Do not under any circumstances allow the whole box into your house if they are cookies you like or unhealthy cookies. Get a single cookie or two from a bakery. Leave the bakery and enjoy. Same with ice cream- don't buy it at the store unless it's single serve. Get it out, where you can only have a little.

4) Don't bargain with yourself. It just ends up badly. Have a plan in mind. Make plans ahead of time when you find pitfalls. For example, I found that I get into the box of cookies if they are in the house. I can't bargain myself down to two cookies. SO I wound up making a RULE that I have to get cookies at the bakery and no more than two. NO bargaining.

The food demon is very tricky and seducing. He lies and tells you you are in control. Then he loads high fructose corn syrup and additives into the foods to make us crave like insane people. Don't be fooled. The more natural a product is, the less processed... the better your body will respond and not crave.

Beth Donovan


Join my Team www.sparkpeople.com/myspark/groups_i
ndividual.asp?gid=50783






Tuesday, November 11, 2014
I'm a terrible night time eater. I wake up through the night and hit the kitchen like a ravenous zombie. I don't know how to stop myself because I'm half asleep. Evenings? Well, I graze. How did I lose so much weight and how am I losing weight with these issues? Let me tell you...

I planned my night attack snacks and set them in obvious reach, so when I hit the kitchen, there are low cal foods, like a can of fruit and a piece of cheese right in the front of the fridge waiting for me with a spoon.

I eat every few hours of the day, but lightly, so I stay full. I make sure to get protein, carbohydrates and healthy fats. ALL of them are needed to stay full. Fiber helps a great deal!
I try to stay around 300 calories to 400 calories for a meal and 100-150 for a snack.

I do graze, but I have tried to incorporate fruits, veggies, and lean protein into my grazing. Low cal drinks like tea and water with fruit in it keep me busy drinking instead of eating. Thirst and hunger are controlled by the same part of the brain. Try brothy soups or low cal drinks for snacks.

Avoid high fructose corn syrup- it causes cravings like mad! The stuff makes you want sugar like a crazy person. Choose pure cane sugar over it if you have to have sweet.

Cinnamon helps curb sweet cravings and lower your blood sugar, A GREAT snack at night is a bowl of oatmeal with cinnamon or warm milk with cinnamon and nutmeg- tastes like a fancy drink without the cost.



Hope that helps somebody.

Beth Join my team for ongoing tips www.sparkpeople.com/myspark/groups_i
ndividual.asp?gid=50783



1 2 3 4 5 6 7 8 Last Page

Get An Email Alert Each Time ~INDYGIRL Posts