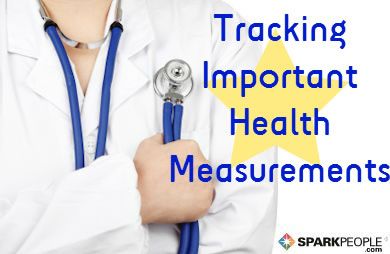 You're committing to a healthier lifestyle for plenty of reasons. Whether you want to look better, feel stronger or live longer, you know that regular exercise, adequate sleep and healthy eating can help us do all of those things—and more. Those same habits can also help decrease your risk of chronic diseases and lower your risk factors of heart disease and premature death. Talk about a bonus!

You already track your calories, weight, water intake and fitness minutes on SparkPeople. Why? Because it helps you stay accountable, continue to improve, and see that you're really making valuable progress toward your goals. So why not track your other health measures—blood pressure, cholesterol and more—to see how well you're doing? Health achievements, like lowering your resting heart rate or stabilizing your blood sugar levels, are reasons to celebrate, too. And they show you that all your hard work in the gym and in the kitchen is really paying off.

That's why we recommend recording these health measurements at regular intervals. You can keep these as your own personal health records or share them with your health care provider to help manage and prevent a variety of health conditions. Here's what you'll need to know about measuring, tracking and interpreting your blood pressure, total cholesterol, resting heart rate and blood sugar readings.

Blood Pressure
Blood pressure is the force of blood against artery walls. It is measured in millimeters of mercury (mm Hg) and recorded as two numbers—systolic (pressure on the arterial walls as the heart contracts) over diastolic (pressure on the arterial walls as the heart relaxes between beats), which is usually written as "120/80" (where 120 is the systolic number and 80 is the diastolic number). Most people get their blood pressure checked when visiting a doctor's office, using a sphygmomanometer, but gyms, personal trainers, and even pharmacies offer blood pressure screenings, too.

In addition, some people with home blood pressure cuffs can check their blood pressures multiple times per day, usually as instructed by a doctor. Knowing your blood pressure readings throughout the day—and day to day—can help you adjust your medication and therapy (for hypertension) throughout the day. As you lose weight on SparkPeople and your blood pressure improves, be sure to share your readings with your doctor and find out if you need to adjust your medication due to weight loss or blood pressure improvement.

Any time you receive a blood pressure reading, whether you're a healthy person who gets a reading at an annual physical, or you have hypertension and track your blood pressure more frequently, you can record it on SparkPeople to check your progress over time.

Continued ›
Article created on: 6/30/2009