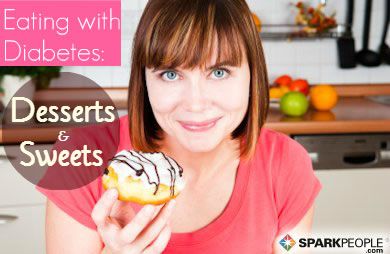 I'd be willing to bet that most everyone has been told—and therefore believes—that people with diabetes cannot have any sugar and are resigned to living without dessert for the rest of their lives. Well, as a Certified Diabetes Educator, I'm here to tell you that this is a myth. People with diabetes can eat sugar, desserts, and almost any food that contains caloric sweeteners (molasses, honey, maple syrup, and more). Why? Because people with diabetes can eat foods that contain carbohydrates, whether those carbohydrates come from starchy foods like potatoes or sugary foods such as candy. It's best to save sweets and desserts for special occasions so you don't miss out on the more nutritious foods your body needs. However, when you do decide to include a sweet treat, make sure you keep portions small and use your carbohydrate counting plan.

No sugar ever again? No way!
The idea that people with diabetes should avoid sugar is decades old. Logically, it makes sense. Diabetes is a condition that causes high blood sugar. Sugary foods cause blood sugar levels to increase. Therefore people with diabetes should avoid sugary foods in order to prevent hyperglycemia (high blood sugar) and keep their diabetes under control. However, simply avoiding sugary foods does not go very far in terms of controlling blood sugar. Here's why.

After you eat, your blood sugar level (aka postprandial blood glucose level) is largely determined by the total amount of carbohydrate you ate, not the source of the carbohydrates eaten. There are two types of carbohydrates that elevate your blood sugar levels: sugar and starch. Both will elevate your blood glucose to roughly the same level (assuming you ate the same amount of each). For example, if you were to eat a ½ cup of regular ice cream (15 grams of carbohydrate), your blood sugar would rise roughly the same amount as if you had eaten 1 slice of whole wheat bread (also 15 grams of carbohydrate). Because of this, it makes no sense that you can eat one type of carbohydrate (starch) but not the other (sugar).

It is important to remember that while foods with sugar in them can be incorporated into a diabetes meal plan with little impact on blood glucose control, most sweets and dessert are high in calories and have little to no nutritional value. So, while it is entirely possible to work these foods into any diabetes meal plan, they are still food choices that should be considered "treats" and should be eaten in limited quantities. This is also true regardless of the type of sweetener you choose to consume. "Natural" sweeteners (honey, agave syrup, cane sugar, etc.) still contain carbohydrates that elevate your blood sugar level and should not be thought of as any healthier for people with diabetes than other sweeteners.
Continued ›
Article created on: 11/22/2010