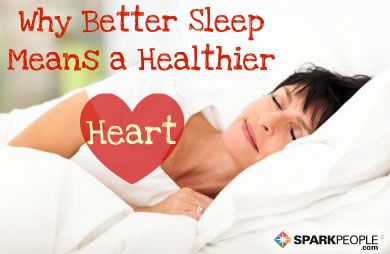 We all know how great a good night's rest feels. You wake up feeling refreshed, energized and ready to tackle your day. Unfortunately, this rested feeling is the exception and not the norm for many who live busy lives in the modern world, and it's hurting more than our energy levels—it's also harming our hearts. According to the Centers for Disease Control and Prevention (CDC), more than one-quarter of the U.S. population report occasionally not getting enough sleep, while nearly 10% experience chronic insomnia.

Although it may feel like it, sleep isn't a passive activity, or a luxury for that matter. It's a must for your overall health and well-being and according numerous studies, it's essential for a healthy heart. According to the CDC and numerous studies, not getting enough sleep is associated with a number of chronic diseases, such as diabetes, cardiovascular disease, obesity and depression. Together, these four health conditions prove a powerful case that sleep isn't just beneficial, it's vital.

Diabetes
You may think that Type 2 diabetes is just about keeping your weight down and eating healthy foods, but research has found that sleep also plays an important role. According to a September 2010 study published in the Annals of Epidemiology journal, people who slept less than six hours a night were three times more likely to develop incident-impaired fasting glycaemia (IFG), a condition where your body isn't able to regulate glucose as efficiently as it should. How does this related to heart health? People with IFG have a greater risk of developing Type 2 diabetes and are at an increased risk of heart disease and stroke.

Chronic Stress
Stress is another important factor when it comes to having a healthy heart. Other studies have shown that a lack of sleep can decrease glucose tolerance and increase the body's production of cortisol, a hormone produced in response to stress (plus we all know how hard it is to make healthy choices and lose weight when you're stressed!). Additionally, researchers have found that lack of sleep results in a 28% increase in average levels of ghrelin, known as the hunger hormone, leading to increased cravings and consumption of foods, making it even harder to prevent or control type 2 diabetes and therefore heart disease and stroke.

Cardiovascular Disease
There are numerous studies linking insufficient sleep with a number of cardiovascular diseases, including high blood pressure, stroke, coronary heart disease and irregular heartbeat (cardiac arrhythmias).

Continued ›
Article created on: 8/16/2011