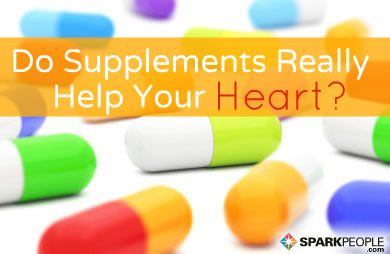 So you just found out that you have high cholesterol, or perhaps you have a strong family history of heart disease and want to do your best to prevent it. So you head to the pharmacy or health food store for help, only to be bombarded by countless supplements that tout their heart healthy benefits. Which should you choose? Are they all good for your heart? Are supplements necessary to improve your health and reduce your risk of heart disease?

Before you buy into the billion-dollar business of dietary supplements, remember a few key things.
Dietary supplements are not regulated by the FDA in the same way as medications are regulated. Manufacturers have a lot of leeway in their ability to make health claims on their bottles—much more than most health professionals would like—and these claims can be very misleading. Some claims are not even true or are not based on good scientific research. Never trust what a bottle or advertisement tells you about a product. After all, the goal of both is to get you to buy it. Do your own investigation first.

Dietary supplements are NOT a must for a healthy heart. Many people can reduce their risk of heart disease and improve their heart health by making simple lifestyle changes like eating a healthy diet, exercising regularly, and following the heart-health plan provided by their health care provider. Supplements alone cannot and will not undo an unhealthy (poor quality) diet or inactive lifestyle. If you do prefer to take supplements, think of them as an added insurance plan to the heart-healthy changes you're already making.

Supplements can interact with other medications. Even something as seemingly benign as a vitamin or mineral supplement can cause adverse reactions when combined with certain over-the-counter and prescription drugs, so ALWAYS keep a list of all supplements you take and share it with your pharmacist and health care provider.

Talk to your doctor first. Before taking any supplement, get advice and recommendations from your health care provider.
Here's a list of common supplements (listed in alphabetical order) that make heart health claims. Read on to find out which may help, and which supplements you should leave on the shelf according to evidence-based research.
Continued ›
Article created on: 11/20/2012