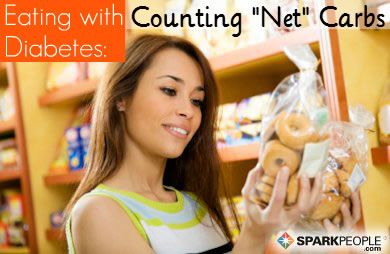 Since low carbohydrate diets became popular, the phrase "net carbs" has become a fairly regular fixture on the labels of food products. But, if you are not familiar with the term you may be wondering what in the world it means!

There are three types of carbohydrates: starches, sugars and fiber. All three types of carbs are added up and listed as Total Carbohydrates on the Nutrition Facts Label of a food product.

The concept of net carbs is based on the fact that, although it is considered a carbohydrate, dietary fiber is not digested the same way the other two types of carbohydrates (starches and sugars) are. While starches and sugars are broken down into glucose (blood sugar), fiber isn't treated the same way. The fiber you eat passes through the body undigested and helps add bulk to your stool (among other benefits). The indigestibility of fiber is where the idea of "net carbs" comes in. In fact, sometimes, net carbs are sometimes referred to as "digestible carbs.''

In recent years, food manufacturers have started including net carbs in addition to total carbs when labeling products. Many foods proudly display net carbs on their labels to entice both low-carb diet fans and people with diabetes.

While the concept of net carbs can be utilized in diabetes meal planning, read labels with a discerning eye. At present there are no mandated rules for calculating or labeling net carbs on food packages. The FDA does not regulate or oversee the use of these terms, and exactly what is listed as "net carbs" can vary dramatically from product to product. Some products calculate net carbs as total carbohydrates minus dietary fiber, other labels reflect net carbs as total carbohydrates minus dietary fiber minus sugar alcohols, and still others calculate net carbs as total carbohydrates, minus dietary fiber minus sugar alcohols minus grams of protein.

Many packaged foods that are marketed as high in fiber low in carbs actually add extra fiber, such as inulin, polydextrose and maltodextrin, to food products to lower the net carb serving. Most nutrition experts agree that these "stealth fibers " do not have the same health benefits and may not have the same benign affect on blood sugar levels as foods that contain naturally occurring fiber. As you can see, the whole issue of "net carbs" can get tricky very fast. And for people with diabetes, for whom carbohydrate counting and blood glucose control is a serious issue, referring to net carbs on a food label can have serious consequences.
Continued ›
Article created on: 7/5/2011