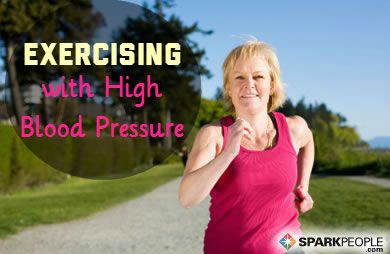 If you have high blood pressure, the best piece of advice anyone can give you is to listen to your body. How you feel can and should dictate the frequency and intensity of your workouts. While it is possible—and preferable—to lose weight while reducing your blood pressure, your top priority is to neutralize the threat of blood pressure before you push yourself toward more dramatic exercise goals. To do this, consistency is your best friend. Frequency (number of exercise sessions per week) is more important than intensity when you are starting out.

**All of the following exercise recommendations assume that your blood pressure is under control (whether through medication or diet) and is monitored by a doctor.

Aerobic Exercise Recommendations
If you are new to exercise or haven't been active in awhile, start slowly and increase the time and intensity of your workout as you get stronger. A good starting point is 30 minutes of cardiovascular activity, 3 days per week. Examples include walking, swimming and biking.
If 30 minutes is too much, start with 10-20 minutes and increase from there. Eventually, the goal is to work up to 45-60 minutes, 5 days per week.
It is important to warm up before and cool down after each exercise session (5-10 minutes each).
The best activities to do are the ones you enjoy and will stick with.
Notes on Strength Training

Many people with hypertension avoid strength training because they are afraid that it will increase their blood pressure. But research shows that these fears are generally unfounded.

It's true that if you have high blood pressure, you should avoid strenuous strength-related activities, such as trying to open a sticking window or attempting to move a stalled car. Activities of this type, including isometric strength training, may cause excessively high blood pressure responses and are potentially dangerous for many people with hypertension. Other than that, you are encouraged to follow a sensible strength training routine.
Continued ›
Article created on: 10/25/2006