All Entries For
Halloween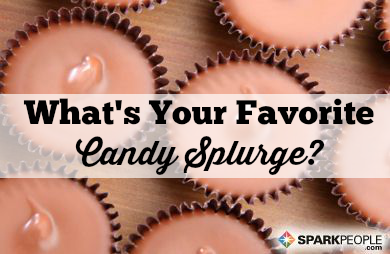 Happy Halloween! We hope you're planning to enjoy some candy (in moderation!) today. What's your favorite Halloween treat to splurge on? Take the poll below, and then check out some of our best resources to help you get through the day feeling satisfied--but not stuffed like a pinata!
Read More ›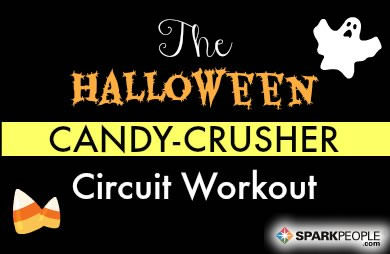 Boo! Don't be scared of Halloween candy calories! Burn them off the fun way with this fast Halloween-themed cardio circuit workout. Perform each movement in the circuit for one minute straight before moving on to the next move. (If you need a demo for any of the movements, scroll down and click on its corresponding link below the image.) There are a total of ten moves, so the whole workout should take you exactly ten minutes. If you want an extra challenge, you can do the circuit 2-3 times through for a real calorie-scorching session! You can make this as low-intensity or high-intensity as you want, depending on how quickly you move during each exercise. Bonus: There is no equipment required, and it's great for small spaces!
Note:
For the single-leg movements ("Boo-ty Blaster" and "Spooky Side Kick"), work one leg for 30 seconds and switch to the other leg for the remaining 30 seconds.
Read More ›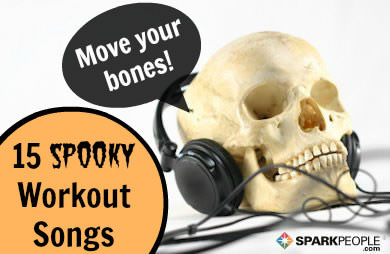 A few years ago, the night I taught Spinning happened to land on Halloween—not once, but two years in a row. I figured that anyone willing to show up on Halloween night to work out is pretty dedicated (or childless?), but either way, I wanted to make the workout festive and fun. I created a healthy Halloween workout mix for the class, dimmed the lights, and handed out my
homemade granola bar treats
when the ride was over.
It may be silly to some, but creating your own Halloween-themed workout playlist could motivate you to work out on Halloween (a must if you're going to be dipping into the candy jar that day), and it's one of few ways to have fun that doesn't involve eating candy!
So here is my healthy Halloween playlist: 15 spooky songs to help you to burn off those candy calories—and have fun doing it.
Read More ›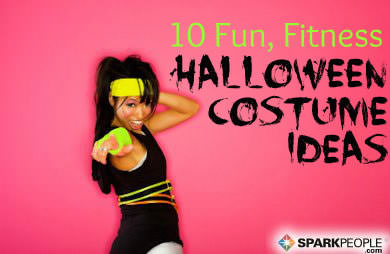 Since your closet is full of workout clothes anyway, why not use this Halloween as an excuse to celebrate your healthy lifestyle by dressing as your favorite fitness personality? There are tons of possibilities, but here are 10 that are pretty easy to pull off.
Read More ›
In my home town, near San Francisco, orange and black is bursting forth and its not just because the Giants won the World Series. Halloween pumpkins have arrived! These colorful gourds come in all different shapes, colors and sizes, but they're not just for decorating. Pumpkins are a delicious base in many savory dishes. A simple one-cup serving gives almost double the Recommended Daily Allowance (RDA) of Beta-Carotene, not to mention vitamin C, niacin, phosphorus, potassium and fiber too. Look for smaller pumpkins with minimal blemishes. They should be heavy for their size with stems intact. Pumpkin can be boiled, baked or steamed. Instead of tossing the pumpkin seeds,
roast
them for a delicious snack or topping. Cook double or triple the amount you need for your recipe and freeze the rest. Enjoy each bite of these savory pumpkin recipes.
Read More ›
Halloween candy can be downright scary. All of those colorful ''fun-sized'' bars may tempt you to have just one piece, but beware—those tiny, innocent-looking treats can add up if you're not careful! Some people forgo the chocolate candies altogether in favor of low-fat choices, such as Starbursts and Twizzlers, thinking that they are doing their waistlines a favor. But
does low-fat always mean low-sugar
? If you were to choose between a chocolaty fun-sized bag of
peanut M&Ms
and a serving of
Twizzlers
, which one would be the
least sugary choice
?
Read More ›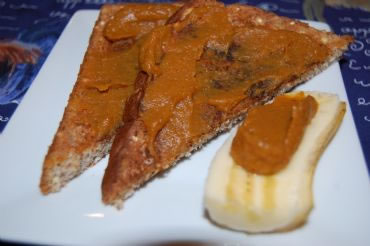 The pumpkin celebration shouldn't end with Halloween! Instead of just displaying those gourds, let's eat them! Here are some of my favorite pumpkin recipes to get you in the spirit! I promise that these pumpkin goodies are not among The 4 Most Fattening Fall Foods or these 5 Surprisingly High-Cal Halloween Treats!
NEW
:
Chef Meg's No Added Sugar Pumpkin-Apple Butter
I love this spread this over whole wheat toast for breakfast with nut butter or to thicken my fall soups. My son Josh loves it with bananas. You won't believe I didn't add any sugar!
Calories: 19.9
Total Fat: 0.2 g
Cholesterol: 0.0 mg
Sodium: 1.8 mg
Total Carbs: 4.9 g
Dietary Fiber: 1.2 g
Protein: 0.4 g
Read More ›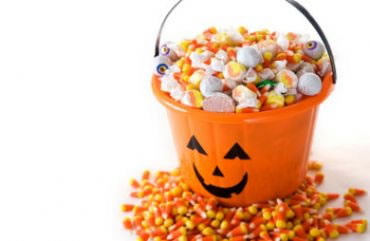 You have been keeping
track of your nutrient intake
, planning
healthy meals
, and making s
mart choices when eating away from home
for months as you work hard to meet your health goals. You know that because you have made a commitment to change your lifestyle, your new healthy eating and fitness habits have to be ongoing. Now that special days and holiday time have arrived, you realize doing that can become challenging. Special days like the
World Series
or
Halloween
can easily tempt you to throw caution to the wind and forget all about your goals only to be frustrated a week later when you get back to your usual routines and realize you have suffered a setback.
Whether you are tempted by
high calorie treats
,
skipping a workout or two
or just can't seem to keep your hands out of the
candy dish
, choose to let moderation be your guide.
Read More ›
Whether you're entertaining ghosts, goblins, or gouls, the food you share this Halloween can be fun, fresh, and flavorful. Edible eyeballs, jack-o-langtern smoothies, Halloween melted brain sauce with rotten fingers are just a few favorites. Enjoy these ten recipes from our twisted and wonderfully wacky SparkPeople members.
Read More ›
Are you surrounded by Halloween candy at home, at work, and at the store? Do you find yourself powerless to avoid the treats that are being offered to you at every turn?
You're not alone. I love candy just as much as the next person, and if it's around, chances are that I'll be eating it. But if I allowed myself to buy, sample or eat every Halloween treat that crossed my path, I know I'd be getting further and further away from my goals of living a healthy lifestyle, staying fit and managing my weight.
Luckily, Halloween is a fun holiday for kids at heart, too—and you don't have to buy or eat a bunch of fun-sized treats to take part. Here are some calorie-free ways you can celebrate Halloween without noshing on bags full of candy.
Read More ›
Halloween is just around the corner, and my boys are already heading to costume parties. One of the twins went as a guy from the Blue Man Group two weeks ago--he looked so tall and grown-up!
My oldest son, Noah, is a high school freshman, and he's in a nutrition class. The teacher asked me and another mom, who's a dietitian and
fellow author
, each to make a healthy snack for the kids. Of course, we said yes. I made
Caramel Popcorn,
a member makeover recipe that's not only a hit on SparkRecipes.com but also made the cut to be in
"
The SparkPeople Cookbook: Love Your Food, Lose the Weight
." I made eight batches in one weekend, and let me tell you, it was just as good a couple of days later!
This time of year starts the barrage of sweets and treats that lasts through the end of the year. Neighbors gather for block parties, schools celebrate with fall festivals, and friends use the cool weather as a chance to get together before the holidays kick into full swing.
Halloween can be frightful for those of us maintaining our weight or trying to drop some pounds, but it needn't be!
Read More ›
Each year, my local Junior College opens its 365 acre farm, vineyard, and agricultural center for an open house, during which the public can learn, taste and pick fresh produce for $1.50 per pound. Fall harvest is my personal favorite: my family had a blast filling our reusable canvas shopping bags with apples, sugar pumpkins, eggplants, squash, peppers, and basil. Here are some of the top recipes from Chef Meg and other SparkPeople members that I've been using in my own kitchen to enjoy the Fall produce. I look forward to hearing which are your favorites too.
Read More ›
You used suggested
tricks to avoid Halloween treats
as well as
tricks for healthier Halloween treats
but still ended up with sweet treats staring at you a week after the festivities. Here are some creative ideas to use the leftover Halloween candy and
outsmart temptation
.
Read More ›
Halloween can be a healthy eater's nightmare! Candy everywhere you turn? Buckets of sweet treats at your disposal? That's enough to torture even the healthiest of eaters--and if you're trying to lose weight, Halloween is probably not your favorite holiday. Never fear! We've rounded up our best Halloween stories, recipes, and tips to help you scare away temptation and stick to your healthy eating plan.
No Tricks! Just Healthier Halloween Treats!
Our Best Halloween Party Recipes
11 Halloween Treats Under 100 Calories
Halloween Party Recipes for Kids
The 4 Most Fattening Fall Foods
Tricks for Healthier Halloween Treats
Time for Some Calorie-Free Halloween Fun!
Read More ›
Confession: I don't have much interest in minor holidays. I think dressing up can be fun, but I am picky about candy and I really don't like scary movies, spooky decorations or haunted houses. Halloween just isn't my thing.
That said, I don't participate in trick-or-treating. I don't have kids, and I'm not home during the hours set aside for Beggars' Night (usually at yoga class, the gym or a volunteer commitment). I haven't thought about trick-or-treating in a long time, but this year we bought a house, and our neighbors go all out for Halloween.
My boyfriend, on the other hand, is bursting with holiday spirit--it doesn't matter which holiday. He loves them all.
He's excited to sit on the porch with a mug of hot apple cider, give away candy to kids, and chat with our new neighbors. Here's where I need your input.
Read More ›
Read More Entries ›