This giveaway is now closed. The winners are: BLUESUEDE1, RINGRANGRUNG and JUDY1939. Congratulations!
Can you believe that Thanksgiving is next week! We're already in the holiday spirit around here and we're excited about this week's giveaway from
Leslie Sansone
, which will have THREE lucky winners! 
This contest is officially closed. The winners are:

DEEDEE2610
MOLLYJ96
WOODMAN169
GRANNY2B2
STANDY15

Congratulations!
We're big fans of Leslie Sansone. Her approachable, safety-focused workout DVDs completely align with SparkPeople's philosophy that fitness should be an enjoyable, attainable part of life—without making drastic sacrifices or falling for gimmicks. Leslie is the real deal, and she's helped millions of people around the world lose weight, get fit and feel great about themselves through her fitness DVDs.
A few years ago, Coach Nicole
reviewed one of Leslie's DVDs
and really enjoyed it. So, when we found out that Leslie has a new DVD coming out, we couldn't wait to get the scoop!
Walk It Off in 30 Days
is a month-long program that combines walking and strength training to get you results in 30 minutes a day. Here's what the most recent press release has to say about the program:
Read More ›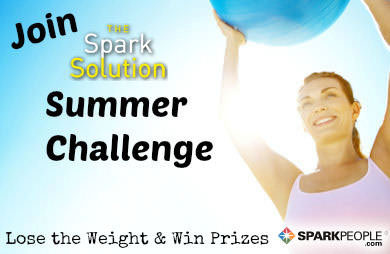 To celebrate the start of summer, we're launching
The Spark Solution
Summer Challenge on June 21. Lose weight while using the comprehensive 14-day program from SparkPeople's new book--and be entered to win prizes, including a $250 Visa gift card.
Lose up to 5 pounds in 14 days,
enter to win great prizes,
and say goodbye to diets forever!
Here's what
SparkPeople Founder Chris "SparkGuy" Downie
has to say about this challenge--and why the program in
The Spark Solution: A Comprehensive Two-Week Diet Program to Fast Track Weight Loss and Total Body Health
works:
Summer is a great time to set new goals for yourself. Whether you want to lose weight, improve your diet, or just reinforce the healthy habits you already have in place, The Spark Solution Summer Challenge can help you achieve success. At SparkPeople, we know you can't go it alone--and we know it's much more fun and rewarding to reach goals as a community. That's why we're offering prizes and added support to those who follow the program.

We hosted a challenge right after the book launched, but many of you said it was too soon--you needed more time to get ready or your copy didn't arrive in time. We listened, and we're launching an even bigger challenge this time--with prizes. (If you did the first challenge, you can still do this one and be eligible for the prizes.)

End the yo-yo diet cycle for good with a program that's proven, with built-in, no-fail tactics to ensure you're successful. No more deprivation and no more relying on sheer will power alone. With The Spark Solution, there is no next time, only this time! You're just 14 days away!
To join the challenge, you'll need to have a copy of the book by June 21. Read through the intro, get familiar with the layout of the book and the program, and be ready to start Day 1 on Monday, June 24. Starting that day, you'll check in daily on the team, share your progress, and receive added support and feedback from the book's authors (and others like you who are committed to getting healthy and losing weight once and for all).
What are you waiting for?
Get your copy today
so you can join in the fun!
Read More ›
As you've likely seen and heard by now,
SparkPeople wrote another book--and it comes out next week, May 7!
We are pretty excited about it, but don't take our word for it – read what some long-time SparkPeople members who received advance copies are saying about
The Spark Solution
.
"This isn't a diet like other diets. It doesn't promise to shed pounds with little effort, or 'burn fat' more than others. It's about
teaching you to make healthy choices for life.
Teaching you to think about what you're putting in your body, and eat for energy. It's about mindfulness. This is a handholding introduction to healthy living, and after you finish the (two week) plan, it arms you with the tools and resources to keep moving forward." --
DRAGONCHILDE,
My new secret weapon!
"After reading the material my first initial reaction was two thumbs up. Bravo! I would consider this new book to be
more of a survival guide rather than 'just another diet book.'
If you are just starting out or trying to get your Spark back after a downturn in your journey, this book is for you! I highly recommend this book to anyone who is looking to build or rebuild a solid foundation for their journey that will carry them through." --
ON2VICTORY,
My Review of The Spark Solution
"I love this book. It's life changing. It should be shouted from the mountaintops! In the first 2 weeks I lost 4 pounds! I love how the book talks in language we can relate to. It is like the authors are sitting right there with you, speaking directly to YOU." –
NIGHTSKYSTAR,
Review of The Spark Solution!
"I would recommend this book to anyone trying to lose weight. I'm a big fan of baby steps and changing your lifestyle. After all, that's what helped me lose over 200 pounds.
My very favorite aspect of this book is its ability to list real simple changes, recipes, and workouts that a real person can do. It isn't about having that one last big meal, becoming perfect and getting on the wagon to cook and workout for hours on end. It's about
taking healthy choices and making them a part of your life
."
~INDYGIRL,
"The Spark Solution..." Book Review
"This is very good stuff to know, whether you need to lose weight or not. Living healthy is for everyone! It is a book that
anyone can follow and get results
with, but especially if you are just beginning the program, or if you need a shake-up because you are on a plateau." –
CASSIOEPIA,
THE SPARK SOLUTION
Read more member reviews of The Spark Solution.
Read More ›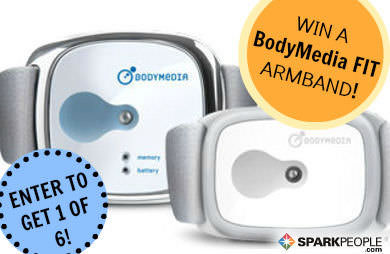 This contest is officially closed! The winners are:

BodyMedia CORE Armband:
CASSIE_BEE_74
KAROLBATRES
NEEDTOBETHIN10
BodyMedia LINK Armband:
EMILIEMAI
POPEHNS
MELAWEN
Congratulations!
You may have recently seen on
SparkPeople's staff blog
that you can now connect your
BodyMedia FIT
device to your SparkPeople account. This means that you can wirelessly track your sleep patterns, activity minutes, steps taken and calories burned, and then seamlessly load your data directly to your
Fitness Tracker
—so cool! (You can learn more about the science behind BodyMedia FIT devices
here
.) We're excited to be able to offer this functionality on our site; it's just one more way we're trying to make healthy living easier for more of you!
Read More ›
Thanks for entering. This contest is now closed, and winners have been notified!
UPDATE: We're extending this contest through the end of January 2013 and giving away five more copies. (The first five winners will be notified this week via email.)
Did you commit to cooking more in 2013? Whether you've never been comfortable in the kitchen, you want to make over your existing family recipes, or you need some motivation to give up takeout and fast food, SparkPeople can help!
To kick-start your year of cooking more--and to celebrate the launch of "
The SparkPeople Cookbook: Love Your Food, Lose the Weight
" in paperback--we're giving you the chance to
win one of five copies of our cookbook!
Whether you've been on this road to a healthier you for awhile or you're new to SparkPeople in 2013, you'll want to keep reading. This is a giveaway you won't want to miss!
Written with our healthy cooking expert, Meg Galvin, the book is chock-full of over 150 quick and delicious recipes like barbecue chicken pizza, coconut lime shrimp, and mini apple tarts. Since these dishes were created by SparkPeople, you know they're good for you, too! The book also includes success stories from SparkPeople members, helpful tips on food preparation, pantry checklists, and much more. Think of it as a personal chef in book form, encouraging you to live your best life by making smart food choices, one page and one recipe at a time.
The book was published in paperback on January 2, and it's also available in a new enhanced e-book version, which contains how-to videos and additional content. No matter which version you get, we know you'll love it!
Read more about the book, enter to win a copy--and get sneak-peek recipes
!
Read More ›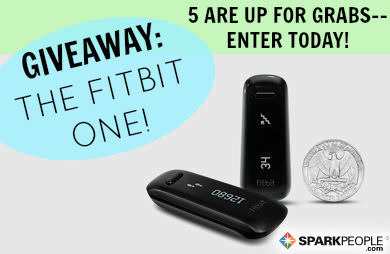 This contest is officially closed! The winners are:
KSCHRAUT

LUZMARIA65

ILLINIFF139

QUALITYKJ

BRUN0327
Congratulations!
If you've been hanging around
SparkPeople
for a while, you know that we believe small changes can make a big difference when it comes to healthy living. So it should be no surprise that
we love the Fitbit
! It's a convenient and discreet device that really motivates you to move more during the day. Many of us on staff have been faithfully wearing it for months now, logging steps and calories while seeing a drastic increase in our daily movement over time. We're so impressed with our own results that we've decided to share the wealth--
by giving away a Fitbit One (provided by Fitbit) to FIVE lucky dailySpark readers
!
Read More ›
CONTEST CLOSED. The winners are: AKAFIT, PATDODD, JUDIKED, AIRLINN, YOUTHENING, CAROLTTG, BEN1126, LISAREE1, CLS567, and SASSEGIRL78.
Today is the big day: the official release of my new workout DVD,
SparkPeople: Total Body Sculpting
!


Amazon.com is the first to carry it
, and we have more online retailers and national chain stores who will be stocking the DVD within a matter of weeks, too. So stay tuned for more information on where to buy and some other great deals!
To celebrate the official release on amazon.com, we are hosting a DVD giveaway for our members. That's right:
Christmas is coming early for 10 lucky winners!
Here's how to enter.
Read More ›
Editor's Note
: Today we're sharing an excerpt of Get Well & Stay Well, a book by two of the foremost experts in integrative medicine, Dr. Steve Amoils and Dr. Sandi Amoils. The Amoils are co-medical directors of The Alliance Institute for Integrative Medicine (AIIM) in Cincinnati. AIIM is one of the Bravewell Collaborative's leading clinical centers of Integrative Medicine in the U.S. Both Steve and Sandi are adjunct assistant professors in the Department of Medical Education at the University of Cincinnati. Beyond that, Drs. Amoils have the "SparkGuy" stamp of approval. Chris "SparkGuy" Downie has been working with them to manage his own severe allergies, with great success. They'll be sharing more info on integrative medicine in the coming months here on dailySpark.
Do you ever wonder where you go when you sleep, or why we even need to sleep? Sleep is not only essential for physical rejuvenation; it also provides an opportunity for the memory to integrate information, as if file clerks were coming in on the night shift to file away the experiences of the day.
Sleep also appears to offer the body an opportunity for internal housekeeping. Research from the National Institutes of Health has found that immune chemicals rise as we drift off to sleep, recruiting immune cells to cruise the body and lowering bacteria levels throughout the system. Clearly, if we don't get enough sleep, we are much more prone to illness and accidents. In addition, lack of sleep raises the stress hormone cortisol, which can lead to weight gain and type 2 diabetes.
When you sleep, you move back and forth through various stages several times. As you fall asleep, you go into a light sleep, known as Stage 1 sleep, where you drift in and out of sleep. You then go through Stages 2 and 3, finally reaching Stage 4. Stages 3 and 4 are referred to as deep sleep, because this is where your body hardly moves. During deep sleep, you ordinarily generate the neurotransmitter serotonin. If you don't get enough deep sleep, you are thus more prone to depression, fibromyalgia, irritable bowel syndrome, premenstrual syndrome, migraines, and a host of other problems.
The next stage of sleep is a very important one called rapid eye movement (REM) sleep, where you dream. During this phase, your breathing speeds up, becoming irregular and shallow. Your eyelids jerk rapidly (hence the name "rapid eye movement"), and your limb muscles are temporarily paralyzed. Brain waves during this stage increase to levels experienced when you are awake. The heart rate increases, blood pressure rises, males develop erections, and the body loses some ability to regulate its temperature.
REM sleep and dreaming appear to help us sort out our daily stressors. This is the time when the mind appears to process emotions, sort through memories, and help us cope with stress. A person deprived of REM sleep can suffer from mood and memory problems.
Over-the-counter sleep aids that contain diphenhydramine (Benadryl®) induce Stage 2 and 3, but not Stage 4 sleep, reducing your ability to regenerate serotonin. Utilizing these aids on a regular basis can therefore result in depression. There are other options for improving sleep. Herbs such as valerian root and supplements such as taurine, 4-amino-3-phenylbutyric acid and 5-Hydroxytryptophan are often extremely helpful. Drugs such as zolpidem and trazodone maintain what is called normal sleep architecture, allowing a person to pass through all the different stages of sleep. However, these drugs are associated with side effects such as memory loss and dependency. Long-term use should be discussed with your physician.
Keep reading for a giveaway--and 11 tips to help you sleep better.
Read More ›
Contest closed! The winner is:

GRACEZN

Congratulations!
A few months ago, we told you about
The Weight of the Nation
, a four-part documentary about the US obesity epidemic. The series aired on HBO back in May, and it will hit store shelves as a 3-disc DVD set starting today.
Here is a quick summary of the series, from HBO:
Read More ›
Contest closed! The winner is:

JMRIDDL

Congratulations!
Here at SparkPeople, we're big fans of workout clothes that are not only comfortable, but look good, too. So when our new sponsor,
Moving Comfort
, offered to send us some workout clothes to try, we were stoked! We had a blast sorting through the clothes and putting together cute, functional outfits to get sweaty in. We liked the clothes so much that we thought it would be fun to learn which of our outfits you liked best--and then give it away!
Coach Nicole volunteered to run around in the sun and model the Moving Comfort outfits (tough job, but someone had to do it!). Check out the choices below and then cast your vote at the end of this post for a chance to wear the winning outfit yourself!
Read More ›
Contest closed! The winner is:

MICHELELYNN777

Congratulations!
Have you added yoga into your workout rotation yet? We're big fans of yoga here at the dailySpark; it is great for stress-relief, flexibility, strength, and mental clarity, and is an excellent compliment to many exercise routines. Some of us on staff practice yoga on a regular basis and have seen amazing physical and mental changes as a result. So, naturally, when we came across
The Ultimate Yogi DVD Set
, we had to check it out!
Read More ›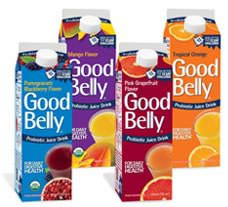 Contest closed! The winner is:

ANYVAR54

Congratulations!
If you suffer from tummy troubles, you may have heard that eating yogurt will help get your digestive system back in shape. However, yogurt isn't the answer for everyone. If you are lactose intolerant, vegan, or just don't like the taste of dairy, you could be missing out on some major gut-friendly probiotic cultures. But don't worry! There is another way to treat your belly right without the dairy: Enter
GoodBelly
, a dairy-free probiotic juice drink that promotes healthy digestion.
Read More ›
Contest closed. The winner is:

KMKUCK

Congratulations!
Yoga, walking, and meditation are all great ways to rejuvenate the body, but sometimes it's fun to switch up your relaxation routine a bit. That's why we were so excited when we came across the
Tai Cheng DVD workout set
. These DVDs are based on
the practice of Tai Chi
and offer a great alternative to your favorite relaxation activities from the comfort of your home. Here's what the Tai Cheng website has to say about the program:
Read More ›
Still trying to decide what to get Mom for Mother's Day? How about a delicious home-cooked brunch?
Just in time for mom's big day, we've launched our first FREE e-book, "
Light and Easy Mother's Day Brunch Recipes from SparkPeople
," which gives you a sneak peek into "
The SparkPeople Cookbook: Love Your Food, Lose the Weight."
Written by SparkPeople's very own healthy cooking expert, Chef Meg, this e-book contains 3 sweet and 3 savory dishes that are perfect for Mother's Day brunch, including:
Skinny Eggs Florentine
Light Lemon Sauce
Spring Cupcakes with Citrus Icing
These simple, healthy recipes are perfect for any morning meal--no special occasion needed. But we're sure that mom will be delighted if you treat her to these recipes on Mother's Day.
To download the full recipes or preview "
Light and Easy Mother's Day Brunch Recipes from SparkPeople
" for FREE,
click here
(and scroll down to choose the file type you prefer).
If you don't have an e-reader, such as a Kindle or NOOK, you can still read these e-books. Both Amazon and Barnes and Noble offer free downloads of their e-reader apps for PC, Mac, iPhone, iPad, and other mobile devices.
Read More ›
Read More Entries ›