All Entries For
success with walking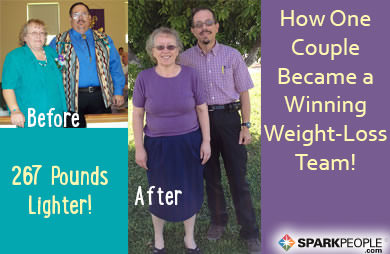 A couple facing diabetes and other health issues joined together to start a weight loss journey that took them from sedentary and lifeless to vigorous and healthy. They now have many Valentine's Day celebrations ahead of them as a couple thanks to careful food tracking and daily walking!
Names:
Steve and Debbie Cartwright
Usernames:
Sac-6582
and
Debarizona
Amount of weight lost:
Steve lost 180 pounds and Debbie lost 87 pounds
Hometown:
Peoria, AZ
Occupations:
Steve is in ministry and Debbie is a facility director for a camp/retreat
Ages:
Steve is 54 and Debbie is 52
Read More ›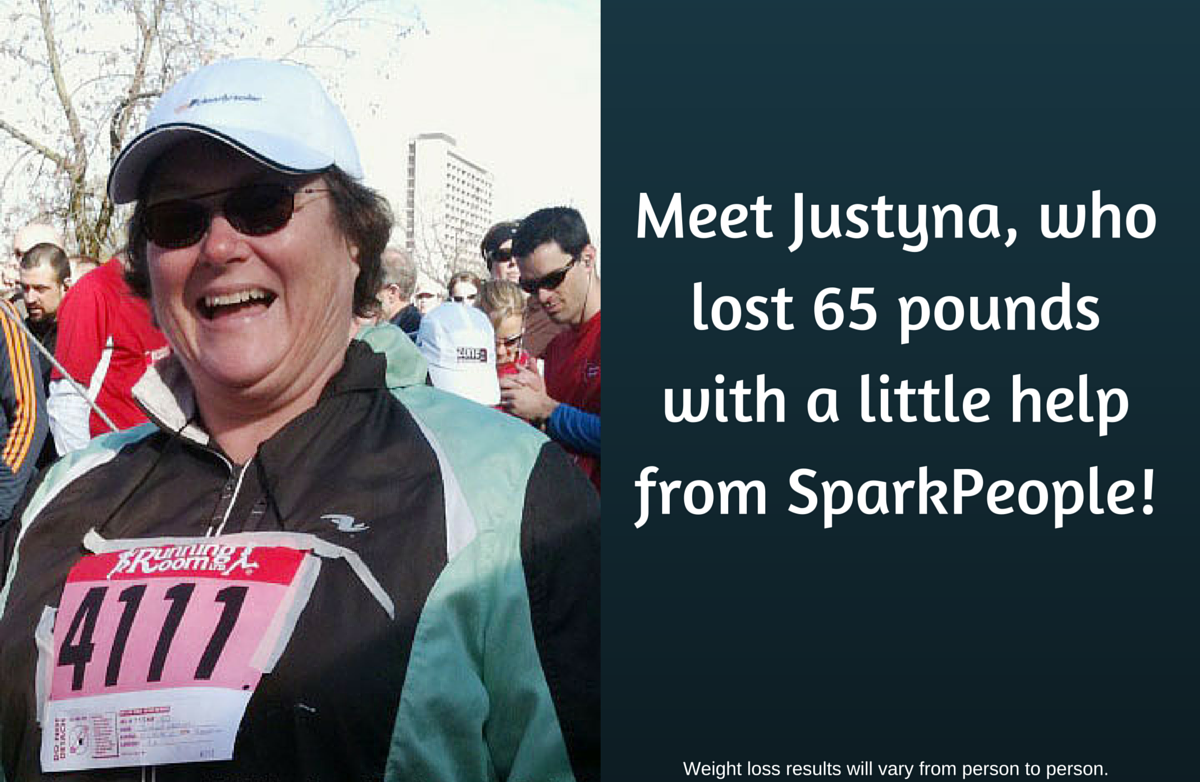 Name:
Justyna Lawrence
Username: Justyna7Amount of weight lost:
65 pounds
Hometown:
Richmond, Ontario, Canada
Occupation:
Bed and Breakfast Owner
Age:
53
Justyna experienced gestational diabetes with her first pregnancy which was complicated by an undiagnosed
eating disorder
(Bulimia) as well as being an
emotional eater
. Once her baby arrived she realized she needed to admit her eating was out of control and sought help.
Overeater's Anonymous
and
their 12 steps
helped Justyna realize the "dragon" in her life was real. In Alcoholics Anonymous, people learn to slay the dragon but in Overeater's Anonymous, participants have to learn how to walk the dragon three times a day.
Justyna got counseling to help her deal with her demons. She battled with yo-yo dieting through two more pregnancies after which she experienced a steady weight increase that was resulting in a ten pound weight gain every year. At her top weight of 264 pounds, walking was like walking on shards of glass. At 46 years of age, she wasn't the best candidate for knee replacements and found herself spending most of her days in an electric lift chair in a bedroom.
Read More ›
Mia Padilla-Schubert (JADEDCUP)Weight Lost:
113 pounds
Hometown:
Rancho Cucamonga, CA
Occupation:
Artist and Stay at Home Mom
What was life like before your weight loss?
I gained weight slowly after I got married. During my second year of marriage, I had a tubal (ectopic) pregnancy, and my weight gain really picked up. After trying to get pregnant for 10 years, my doctor found I had thyroid cancer. I lost a bit of weight after undergoing surgery and radiation treatments. One year later, I became pregnant. I watched what I ate and had a healthy baby girl! However, all of this was still not enough to make my changes stick. Using the excuse that I was a busy mom, I regained the 30 pounds I had lost plus an extra 60 pounds on top of that. At age 36, I was the biggest I had ever been, weighing in at 275 pounds.
I was achy all the time. My hips hurt and I couldn't sit in any seat for more than 20 minutes. It was humiliating to have to ask for extenders for the belts on plane trips. I had to lean into the center of my car to get my door to close all the way. My arms would go numb all the time from the pressure on them. I couldn't go on many rides anymore at fairs or amusement parks. I couldn't walk very far and had a hard time keeping up with my toddler.
What was your 'light bulb moment' that made you get serious about losing the weight?
One day after a parade, I had to roll over on to my knees to get up from where I had been sitting. My in-laws had to help me. I realized that I couldn't do it anymore. I just couldn't go on living the way that I had been. I was going around and taking my daughter to all sorts of places, but I couldn't actually do anything with her once we got there. I was always watching, never able to do. I was afraid that I would spend my life watching her grow up, always from the sidelines.
Tell us a bit about your weight-loss journey:
Read More ›
SparkPeople member Cerise Wade (
RENCHERRY
) lost 61 pounds--and she's sharing her secrets of success in the latest issue of
First for Women
magazine. Cerise used a form of exercise that's effective and appropriate for people of all fitness levels. Pick up a copy of the magazine and get the scoop on how this 33-year-old mom from Texas shed the pounds for good!
Read More ›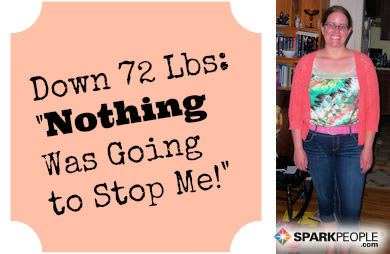 Crystal Turney
(
CRYSSYBUG
)
Weight Lost:
72 pounds
Hometown:
Gallup, NM
Occupation:
Church secretary
What was life like before your weight loss?
I have pretty much always been overweight. In college, I lost a lot of weight and kept it off until after I was married. However, it slowly started creeping back up on me for various reasons. First, I ate when I felt stressed, and I was stressed a lot during my first year of teaching. When I got pregnant with my first child, I started eating healthier and trying not to gain too much weight. After I had him, I stopped eating so well and--you guessed it--gained weight. About the time I decided to start trying to lose the weight, I got pregnant again. After I gave birth to my younger son, I continued to eat healthier foods, just way too much of them! I reached my highest weight of 222 pounds. I felt fat and, let's face it, I
was
fat. I was a stay-at-home mom, and while my boys played together, I would play on the computer. I didn't play outside often, and when I did, I usually sat on a chair and watched, instead of joining in. My clothes no longer fit, and I had to buy or borrow bigger sizes. I was miserable.
What was the main motivation behind your weight loss?
My boys were my biggest motivation to lose weight. They often called my dad "lazy" because he would come home from work and sit in his chair instead of playing with them. He didn't mind so much that they called him lazy. Then one day they called me "lazy like Grandpa." I couldn't take it! I'm their mom; I am supposed to be fun and exciting. I am supposed to play with them and show them I care by doing things they love and enjoy. I shouldn't be sitting on my butt for hours at a time playing on the computer. I decided it was time for a change and nothing was going to stop me.
Read More ›
Pattie Ball (
PUPPYWHISPERS
)Weight Lost:
54 pounds
Hometown:
Middle Grove, NY
Occupation:
Executive secretary
What was life like before your weight loss?
I was an active kid--I was a figure skater and played high school sports, so I was always in good shape. Because of my activity level, I could eat anything and not gain any weight. Once I entered college, I suffered a knee injury that ended my skating career, and caused me to be much more sedentary than I had been in high school. So I began to gain weight. I had knee surgery, and I was off my feet, using a cane for about two years. Gradually, through my own physical rehabilitation program, I was able to walk without the cane. However, I was never able to master the art of losing weight and keeping it off. I was unhappy with myself physically and emotionally. It was hard just to walk or to climb stairs. I missed being active, especially ice skating. I was embarrassed about how I looked. I tried to hide my body under oversize clothes.
What was the main motivation behind your weight loss?
First, I saw a picture of myself and I thought, "Do I really look like that?" That's what got me going in 2008. I lost 60 pounds, but then some personal issues caused me to start gaining it back. Last year, my 30th high school reunion was approaching, and that was the kick I needed to start eating healthy and working out again. I wanted to be in the best shape possible before I faced my high school friends, who hadn't seen me in 30 years.
Tell us a bit about your weight-loss journey:
Read More ›
Barbara June
(
ARKPLE
)
Weight Lost:
142 pounds
Hometown:
Brooklyn, NY
What was life like before your weight loss?
I gained the weight by not paying attention to my food choices, not weighing in, not moving my body, not putting myself first, not dealing with clinical depression, inviting temptations into my home and totally neglecting the wisdom that is my body for many years. I felt depressed. I relied on a cane to walk even a short distance. I could not climb stairs at all. I had difficulty completing daily tasks with ease.
What was the main motivation behind your weight loss?
When my weight climbed over the 360-pound mark, I vowed to lose weight. Enough was enough! I wanted to put myself first--that was my biggest motivation for weight loss. Putting others ahead of me led to clinical depression and weight gain. I was tired of remaining on the sidelines. I wanted to participate more fully in life. I knew I would not have a perfect journey, but I vowed to start where I was and to make slow changes in my eating patterns and gradual changes in movement.
Tell us a bit about your weight loss journey:
To lose the weight, I relied on SparkPeople.com. I weighed in weekly, enjoyed my food choices, savored every bite, competed against myself, engaged in joyful movement, and more!
I believe in the Arthur Ashe quotation, "Start where you are. Use what you have. Do what you can." I also believe that we are each capable beyond our imagination and that we need to be compassionate toward our bodies; right where they are, even carrying excess weight. It's so important to stop feuding with our bodies and to thank our thighs and grab those hips to express gratitude versus wishing them away. Also, I heartily believe that calories don't always account for everything. Outlook counts too!
And, as Maya Angelou says, "Nobody, but nobody, can make it alone." So the journey is best accomplished by buddying up, sharing knowledge, jointly inspiring yourself and others, joining a new SparkTeam, sparking today and sparking often!
I have been very active in the
Biggest Loser Challenge SparkTeam
(completing nearly a dozen rounds) and I am also a co-captain of a private team. My success was enhanced by my role in encouraging others to eat mindfully, to not seek perfection and to lose pound by pound, inch by inch, bite by bite and step by step.
Read More ›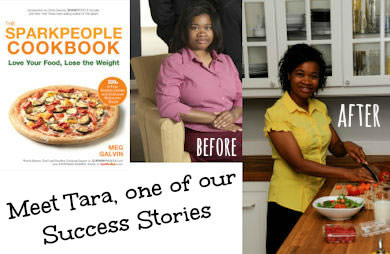 You've peeked inside at the delectable recipes in "
The SparkPeople Cookbook: Love Your Food, Lose the Weight
." But unlike in other cookbooks, ours contains much, much more--including the stories of SparkPeople members just like you who lost weight and kept it off using Chef Meg's recipes and the lessons we share in "The SparkPeople Cookbook." Today we're sharing Tara's story.
Tara (HALLELUL), a clerical worker for a Cincinnati-based nonprofit organization, has an infectious laugh and a smile that lights up her face. She was a member of our
Ditch the Diet Taste Test
. When Tara found she didn't have the energy to keep up with the rest of the congregation in church, she knew she needed to lose weight. Motivation came from a friendly competition in her church and SparkPeople helped her to meet her goals. Now, she's not only enthusiastically praising the Lord on Sundays, but she completed her first marathon in 2010.
I used to say I had "sweet teeth" not just one sweet tooth. My nickname was Froot Loop. I would literally bring an empty margarine tub of the sugary cereal to work with me and snack on it all day. Now I've replaced that with Kashi's Go Lean cereal. Not only do I really like it, but it's also healthy for me so I don't have to feel guilty eating it. Of course I eat it in moderation—about a serving size (1 or 2) and not a tub.It's taken me a little more than a year to lose the weight, but I've reached my goal since participating in the Ditch the Diet Taste Test! Cooking has been so important to my success. I've been hearing more and more about "superfoods" and knowing how to properly incorporate them into a meal each day makes me feel good. I now know that I'm doing what I can to ward off sickness and fuel my body for the all-important "playtime" (which it what I call exercise).
Read More ›