6 DIY Healthy Doughnuts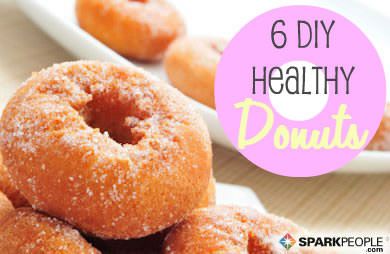 My love of doughnuts started on my sixth birthday, when my parents bought me doughnuts instead of a birthday cake. Ten years later my parents led my family through a pretty amazing lifestyle change that included diet and exercise. I'll never forget walking into a well-known donut chain where you could watch them come off the line. My Mom and I asked for one without icing. They were shocked at the request, not able to comprehend. After convincing them we were serious about the no icing request, we asked for three. They delivered three dozen to the register.

Apparently, customers order them by the dozen there. This got me thinking how to enjoy the warm soft sweetness of doughnuts without the fat, calories and sugar of the traditional recipe. Here's what I learned: start by substituting whole wheat flour, then use plain yogurt instead of oil and butter. Add natural ingredients—like berries, pumpkin, and banana—to add nutritional sweetness. Have fun with toppings too, using lemon zest, orange zest, cinnamon sugar, or add icing in moderation. Try baking instead of frying or make smaller ones to help with portion control. If you don't own a doughnuts pan, try a muffin pan instead. Doughnuts are a wonderful treat, but these recipes give you all the flavor, but not wreck your health goals.





Light Lemon Blueberry Donuts

At 300 calories a pop, donuts are an easy way to wreck a healthy breakfast. They're bursting with fruit and flavor--not fat.

CALORIES: 104.9 | FAT: 1.9g | PROTEIN: 2.4g | CARBS: 21g | FIBER: 2.2g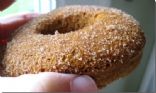 Pumpkin Donuts

Enjoy fresh baked donuts that take less than 25 minutes to bake. They are full of pumpkin so you are getting a serving of veggies while you enjoy them.

CALORIES: 187.9 | FAT: 2.5g | PROTEIN: 4.6g | CARBS: 37.9g | FIBER: 2.7g




Mini Chocolate Mocha Protein Donuts

These donuts have more protein than carbohydrates per serving.

CALORIES: 111.9 | FAT: 6.7g | PROTEIN: 8.6g | CARBS: 5.6g | FIBER: 1.3g




Baked Maple Donuts with Maple Glaze

Use sugar-free maple syrup to sweeten your donut.

CALORIES: 72.1 | FAT: 0.2g | PROTEIN: 4g | CARBS: 11.7g | FIBER: 1.8g




Coconut Dream Donuts
CALORIES: 64.8 | FAT: 1.7g | PROTEIN: 2.5g | CARBS: 12g | FIBER: 4.3g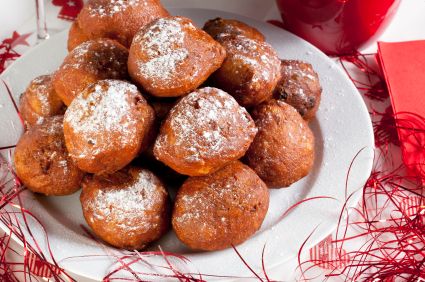 Baked Doughnut Holes
CALORIES: 69.5 | FAT: 0.9g | PROTEIN: 1.9g | CARBS: 13.7g | FIBER: 1.3g
Burn It Off: How Much Walking to Undo a Doughnut?
What is your favorite donut? Will you try to make a healthy version or stick with the orginal recipe?



You will earn

5

SparkPoints

Like what you read? Learn more

about SparkPeople,

or

sign up

for your free account today!
Got a story idea? Give us a shout!