8 Ways to Trim the Fat (and Extra Calories) from Thanksgiving Dinner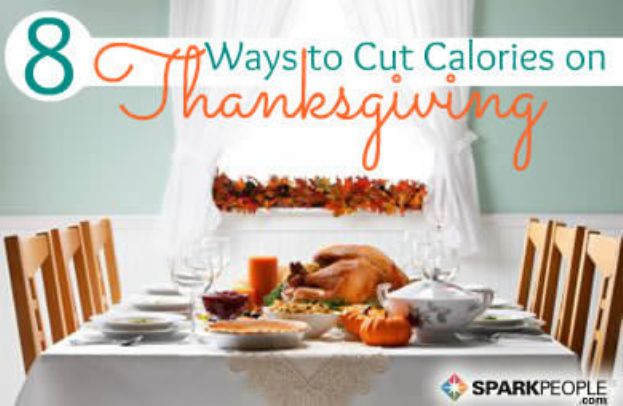 Let's face it: Thanksgiving is a day that, for most of us, focuses on food. You'll probably eat more than usual. I know I will. But, the in the words of my friend and fellow blogger ~INDYGIRL, "one slice of pizza is always going to have fewer calories than 2 slices of pizza." One trip to the Thanksgiving buffet table is going to have fewer calories than two. Two slices of pie will have fewer calories than three.

According to the Caloric Control Council, the average American eats more than 4,500 calories and 229 grams of fat on Thanksgiving day. That's more than twice the number of calories most of us should eat in an entire day, and enough dietary fat for more than three days!

The overload doesn't just come at the dinner table. Most of us start with a festive breakfast, nibble on snacks while waiting for the turkey to come out of the oven, squeeze in a second helping and sneak into the kitchen for late-night turkey sandwiches.

First let's look at an "average" Thanksgiving day, then I'll share some tips that will allow you to indulge in all your favorites but keep you from feeling so awful and bloated after the meal.



Breakfast:
1 large cinnamon roll: 309 calories, 14 g fat
3 slices bacon: 109 calories, 9 g fat
418 calories, 23 g fat

While waiting for the meal:
1 cup homemade eggnog: 343 calories, 19 g fat

The main event:
6 ounces turkey (white meat, with skin): 214 calories, 6 g fat
1 cup mashed potatoes: 162 calories, 1 g fat
1/2 cup green bean casserole: 148 calories, 8 g fat
1 cup sweet potato casserole: 235 calories, 11 g fat
1 cup homemade noodles: 148 calories, 2 g fat
1/2 cup turkey gravy: 61 calories, 3 g fat
2 dinner rolls: 168 calories, 4 g fat
2 pats butter: 72 calories, 8 g fat
1/2 cup stuffing: 178 calories, 9 g fat
1 slice cranberry sauce: 86 calories, 0 g fat
1,471 calories, 52 g fat

Second helpings of your favorites:
1 cup sweet potato casserole: 235 calories, 11 g fat
1/2 cup stuffing: 178 calories, 9 g fat
413 calories, 20 g fat

Dessert after the big meal:
1 slice pumpkin pie: 229 calories, 10 g fat
1/2 slice pecan pie: 245 calories, 13 g fat
1/2 apple pie: 119 calories, 6 g fat
4 T whipped topping: 50 calories, 3 g fat
642 calories, 31 g fat

Sandwich during the game:
6 ounces turkey (white meat, with skin): 214 calories, 6 g fat
2 slices whole-wheat bread: 256 calories, 5 g fat
1 T mayonnaise: 90 calories, 10 g fat
523 calories, 18 g fat

Late-night snack:
1 slice pumpkin pie: 229 calories, 10 g fat
4 T whipped topping: 50 calories, 3 g fat
279 calories, 13 g fat

Total: 4,243 calories, 182 g fat

So how you can make sure you have your fill of Grandma's mashed potatoes and Uncle Steve's pumpkin cheesecake but still exercise some control? Here are some tips, culled from personal experience and member tips.


Start with a healthy breakfast. In my family, we always eat cinnamon rolls on Thanksgiving and Christmas mornings. I'm not sure how the tradition started, but beginning a long day of eating with sugar isn't the best plan. Those refined carbs will burn off quickly, meaning you'll soon be foraging for food to tide you over until the big meal. Calories saved by eating your usual 300-calorie oatmeal with berries and a cup of milk breakfast: about 100

Eat a balanced meal, even if it is larger than usual. Look at the feast above. Stuffing, bread, potatoes, and noodles--all in huge portions. Instead of eating a cup of each one, aim for one to two total servings. I Calories saved: up to 500

Be a food snob. At my dad's family's dinner, Gramma Penelope's cloverleaf dinner rolls are a yearly treat. I always save room for one or two, with butter. But if I'm dining with the other side of the family, who serves store-bought rolls, I skip them. I'd rather save room on my plate for mashed potatoes or stuffing. Calories saved by skipping the rolls and butter: 140 calories

Don't feel pressured to eat everything. If you focus on creating a balanced plate, you probably won't have room for everything. And, let's face it, do you really like every food on the table? (Don't tell, but green bean casserole turns my stomach. I politely decline it every year.) Calories saved by skipping that, along with any other dish you don't like: up to 500, depending on the dish

Skip seconds. When family favorites only appear on the table once a year, it's hard to resist them. Take your time, slow down, and savor your first helping. Does anyone really feel actual hunger after the first round of Thanksgiving dinner? Probably not. Let your food settle, and save your appetite for pie. Calories saved: about 400 as listed above; up to 1,500 if you eat an entire second meal

Taste everything. Thanksgiving feasts are just that, feasts, and a chance to try a variety of foods. But, if you take just a couple of bites--rather than a full scoop--of each dish, you'll still get to experience all the foods you love. Calories saved: up to 1,000

Treat dessert as a snack, not part of the meal. Mmm, pies. They're such an integral part of most Thanksgiving celebrations. But most of us consider them to be an ending to the meal. What if, instead of eating pie immediately after dinner, we waited until it was snack time? And what if we only had a small sliver of each one? Calories saved: up to 400 depending on the size of your slices

Skip the grazing. A turkey sandwich here, a slice of pie there, and a cup of eggnog, too. Those extras add up. Calories saved by skipping them: up to 700

Thanksgiving should be a day to celebrate. These tips are meant to help us lessen the damage, so to speak. Eat, drink, be merry!

Do you use any of these tips? Do you pay attention to calorie counts and nutrition on Thanksgiving?



You will earn

5

SparkPoints

Like what you read? Learn more

about SparkPeople,

or

sign up

for your free account today!
Got a story idea? Give us a shout!