All Entries For
success with running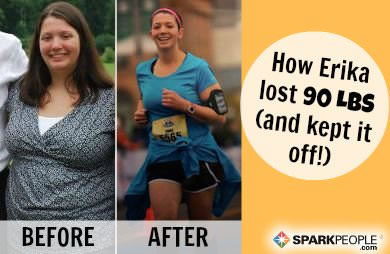 Name:
Erika Schnure
Username:
FATGIRLRUNN
Amount of weight lost:
90 lbs.
Hometown:
Oak Park, IL
Occupation:
Meeting Planner
Age:
28
What was life like before your weight loss?
Just before I lost weight, I was in a very bad place personally. I had just lost my job, I was
extremely depressed
, and I ate for comfort during my days at home. I used a popular weight-loss program to lose 55 pounds in 2010, but once I lost my job and couldn't pay for the food anymore, I gained every single pound back, and then some. This landed me at 230 pounds at 5 foot 6 inches tall. I was completely miserable. In just my mid-20s, I was on the verge of being categorized as having
high blood pressure
, and my
cholesterol was very high
. I had given up. I thought my weight was due to genetics, and there was nothing I could do about it, so why try to eat healthy? Why pay for a gym when working out wouldn't do anything?
What was your ''light bulb moment'' that made you get serious about losing the weight?
After losing my job in DC, I ended up moving back in with my parents in the Chicago area for about a year. Shortly after I moved home, my mother, who was also obese at the time, was diagnosed with
type 2 diabetes
.
Obviously, I understood the genetic implications of such a diagnosis, and I knew I was in danger of the same problem. Moving home may have actually been the best thing for me, because living in the far suburbs meant that I could not just walk a few blocks to gorge on burritos and cheeseburgers at my neighborhood restaurants like I could in DC. The closest fast food restaurants were miles away and required a car trip. I realized that eating as poorly as I did was just not worth it. As I made that realization, I discovered that eating well was not only a lot cheaper and easier, it was much more delicious!
Tell us a bit about your weight-loss journey.
Read More ›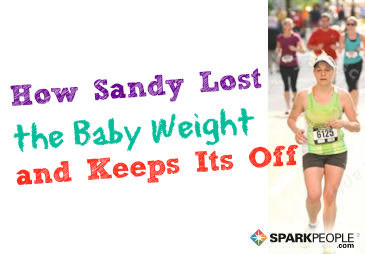 Sandy Clark (
ORANGECOWCAT
)Weight Lost:
70 pounds
Hometown:
Roland, Iowa
Occupation:
Group fitness instructor and stay-at-home mom
What was life like before your weight loss?
I got pregnant with my son in 2006. Prior to that pregnancy, I was always at a normal body weight and didn't have to work much to maintain that weight. During my pregnancy, I gained more than 60 pounds. After delivering my son, I realized that those 60-plus pounds were not really necessary during my pregnancy! I lost about 35 pounds within the first few months, but when I went back to work, I started to gain all the weight back, plus some more. I was working 60 to 70 hours a week and felt miserable because I was struggling to make time for myself to make me feel better. The more miserable I felt, the more I struggled with my weight. I'd never been overweight in my life and to struggle with it now felt awful. I wanted to be happy with my new life and my new family, but I hated how I looked and how I felt. Although I was still trying to be active, I found that most of the time I really just wanted to sit around and feel sorry for myself.
What was your 'light bulb moment' that made you get serious about losing the weight?
I wanted to lose the weight from the beginning, so there was never really one factor that pushed me to do it. I was unhappy with how I looked, and I was tired of wearing baggy clothes to try to hide my size. My wedding rings were tight, and I absolutely hated all the pictures I saw of me with my baby. I didn't want to be close physically to my husband because I was repulsed by my weight. And I was just sad. All these things together really pushed me to want to get serious about the weight loss. However, when we had our fourth miscarriage a few months after my son's first birthday, I decided that I was going to lose the weight for good. I was going to have a healthy lifestyle so that I would be around to enjoy my son's life, see him grow up and hopefully have some more kids!
Tell us a bit about your weight-loss journey:
Read More ›
Lisa Walton (
LUCKEGIRL40
)Weight Lost:
78 pounds
Hometown:
Papillion, NE
Occupation:
Disaster Recovery Analyst
What was life like before your weight loss?
I have had a weight problem most of my life. I can still remember the first time my mom looked at me and told me I needed to lose weight. I was only about eight years old at the time, so I decided to put my leotard on and run around the house for a while. I took the scale to my mom and showed her that I had "lost" weight. She told me that that's not how it works. My mom was concerned about me and would continually try to get me to lose weight over the years. She tried everything, including bribes. I heard time after time that I wouldn't be able to get a good job or get a boyfriend if I continued to be heavy. I was very stubborn and tried to prove my mom wrong. I tried diet after diet and would experience temporary success only to jump back up to a higher weight again. I got married to my high-school sweetheart when I was 21 years old. Soon, he picked up where my mom left off with the lectures about my weight. I wanted to feel like my husband could accept me for who I was. After that, my weight skyrocketed. I got all the way up to 240 pounds when I was pregnant with my first child. At 5'3", I was pretty big. I lost some weight after giving birth, but began a cycle of yo-yo weight loss and weight gain for a few years. At a doctor's visit in July 2010, I felt crushed when I looked at the scale and it read 220 pounds again. I was almost back at my pregnancy weight.
I felt awful. I couldn't stand looking in the mirror. I continued to feel my jeans getting tighter and tighter. I was grumpy with my kids and my husband. I constantly thought about how other people viewed me as a fat person. I felt self-conscious when I would sit in chairs and worried about whether I was crowding the people next to me or if the chair was going to hold my weight. I thought about my weight most of the day every day. It was miserable. I didn't feel like I was worth the time of day. One day, I sat on the floor during a very crowded meeting, and I had a hard time getting up off the floor. I realized that the problem was getting out of control.
What was your 'light bulb moment' that made you get serious about losing the weight?
My grandmother was diagnosed with Type II diabetes when she was about 60 years old. She also had macular degeneration and high blood pressure. In May 2010, my grandmother was diagnosed with an aggressive cancer, and she passed away on June 1, 2010 at age 81. I was very close to her, and it hit me very hard when she died. I decided that I was going to use her death as the motivation I needed to start my weight-loss journey. I wanted something positive to come out of her death. I take after her in a lot of ways, and I don't want to develop high blood pressure or diabetes. I was also at my highest weight at the time of her death, and I couldn't stand myself anymore. I needed a change. I needed to be able to look myself in the mirror and be happy with what I saw. I needed to be able to not dread putting on my pants.
Tell us a bit about your weight-loss journey:
Read More ›
Emily Gant (HOPEFULCHANGE)Weight Lost:
67 pounds
Hometown:
Ozark, MO
Occupation:
Homemaker
What was life like before your weight loss?
After getting married in 2004, I put on some weight. Then, I had my first child in 2006 and another in 2008. I gained a significant amount of weight with each pregnancy, with very little loss in between the two, which left me with quite a bit of extra weight packed onto my small frame. While pregnant, I developed horrible eating and exercising habits. I ate a lot-- whatever I wanted, whenever I wanted! Plus, my activity level was next to nothing. I was always out of breath just doing the simplest things. I never wanted to go anywhere or do anything because I was ashamed and embarrassed about who I was. I hurt; not just physically but emotionally as well.
What was your 'light bulb moment' that made you get serious about losing the weight?
One day I put on my "fat pants", and the loosest hole in my belt had become, once again, too small. I could feel the skin from my rolls touching. My face had changed so much. I thought: "This has to stop." I couldn't stand myself any longer. The time had definitely come. The only question that remained was, "how?"
What are some obstacles that you experienced during your weight loss journey and how did you handle them?
Many people fall off the wagon completely, especially those who are in for a quick fix. Stuff is going to happen: you're going to make poor food choices occasionally, you're going to slack off on exercising from time to time, but the difference is you keep going anyway. Forgive yourself and move on. You may blow it here and there, but you don't fail until you give up.
Thankfully, I never completely fell off the wagon, however I did get extremely frustrated when my weight loss would get "stuck" and I couldn't seem to move beyond a particular number or size. I just kept going, trying to up my workouts, being extra cautious of what and how much I was consuming and most importantly, focused on the fact that I was, in fact, healthy. There were times it took months of going back and forth with the same five pounds, but eventually I would break through, just never give up!
Early on in my journey, I experienced a major negative experience. While I was out trying to go for a run, I was actually taunted and made fun of for my running and it hurt! Yes, I got upset and yes, it made me consider stopping. But then, I made my mind up to use that as motivation to keep pushing! Besides, I was out running and bettering myself; while those people weren't getting any healthier by teasing me. People who really care don't judge those trying to be healthy and the ones who do judge or mock, their opinion just isn't worth your time.
Tell us a bit about your weight loss journey:
Read More ›
Marsha West (SLENDERELLA61)Weight Lost:
86 pounds
Hometown:
Lakeland, FL
Occupation:
Retired Non-Profit Administrator
What was life like before your weight loss?
I was put on my first "diet" at one year of age. The doctor put me on skim milk. I was heavy throughout my childhood. My parents were very loving and encouraging in many ways but were both overweight and didn't recognize my weight as a problem until I was 11 years old. I then tried diet shakes and diet cola. I tried to lose unsuccessfully for years. At age 16, I finally lost 60 pounds, going from 172 to 112 pounds. It took me nine months to lose it, and I probably did not maintain for even a week. I went back up to 155 pounds within three months.
As a child I didn't want to run, dance, or move fast because I was embarrassed to let others see my fat jiggle. When all my friends were dating, I wasn't. I was so sad not to have a date to the prom. As an adult, I constantly felt less than other people because of my weight. I put up with bad relationships and being treated badly because I didn't think I deserved more. I had given up trying to lose weight to look better.
What was your 'light-bulb moment' that made you get serious about losing the weight?
When the doctor told me, at age 59, that I had three months to bring down my cholesterol and blood pressure, I wanted to do it for my health. And then, my daughter asked me to help her lose her baby weight, and I certainly wanted to support her. There was an evening when I was sitting in front of the TV eating dry cereal out of the box when I noticed how empty the box had become with me not even really tasting it. I told myself that if I wanted to live life at the weight that I really wanted to be, then I simply could not continue this mindless eating. For the next week, I felt like I was in mourning the loss of my good evening companion.
Not long after that, I was just about to overfeed my dear dog as usual; I was always afraid she might be hungry. But then I stopped. I wanted her to have the same health and energy I was beginning to enjoy! The light bulb went on and I knew what I wanted for both of us. There were no doubts and no turning back.
Tell us a bit about your weight loss journey: Read More ›
Michelle Miller (JUSTCHELLE75)Weight Lost:
140 pounds
Hometown:
Houston, TX
Occupation:
Paralegal
What was life like before your weight loss?
My weight has had vast fluctuations my entire life. I maintained at 135 pounds for about three years and then I steadily went up. I gained the most recent weight when I was pregnant with my daughter. I gained about 100 pounds while pregnant with her and then had a C-section. I was so out of control I wouldn't even let the nurse tell me what I weighed. I didn't even realize how large I had gotten. I no longer looked at myself in the mirror and when I did, I didn't see what I was becoming. I got married and had a baby all in the span of one year while working full time and going to school. I had many changes and didn't know how to take care of myself. My husband and I were so busy that we turned to fast food or eating out much too much. I was winded to the point of thinking I had asthma just walking up the stairs. We would take my daughter out in her jogging stroller and I would hurt. My husband would tell me how beautiful I was but in my head I just didn't want to believe him. I didn't feel beautiful or secure.
What was your 'light bulb moment' that made you get serious about losing the weight?
I saw a picture of myself with my daughter in December 2010. It's the first time I really saw myself and how out of control I was. I decided I needed to lose weight and get healthy so my daughter would never have to go through what I did. I also wanted to feel comfortable taking pictures with her and our life. I had become happy with myself.
Tell us a bit about your weight loss journey:
I joined Weight Watchers and SparkPeople on the very same day. That day was January 17, 2011. That's the day I have dubbed my 'Healthiversary'.
Read More ›
Donna DeGroot (DDHEART)Weight Lost: 41 poundsHometown: Gillett, WIOccupation: Retired Cardiac Nurse Specialist/ re-retired Passenger Services Manager on a private railcar
What was life like before your weight loss?
I was never hugely overweight, but always heavier than I probably should be. I grew up being "the big little sister." My father said he preferred his girls plump (I hate that word!) while my mother had her own weight problems. Food was the equivalent of love. No hugging, but here have some ice cream. Now, that's not to blame my family but it does help to explain the complex relationship with food and the connection with emotional eating. I love to eat and I eat when I'm unhappy, bored, when socializing, etc. I have almost no pictures from when I was heavier. I would avoid the camera like the plague and when I did find that a photo of me was taken, I would often get rid of it if it was unflattering. It's important for me to note, that when I try to look back through photos, I now see pictures where I was not particularly overweight but if you were to ask me I would've said I was ALWAYS overweight. I did not have an eating disorder, unless you would count the years of yo-yo diets, but during those earlier years, I also wasn't particularly fit. I certainly wasn't athletic. Even as a child, I was shy, cautious and aware that I was "the fat little sister." I was not as coordinated as other children- at least that's what I thought- and I was afraid to try things for fear that I would look foolish. I missed out on so much.
What was your 'light bulb moment' that made you get serious about losing the weight?
A few years ago when I retired, I joined Weight Watchers and had to step on the scale. My 'OMG moment' was stepping on that scale and realizing that this weight gain could not keep up. I lost about 40 pounds and actually wore a size six very briefly. Alas, I didn't keep it up. I should have continued to go to meetings, but didn't and soon even size 12's didn't fit. I managed to keep some control but just couldn't seem to get myself on track. I knew I needed to adopt a different life philosophy if I want to fit inside a different body. I don't know if I will ever be a person who likes to exercise more than she likes to eat, but I sure would like to be someone who doesn't fill the empty spaces with food.
Tell us a bit about your weight loss journey: Read More ›
Pattie Ball (
PUPPYWHISPERS
)Weight Lost:
54 pounds
Hometown:
Middle Grove, NY
Occupation:
Executive secretary
What was life like before your weight loss?
I was an active kid--I was a figure skater and played high school sports, so I was always in good shape. Because of my activity level, I could eat anything and not gain any weight. Once I entered college, I suffered a knee injury that ended my skating career, and caused me to be much more sedentary than I had been in high school. So I began to gain weight. I had knee surgery, and I was off my feet, using a cane for about two years. Gradually, through my own physical rehabilitation program, I was able to walk without the cane. However, I was never able to master the art of losing weight and keeping it off. I was unhappy with myself physically and emotionally. It was hard just to walk or to climb stairs. I missed being active, especially ice skating. I was embarrassed about how I looked. I tried to hide my body under oversize clothes.
What was the main motivation behind your weight loss?
First, I saw a picture of myself and I thought, "Do I really look like that?" That's what got me going in 2008. I lost 60 pounds, but then some personal issues caused me to start gaining it back. Last year, my 30th high school reunion was approaching, and that was the kick I needed to start eating healthy and working out again. I wanted to be in the best shape possible before I faced my high school friends, who hadn't seen me in 30 years.
Tell us a bit about your weight-loss journey:
Read More ›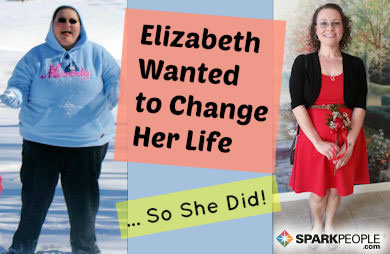 Name:
Elizabeth Tiedemann (
MOONBIRD
)
Weight Lost:
153 pounds
Hometown:
Chesterfield, VA
Occupation:
Stay-at-home mom
What was life like before losing weight?
I started to gain weight in the first grade, and I continued to gain throughout most of my life. For me, I ate when I was sad, anxious, lonely, or any emotion in between. Growing up in a family where almost everyone was overweight didn't give me much motivation to be different. It was who I was supposed to be. But, deep down, I was not happy. I loved my family and had everything I wanted, except for control over my weight. After the birth of my kids, I was exhausted and would sometimes go all day without eating. By the end of the day, I was starving and would eat everything in sight. I didn't believe in myself and didn't take care of myself, which is why I allowed myself to gain so much weight.
For so long I missed out on things I wanted to do. I couldn't ride a lot of the rides at theme parks. When we went out to eat, I could barely fit in most of the booths. During the day, I started to have pain in my legs and feet when I'd stand a lot. I went to bed worrying that every little ache or pain meant I could be dying. I love bird watching, and I'd hear of bird walks at parks but not go because I knew it would exhaust me. I'd sweat profusely and be out of breath. It was awful. I rarely felt comfortable in my own skin.
What was the main motivation behind your weight loss?
My biggest motivation was, and still is, my family. I wanted to
live
life with them! I wanted to ride bikes with my kids, play at the playground and fit on the rides at amusement parks. My motivation has mostly been to feel good and be healthy, because when I was so much heavier I felt tired ALL the time and generally unwell. In April 2010, I decided that I'd had enough of being overweight and unhealthy. I wanted to change my life!
Read More ›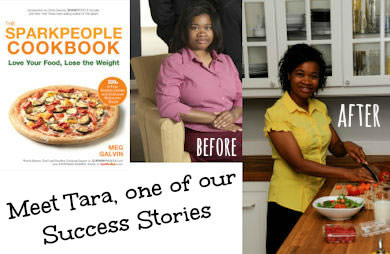 You've peeked inside at the delectable recipes in "
The SparkPeople Cookbook: Love Your Food, Lose the Weight
." But unlike in other cookbooks, ours contains much, much more--including the stories of SparkPeople members just like you who lost weight and kept it off using Chef Meg's recipes and the lessons we share in "The SparkPeople Cookbook." Today we're sharing Tara's story.
Tara (HALLELUL), a clerical worker for a Cincinnati-based nonprofit organization, has an infectious laugh and a smile that lights up her face. She was a member of our
Ditch the Diet Taste Test
. When Tara found she didn't have the energy to keep up with the rest of the congregation in church, she knew she needed to lose weight. Motivation came from a friendly competition in her church and SparkPeople helped her to meet her goals. Now, she's not only enthusiastically praising the Lord on Sundays, but she completed her first marathon in 2010.
I used to say I had "sweet teeth" not just one sweet tooth. My nickname was Froot Loop. I would literally bring an empty margarine tub of the sugary cereal to work with me and snack on it all day. Now I've replaced that with Kashi's Go Lean cereal. Not only do I really like it, but it's also healthy for me so I don't have to feel guilty eating it. Of course I eat it in moderation—about a serving size (1 or 2) and not a tub.It's taken me a little more than a year to lose the weight, but I've reached my goal since participating in the Ditch the Diet Taste Test! Cooking has been so important to my success. I've been hearing more and more about "superfoods" and knowing how to properly incorporate them into a meal each day makes me feel good. I now know that I'm doing what I can to ward off sickness and fuel my body for the all-important "playtime" (which it what I call exercise).
Read More ›
Meet Katie Foster (
SLIMKATIE
) a
SparkPeople
member who has maintained a 115-pound weight loss for two years! Find out her secrets of success here.What is your age?:
30
How long have you been a SparkPeople member? How did you find SparkPeople?:
I have been a member since 2007, but I started actively using the site in 2009. I found SparkPeople when I did a Google search for weight-loss success stories.
What is your favorite feature on SparkPeople?:
I love the recipe calculator. In the beginning of my weight loss, I typed in all my recipes and then saved them to use for later. Whenever I cooked dinner, I just had to look it up and the nutrition info was right in front of me. It was a big time-saver!
How much weight have you lost?:
I initially lost 125 pounds, but I've been maintaining a 110-115 pound loss for two years.
How long did it take to lose the weight?:
It took 16 months to lose 125 pounds.
What was your light bulb moment that made you decide to lose weight?:
My son Noah, who was 5 years old at the time, was learning to ride a two-wheeler bicycle. He needed someone to run up and down the street alongside his bike. I tried, but was physically unable to keep up. I felt like the worst mother ever, and my sister had to take over for me. I vowed to lose the weight so that when it was my younger son Eli's turn to learn, I would be the one to teach him. (And I did!)
What was your biggest obstacle while trying to lose weight?:
My biggest obstacle was dealing with other people's opinions on what I was doing. Everyone seemed to want to tell me how I should or shouldn't be eating, so I just had to do what I knew was right for my body. It was hard at holidays and parties when everyone kept telling me that "just one bite" wouldn't hurt.
What does your weekly exercise schedule look like?:
Read More ›
Editor's Note: Want to read more about Dani's story? Pick up a copy of the latest issue of First magazine, which features Dani and The SparkPeople Cookbook! Her story was also featured on Yahoo Shine this week.
Weight loss may not be the first topic that comes to mind when you think of Valentine's Day. But there's really no better way to say "I love you" than resolving to get healthier, live longer and look better for your spouse, significant other, child or someone else close to your heart. In the case of couples, several studies show that it's easier to lose weight
with
your partner as well as
for
them. I should know. My husband Rich and I lost a combined 285 pounds together.
We've been together almost 16 years now. We've been through some hard times, especially losing family members and working long hours at multiple jobs to pay the bills. We've always done it together though, which has made the load easier to bear.
But about three years ago, we looked down and realized we were both at our heaviest weight ever. I had put on a ton of weight after my mom passed away. We worked too much, took terrible care of ourselves, and weren't spending quality time together.
So we made a commitment to each other and our marriage to make better choices.
Read More ›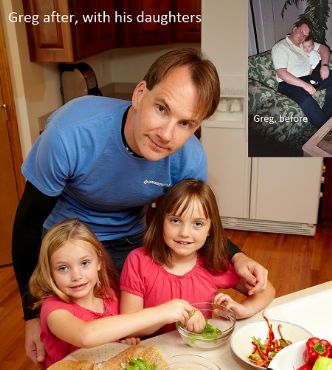 It is my pleasure to introduce to you who don't know him, Greg Gaul aka
Ksigma1222
who has lost 155 pounds!
Greg is one of the most fascinating people I've had the honor to meet in person. He wears his heart on his sleeve and genuinely cares about others. He has lost so much weight and made so many healthy changes! We both spoke at the 2009 SparkPeople convention, and we have maintained a friendship since.
He is such an inspiration to me that I call him "Rockstar." He has spoken at conventions, been on local television, hosted workshops in his hometown, been featured in both SparkPeople books, and I venture to say I don't believe he is done yet.
He was born in Omaha, NW, but lives in Topeka, KS, where he is the Safety and Security Manager at the Topeka and Shawnee County Public Library. At age 38, he is married to his wife Melinda and had daughters Hannah (9) and Rachel (7) and son Jesse (2). His hobbies are running, swimming, cooking, playing cards, pop up books, shopping, and anything that keeps him moving and living. He joined SparkPeople in October 2007.
Read More ›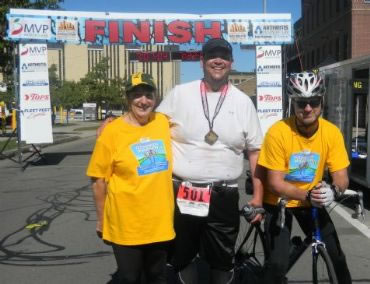 When I first started my journey at 385 pounds, life was difficult. Like the proverbial frog in hot water, my mind made slow adaptations to accept the limitations that each successively heavier weight imposed on my life. Limitations that would be accepted as the new normal.
I was growing larger every year but somehow I still saw myself through skinny glasses. I was somehow OK with systematically retiring clothes to the dark part of my closet, OK with not being able to comfortably climb stairs, OK with the tightness I felt in my chest with every small exertion.
Somehow I found a way to cope and if I ignored it long enough, it would all go away… somehow.
But pictures, pictures don't lie.
Pictures have a way of ripping off the mask of self-deception. I never looked good in a picture so rather than deal with a "Kodak confrontation," I would simply avoid cameras or find something to cover up with when having my picture taken.
Finally, I could no longer hide from the truth, I was out of control.
Slowly, I started making changes. As the weight started coming off, each day became a gift, each package containing some ability that I had lost along the way. I was slowly getting my life back. While the scale was slow to move for the first few months, the changes were real nonetheless. Within weeks, my clothes were fitting a little better and I certainly felt better.
The first 30 pounds brought some profound changes. Day to day tasks were not so difficult.
Tying my shoes was no longer classified as an endurance event.
Stairs were becoming easier and less like mountain climbing.
I even jogged my first mile after months of wheezing my way from mailbox to mailbox.
After 50 pounds, I regained enough mobility and had built enough endurance to complete my first ever, real, live, genuine running event, a 10K. Wow, ME, a runner? Who would have thought?
Read More ›