All Entries For
sunscreen
A few weeks ago, I had a spot removed from my shoulder. My dermatologist cut out a pretty hefty chunk that required several stitches and has left me with a one-inch scar.
Relief that the sketchy spot was history was soon replaced by panic when I was given post-op instructions:
no lifting more than 10 pounds
no lifting my arm past 90 degrees
no running
no bike riding or Spinning
no yoga involving arms or any weight on the wrists
None of that for two weeks. TWO WEEKS! What?
I exercise for a lot of reasons
: for my health, to keep my weight in check, to get stronger, to help deal with stress, for the feeling it gives me, because I like it. I like staying active, and I find that the more I move, the better I feel. My back pain flares up if I skip even two days of yoga, I notice my anxiety levels rise on days I don't work out, and I just feel like something is missing from my day if I haven't sweated at least once. In addition to running two or three days a week, I usually take a weekly Pilates and Spinning class, and I walk a lot on weekends and in the evenings.
I had been forewarned that yoga would be out--no weight on the arms or wrists. But running? No
running
? And no Spinning? I actually cried a little.
As I lay face down on the table, I thought about all I could do, and I decided to use this as a chance to focus on exercises that I usually skimp on--power walking, core exercises, and strength training.
These two weeks would be good for me.
So what did I do?
Read More ›
Summer provides a perfect opportunity to get a healthy dose of the
sunshine vitamin
that many of us need. At the same time, we are mindful of the
damaging effects of the sun's UV rays
we have heard so much about over the years. We look for
tips that make applying sunscreen easier and more fun for kids
while
not always wearing it ourselves
.
Last summer the
FDA unveiled new rules related to sunscreen claims
to help reduce consumer confusion about UV protection and claims related to being waterproof or sweatproof. The new rules would have gone into effect June 17, 2012 were it not for an
FDA issued delay
last month that provided a six-month extension.
With all the confusion regarding when and how the guidelines will change, it can be difficult to know how to protect your skin against the sun at the beach or during outdoor workouts. Here are some useful tips to help you have a skin safe summer.
Read More ›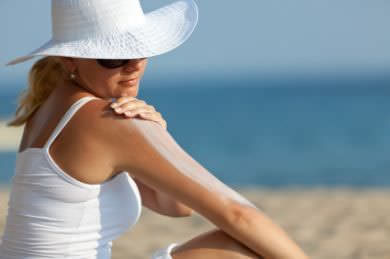 Summer is near, which means many of you will be wearing shorts, tank tops, bathing suits, and other clothing that exposes more skin. Some of you may already be doing this as many areas in the U.S. are already experiencing very warm weather. Exposing more skin, especially in the sun, can be really hard on your skin and create some issues that you may not think of at the time of exposure.
Read More ›
Living in Southern Florida, I've become something of a sunscreen aficionado.
There are bottles in my purses, tubes in our cars, more in our medicine cabinets and in the garage cabinet where the outdoor toys are stored. I put on an SPF-laden moisturizer every morning as soon as I get out of the shower and my two sons are lotioned up before they head to daycare most days. It's just part of our routine.
Getting the kids to hold still long enough to get fully covered in sun protection hasn't always been easy. Most toddlers seem to feel like you're putting molten lava on their skin when you smear on the sunscreen. To get my boys – ages 2 and 4 – used to it, I let them "help" by lotioning up a spot I'd already done or smearing a bit on my face while I rubbed sunscreen into theirs. I waited until they were trapped in their carseats to smear sunscreen on their faces, the body part that seemed to elicit the most rage. I pretended I was a monster chasing them, swiping sunscreen on them when they were captured.
I bribed them with treats. I threatened with time-outs. I sang silly songs while I rubbed. But mostly, I just did it until eventually they got used to it.
Everyday sunscreen is a good idea – at least on faces, which get daily sun exposure – and will help make applying sunscreen on your pool or beach days easier. Here are a few more ideas for making sure you and your kids are well-protected when you play in the sun:
Read More ›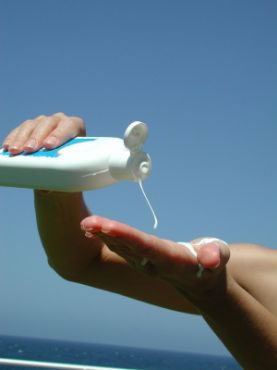 It's hard to explain to a 5 and 3-year old why it's important to coat their bodies in greasy sunscreen when we go outside. They can't quite understand the concept of cancer and skin damage, so sometimes it's a battle to get them covered. Especially when we're outside a lot in the summer, I use sunscreen as much as possible (although I do give them a little time without it just so they get their daily dose of Vitamin D). I also encourage them to wear hats because I don't think you can be too careful when it comes to the sun.
Read More ›
Editor's Note:
Cathy Cram, M.S., is the resident maternal fitness expert on our sister site, BabyFit.com. She writes a monthly series on menopause health and fitness.
One of the most visible changes you may notice during the menopausal period is the look of your skin. What may start out as a subtle increase in fine lines and dryness can quickly accelerate as estrogen wanes to crepey, uneven texture and deep wrinkles. Although the aging process plays a role in skin changes, the hormonal shifts of menopause hastens the appearance of pigmented and wrinkled skin, especially in women who smoke, eat a poor diet and are sedentary. The good news is you can improve the health and appearance of your skin by making some positive lifestyle changes and adding a few "silver bullets" to your skincare routine.
The leading causes of poor skin health are:
Smoking
Chronic alcohol use
Rollercoaster weight gain/loss
Poor diet
Sedentary lifestyle
Sun exposure
Read More ›
With summer here, it is important to remember to protect your skin when enjoying outdoor activities. However, even tanning beds have given good reason to cause alarm and we should be mindful of the consequences of those as well, not just the harmful rays from the sun. Below is an interesting and informative video that has numerous people speaking out to their 16-year-old selves about melanoma skin cancer and how it has affected them.
Read More ›
We've blogged in the past about the importance of wearing sunscreen.
I've even admitted
that I'm good at putting it on my kids, but don't always take the time to protect myself. That's actually changing, especially as I notice I easily get brown spots on my face from too much sun that don't go away. Yuck.
When it comes to choosing a sunscreen for myself, I'm never quite sure which product to buy. Do I go with a trusted name-brand, or are the generic products just as good? Which is better: the lotion or spray-on variety? A new study ranks the best products on the market, and the findings might surprise you.
Read More ›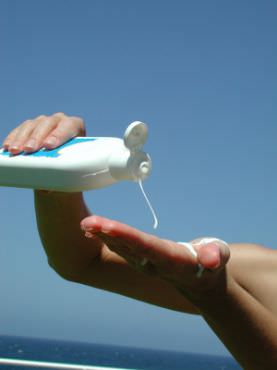 I feel like my kids are constantly greasy in the summer, since I coat them in sunscreen every time we go out to play. My son usually has a hat on and my daughter either wears a hat or her favorite ladybug sunglasses. I know about the damaging effects of the sun's rays, so I try to be very careful and not expose them to too much (except for a few minutes unprotected to get their Vitamin D for the day.) You'd think that because I'm so diligent with my children, I'd also make sure I'm protected. But honestly, that's not always the case.
Read More ›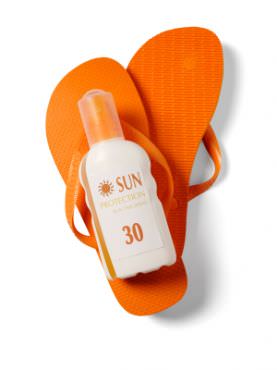 For years, we've been told to slather on sunscreen every time we head outdoors so we can protect ourselves from skin cancer. But what we're not told is that sunscreens are not created equal: Some aren't as protective as they claim to be, while others contain potentially hazardous ingredients. That's the consensus of the
Environmental Working Group
. The nonprofit organization dedicated to protecting public health and the environment recently updated their
Sunscreen Guide
for 2010 to help consumers make better choices this summer and beyond.
EWG looked at more than 500 sunscreens on the market, tested them for potency, examined their ingredients, and reviewed the claims made on their packages. The result? A mere 39 out of 500 sunscreens examined meet their guidelines for consumer safety and sun protection.
"Many sunscreens available in the U.S. may be the equivalent of modern-day snake oil, plying customers with claims of broad-spectrum protection but not providing it, while exposing people to potentially hazardous chemicals that can penetrate the skin into the body,"
said Jane Houlihan
, EWG Senior Vice President for Research. "When only 8 percent of sunscreens rate high for safety and efficacy, it's clear that consumers concerned about protecting themselves and their families are left with few good options."
What can we learn from this investigation?
Read More ›
I've become a sunscreen connoisseur by necessity.
I should have been born during the Victorian era. With my incredibly pale skin and inability to withstand hot weather (I've passed out on more than one outing to amusement parks or outdoor festivals despite proper shade and hydration), I am better suited to recline on a chaise lounge, one hand clutching a cool drink or silk fan and the other pressed to my forehead in melodramatic fashion.
But while a cultural anachronism I might be, I'm no wilting flower and love being active outdoors during nice weather. That means that before I think about heading outside any time of year, I'm quick to slather myself in sunscreen.
I wear
Neutrogena Healthy Defense
(SPF 45) on my face year-round, and since junior high, I reach for the highest SPF on the shelf for the rest of my body.
A decade or so ago, the highest SPF was 25 or 30. Then 45 was tops for a few years, soon followed by 55, 60, and in 2008, Coppertone's 70+--the highest ever. This year, Neutrogena's 100+ hit the market.
All those numbers can be confusing. Is higher always better? What should you know about sunscreen?
Read More ›