SparkPeople Guest Blogger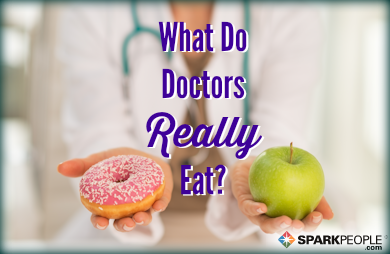 Fact: Doctors love to eat. It is a truth that I learned early on in my medical training and one that has followed me through my career. To survive long shifts and a revolving door of patients, I quickly learned that a solid meal is key, but that doesn't always mean we have time to sit down for a nice meal of quinoa and kale. For doctors, food is energy, plain and simple, and that means carbs, fats and proteins that can be procured and eaten quickly on breaks.

As the treadmill of my life as a surgeon cranked up to full speed, I adopted these poor eating habits to cope with my increasingly hectic schedule. Sporadic eating throughout the day led to overeating at dinner, and bribing nurses with glazed croissants ended with indulging in one or two sweet treats myself. I gave little thought to nutritional value or savoring the taste of what I was eating and thus, as my practice grew, so did my waistline.

Suddenly, 20 years had passed since my days as an eager intern, and my weight was up--along with my cholesterol, triglycerides and blood sugar. Who knew I couldn't just tell my patients how to be healthy without following the same advice myself?

But then I realized something great: It was not too late to make a change. I could save my patients and myself at the same time. Yes, there is a donut shop on the first floor of the hospital, but I don't have to frequent it. While there are bays of elevators taking me up to the 8th floor to see patients, I don't have to use them. In the end, it is about finding the right balance. The secret to healthy living is not a fad diet or some short term sacrifices; It is about making good choices, most of the time. I am not perfect, but my weight is down, my blood sugar levels are normal and my cholesterol is under control. I don't count calories, but I do exercise five days a week, alternating cardio and weight training.

Read More ›