SparkPeople Guest Blogger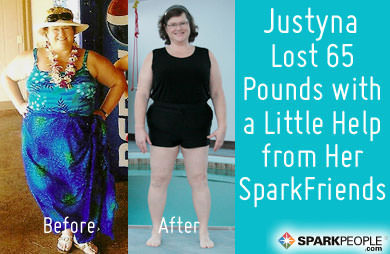 Name: Justyna Lawrence
Username: Justyna7
Amount of weight lost: 65 pounds
Hometown: Richmond, Ontario, Canada
Occupation: Bed and Breakfast Owner
Age: 53

Justyna experienced gestational diabetes with her first pregnancy which was complicated by an undiagnosed eating disorder (Bulimia) as well as being an emotional eater. Once her baby arrived she realized she needed to admit her eating was out of control and sought help. Overeater's Anonymous and their 12 steps helped Justyna realize the "dragon" in her life was real. In Alcoholics Anonymous, people learn to slay the dragon but in Overeater's Anonymous, participants have to learn how to walk the dragon three times a day.

Justyna got counseling to help her deal with her demons. She battled with yo-yo dieting through two more pregnancies after which she experienced a steady weight increase that was resulting in a ten pound weight gain every year. At her top weight of 264 pounds, walking was like walking on shards of glass. At 46 years of age, she wasn't the best candidate for knee replacements and found herself spending most of her days in an electric lift chair in a bedroom.
Read More ›