SparkPeople Blog Most Recent Post
Today, we're excited to announce that we've made another update to the SparkPeople Mobile app! This update is for iOS users, and if you've updated your app today, you've already seen the changes. (Note: we rolled out these changes to the Android version of our app a few weeks ago.) We made a good number of tweaks to help improve the app, but there are two major changes we wanted to mention.
Change #1: We simplified and cleaned up the homescreen. When we asked our members what they most wanted on the homescreen, almost all of you asked for better, easier food and fitness tracking. With our new design, you can track your food and exercise even faster!
Change #2: You can now add images to your blog and status updates, right from the app! Lately, you may have seen more images in SparkPeople Mobile from other SparkPeople members who are using our newest motivational tool, pep
. We wanted to make sure that our SparkPeople Mobile users could join in the image-sharing fun, too!
Check out the app here and let us know what you think! We love hearing your ideas for how we can improve our tools to make it easier to reach your goals.
SparkCheers!
The SparkPeople Team
Making significant healthy lifestyle changes—and maintaining them for the rest of your life--might seem next to impossible at first. But don't worry! At SparkPeople, we believe in taking small and manageable healthy steps that eventually become lifelong habits. Our sponsors at Meta also believe that small changes can lead to good things, and they even have a name for it: the Meta Effect. When you make a healthy choice like taking the stairs or eating a Meta Health Bar for a snack, you may continue to make good choices to keep the streak going.We've talked to several people who have changed their lives through this step-by-step approach--and now, they're sharing their secrets with you in this success story series! Donna has struck her perfect balance with an everything-in-moderation approach. Here are her secrets of success!
Read More ›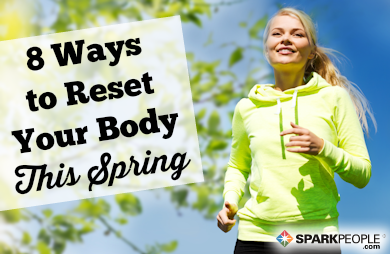 Spring is just around the corner, and we couldn't be more excited! If you're like most people, you probably spent the past several months curled up under blankets, eating comfort foods and forgoing exercise due to nasty weather. With its warmer weather, beautiful scenery and fresh energy, there's just something about the arrival of spring that urges us to make a new start. Are you ready to come out of hibernation and recommit to your healthy habits? Here are some of our favorite ways to get back on track after a long, sedentary winter.
Read More ›
It's been a long time coming, but spring is finally on its way! There's something about the season of rebirth that makes us want to start fresh and re-prioritize our goals. Do you have an ongoing health goal you've been wanting to reach for months (or maybe even years)? It's time to reach it for good with the
30-Day Healthy Habits Reset Challenge
! Over the next month, we will be serving up steps to help you find balance in your life and accomplish your biggest healthy goals--all in a fun, bite-size challenge format.
Read More ›
St. Patrick's Day is usually synonymous with corned beef, cabbage and pints upon pints of green beer (not to mention other unnaturally-dyed foods). But this year, we're celebrating in a way that's both fun
and
good for you! Starting tomorrow and leading up to the day before St. Patrick's Day, we'll be challenging ourselves to get in
five servings of green fruits and veggies every day
—and we want you to join us on Instagram! Even if you don't celebrate St. Patrick's Day, this is still a fun challenge to help you eat those freggies. (And if you are celebrating St. Paddy's in the usual ways, it's a nice way to get in some nutrients before indulging in all that green beer!)
Read More ›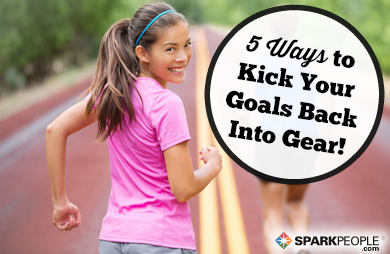 At this point, the novelty of the New Year has worn off. Hopefully you're still going strong with your healthy living goals. However, if motivation is starting to wane, don't despair! You aren't destined to fall back into old habits, or fail at those goals you set just a few months ago. There are simple ways to get back on track and refocus so that this becomes
YOUR
year of permanent change. Are you ready to get started?
Read More ›