SparkPeople Blog Most Recent Post
People
magazine has just released a new "Half Their Size" issue, and this one is bigger and better than ever. The entire publication is dedicated to weight loss and featured some amazing success stories along with various diet plans, workout plans and healthy recipes for ideas and inspiration.
We are thrilled to announce that a long-time SparkPeople member, Brandy (
BBANGEL1214
), is featured in the issue. Brandy credits the supportive online Community at SparkPeople as making a big difference in her 177-pound weight loss. Way to go, Brandy!
We recently caught up with Brandy to celebrate her magazine debut. Here's what shared some tips from her journey to losing more than half her weight.
Read More ›
Several weeks ago
, we released a much-anticipated update to our Healthy Recipes app for the iPhone. Today, we are excited to share that these same improvements are now available for the iPad version of our app! We are particularly thrilled about this update because iPads are such great tools to use in the kitchen when searching for and following recipes.
Read More ›
Father's Day is quickly approaching, so you might be thinking about ways to recognize the special dad in your life. Fitness-related gifts can be a unique option to the traditional tie or coffee mug. Whether you have $1 or $100 (or more) to spend this year, consider getting dad something that he can enjoy while benefitting his health at the same time!
Read More ›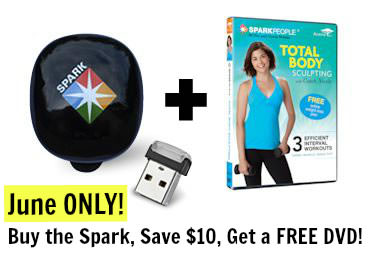 Have you been thinking about getting the Spark Activity Tracker? Now is the time! For the month of June, we're offering $10 off any purchase of the Spark. To sweeten the deal, we'll also include a free copy of Coach Nicole's Total Body Sculpting DVD with your order to start the summer months off right.

To get this special deal, simply visit sparkactivitytracker.com and select the color and quantity of the device you'd like. Enter the code "freedvd" at checkout to get $10 off your final purchase. We'll send the tracker and the dvd together so that you can start meeting your fitness goals right away!
Read More ›
This giveway is now closed. The winners are: CAHUAU, MJOHEMME, DDHEART, REESE76, and MACANBEFIT.
Winners will be contacted directly from a representative at Acacia TV.
A couple months ago,
I told you about
a new low-cost workout option called Acacia TV. The service offers access to more than 75 different full-length workout DVDs, set up for online streaming from your PC, laptop, iPad, Roku or internet-enabled Smartphone for a super low rate that allows you to exercise with world-class instructors anytime, anywhere.
Today I'm excited to tell you about a special giveaway Acacia is offering to SparkPeople members!
Read More ›
Hey, moms-to-be! Have you ever wished you could get accurate, useful information about pregnancy health, fitness and nutrition, all in one place? Today, we're happy to announce the SparkPeople Pregnancy Health & Fitness App! For just $1.99, you can download it for your iOS, Android, and Windows mobile devices. (The Android version is also available from Amazon.) And to sweeten the deal even more, you'll get 250 SparkPoints* just for downloading the app!
Here's what you can expect from our new app:
Read More ›