SparkPeople Blog Most Recent Post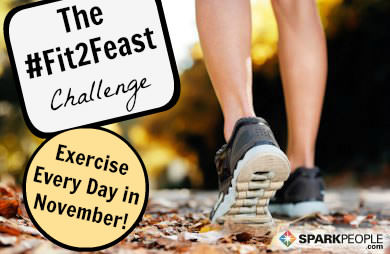 Halloween is just around the corner, and we all know what that means—the holiday season will be upon us before we know it. Unfortunately, the "most wonderful time of the year" also tends to be the most stressful time of the year for a lot of people; especially for those who are striving to lose weight or get fit. How do you avoid falling off the wagon during such a busy time full of food, friends and family obligations?
Read More ›
Editor's Note: We had a chance to sit down and chat with former NFL football player and current television star, Michael Strahan, who was kind enough to share with us his tips on balancing fitness, nutrition and motivation while leading a busy life. We'll be sharing his best tips in this ongoing series, ''A Minute with Michael.''
These days, it seems like everyone is searching for the elusive concept of ''balance.'' Between family, friends, work and other obligations, it can be incredibly difficult to ''have it all'' without giving up all your sanity to do so. But although it's tough to portion out your limited time, it
is
still possible! Like anything else that's worth having, you just have to work to achieve that balance. Michael Strahan is living proof that it really is doable to live a fulfilling, well-rounded life based on your personal goals and priorities. Check out how he manages to achieve balance on a busy schedule. Then, adopt some of his pointers in your own life!
Read More ›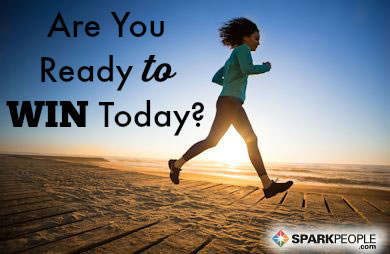 Editor's Note: This blog is part of our "Hello from SparkGuy" series--a weekly post where SparkGuy himself stops by to motivate, inspire and share a bit about what's going on at SparkPeople.
Hello, SparkPeople Members!
The crisp autumn weather is here (at least where I am in California). I hope everyone had a great week, taking one positive step at a time to reach your goals. As a warning, I'm about to brag about one of my kids, but hopefully you'll agree it's for a good reason :). I love sharing growth they experience with you.
Motivation in a Minute
This quick story about one of my boys demonstrates how taking small steps one at a time can lead to fun breakthroughs in life.
Read More ›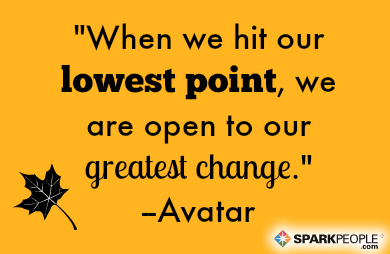 Editor's Note: This blog is part of our "Hello from SparkGuy" series--a weekly post where SparkGuy himself stops by to motivate, inspire and share a bit about what's going on at SparkPeople.
Hello, SparkPeople Members!
I hope last week went well and you are ready for another good week ahead! With the holidays quickly approaching, life can get very busy. Let's all keep taking small steps one at a time to reach our goals for the last 70 days (or so) left this year. Don't give up on reaching goals this year. Instead, make every day count!
Motivation in a Minute
I read this great quote on Quora yesterday:
"When we hit our lowest point, we are open to our greatest change." (From the TV show
Avatar
.)
This is a brilliant quote that illustrates a major point I make in the free
10+ Fitness Minutes Mini-Book
: all it takes is a few small positive steps when we are down (which happens to all of us) to start building a virtuous cycle back up. It also clearly demonstrates how mistakes can be great learning experiences. (This is coming from someone with a history of anxiety who doesn't like making mistakes, but now values the process when it inevitably happens :)). Any time you are down for any reason, make a mistake, or somehow stray from your goals, just keep this quote in mind and immediately start thinking about one positive step you can take. Examples would be: eating one healthy food, doing 10 or more fitness minutes at home, calling a friend, or even posting in the SparkPeople Community to receive support.
Read More ›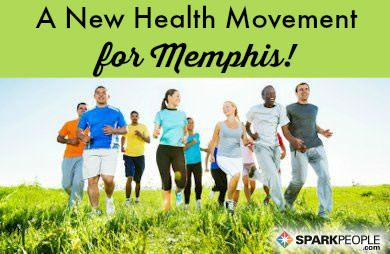 Here at SparkPeople, we love seeing other companies help communities reach healthy, positive goals—and Meta is doing just that! This summer, Metamucil® underwent an evolution to become part of a full line of wellness products called Meta, which aims to give people simple solutions to help them live their best, healthiest lives. The folks at Meta believe that making small, everyday changes can lead to long-term health and wellness results (a philosophy that mirrors our own). Now, Meta is challenging Americans in Memphis, TN—which is currently ranked as the unhealthiest city in the United States*--to make strides toward more healthful living, one step at a time. Memphis is up for the challenge, and the city is making better health more attainable for everyone with a year-long partnership with Meta and national sweepstakes** hosted on the
Meta Facebook page
.
Read More ›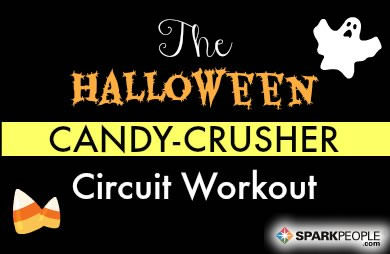 Boo! Don't be scared of Halloween candy calories! Burn them off the fun way with this fast Halloween-themed cardio circuit workout. Perform each movement in the circuit for one minute straight before moving on to the next move. (If you need a demo for any of the movements, scroll down and click on its corresponding link below the image.) There are a total of ten moves, so the whole workout should take you exactly ten minutes. If you want an extra challenge, you can do the circuit 2-3 times through for a real calorie-scorching session! You can make this as low-intensity or high-intensity as you want, depending on how quickly you move during each exercise. Bonus: There is no equipment required, and it's great for small spaces!
Note:
For the single-leg movements ("Boo-ty Blaster" and "Spooky Side Kick"), work one leg for 30 seconds and switch to the other leg for the remaining 30 seconds.
Read More ›