SparkPeople Blog Most Recent Post
Hi, SparkPeople members! We wanted to let you know about some great changes our team has made to the site over the past few weeks to make it easier for you to use on mobile devices.
As you know, you can get many of your favorite food and fitness tracking tools through the SparkPeople Mobile app and can find new recipes and save them with our Healthy Recipes app. But there are so many awesome features on SparkPeople that it's hard to fit it all into one or two apps (though we do try our best and are releasing some new features soon!). So, instead of making our apps replicate exactly what we offer on our site, we've built our apps with the features that we think will work best for the best possible user experience for you. The rest of SparkPeople's features are kept on the site only.
Since we can't fit the entirety of SparkPeople into an app, our team has gone through our site piece by piece, making all of the pages more friendly for mobile devices. The font is bigger, and the layout of the pages automatically resizes for whatever device you're on, so there's no more pinching and scrolling.
Once you've logged in, the new mobile web design makes it easy to:
Track from your phone. This is great if you have a Windows Phone, or don't have one of our great apps installed. You can use all of our tracking tools: nutrition, fitness, weight, sparkpoints and more!

Access articles, blogs and videos. All article, video and blog pages have been redesigned to make them easy to browse on your phone.

Interact with fellow SparkTeam members. You can now post to walls and forums, find new teams and see blogs from your team members, all from your phone.

Browse and post to message boards. Ask and answer questions on the go!

Click on links in our emails and see them on your phone. Click on links to community notifications and go right to your desired page.

Find great recipes and save them. Now you can find new, favorite recipes on SparkRecipes.com and save them right to your account from any device you happen to be using.
It's easy to get started with our new mobile web experience. Go to SparkPeople.com on your mobile device, and click on the orange ''Login'' button in the middle of the screen. On the next page, enter your SparkPeople Username and Password and you'll be ready to use all our site has to offer. You can navigate around the site by clicking the button at the top right of every page--it's the square button with three horizontal lines on it.
Let us know what you think! If you have any ideas for how we can improve our mobile web pages, we want to hear about them in the comments below.
SparkCheers!
The SparkPeople Team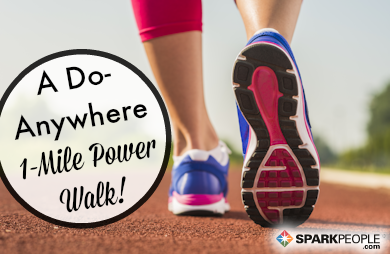 This one-mile indoor power walking workout will help you stick with your walking routine no matter what time of day or night it is--or what the weather is like outside!
We'll use a mix of moves that can be done easily in a small space to help you prevent joint strain. We're keeping it simple to help you squeeze in some extra steps anytime, anywhere. Just a heads up, we'll be jumping right into this walk to make this mile short and sweet, so please be sure you are warmed up first. And be sure to stick around for the cool-down to find out more about our upcoming #5MileChallenge with SparkPeople and brand new DVD,
"Walk On: 5 Fat Burning Miles"
.
Read More ›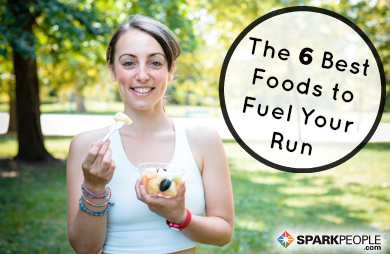 Running is a fantastic activity to help maintain a healthy heart and weight. But the real magic happens when you refuel after your run! To get the most out of running, it's crucial that you eat healthy foods filled with vitamins, healthy fats, plus carbs and proteins that aid in muscle repair and development. Incorporate the following foods into your diet to reap maximum running rewards.
Read More ›
Editor's Note: We are thrilled to be teaming up with Jessica Smith, Certified Personal Trainer and YouTube fitness star, to bring you the #5MileChallenge! Read on for Jessica's explanation of the challenge, and get ready to lace up your walking shoes on June 1st. See you on the road (or track, or trail, or even in your living room with a walking DVD!).
Whether you are just starting to build your fitness habit or are a more advanced exerciser, a regular walking program offers so many incredible
health and fitness benefits
. That's why I am so excited to be teaming up with SparkPeople to bring you this fun #5MileChallenge!
Our goal is to help you stay more active when you are not already working out, or to get you moving more often to spark up a new exercise habit. Even if you have been exercising routinely for years, it may not be enough to
combat the ill effects of hours of sitting
, which is why adding more steps to your day is beneficial for everyone (just check out these
scary sitting stats
!).
Read More ›
When it comes to healthy, glowing skin, what you put into your body can be even more important than what you put on it. "Everything you eat becomes a part of not only your inner being, but the outer fabric of your body as well. The healthier the foods are that you consume, the better your skin will look," says
Samantha Heller, MS, RD
, a clinical nutritionist at NYU Medical Center in New York. While there are many nutritious foods available, the following list will give you the maximum skin benefits for your bite.
Read More ›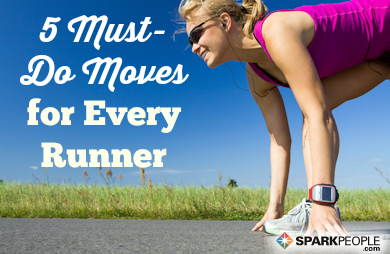 It happens to the best of us…perhaps you set a goal to run a 5K, resolved to get back to running, or were coerced into signing up for some crazy race by your adventurous best friend (it sounded like a good idea at the time!). Feeling motivated, you do what most people do--just get out there and start pounding the pavement--and that's when it happens… your body begins to complain. It usually starts as a quiet whisper, some lingering stiffness or low-grade soreness, and before you know it, the whispers become screams.
As you curse your body in a fit of frustration, you recall running pain-free for hours as a child. What changed? We grew up and got desk jobs with long commutes, that's what. Sadly, our bodies have become tight, hunched, and ill-equipped to handle the motion of running due, in large part, to our lifestyles. But it doesn't have to be this way.
Luckily, there's a workout that can help you become a more efficient runner. Designed by
Coach Alison Heilig
, Fit Blogger for
AcaciaTV
and RRCA-Certified Running Coach at
Miles To Go Athletics
, the following routine is designed to help you start running longer and stronger in no time. Add it to your running regimen three days per week to up your running game!
Read More ›