SparkPeople Blog Most Recent Post
By now, the novelty of New Year's resolutions has faded, and you might not be as motivated as you were on January 1
st
. How do you make this year different, so that you don't have to set the same goals again next year? Here are some simple things you can do to make it easier to stick to your goals this year and beyond.
Set the right kind of goals. It's great to set a goal to lose 20 pounds this year, but how are you going to do it? Create SMART goals- Specific, Measurable, Attainable, Relevant and Timely. "I am going to lose the first 5 pounds by March 1st. I will achieve this by eating in my recommended calorie range daily and walking for 20 minutes, 4 times a week." This system gives you a clear plan for how and when you're going to accomplish what you've set out to do.
Tell someone.

Those around you (family, friends, co-workers, etc.) can be a great source of support as you make changes in your life. Ask your husband to keep your favorite junk food out of the house, or ask a friend to go for a walk instead of meeting for drinks. The people around you can help with accountability when motivation is lacking or you have doubts that you will succeed.

Be prepared for ups and downs.

You'll have good days when things are going smoothly and you're totally on track. But you'll also have those days when things aren't going so well. What are you going to do in those moments when you feel like giving up? Changing habits and behaviors isn't easy, so make a plan for the days when you need to dig deep and find the drive to continue moving forward.

Put reminders in visible places.

Your goals should be top-of-mind so that you can stay focused and continue making progress. Write them down on sticky notes and put them in your car, on your refrigerator, on the bathroom mirror, or anywhere else you will see them multiple times a day to remind you of the commitment you've made.

Discover snacks that are good for you and healthy.

Yes, it's possible for healthy foods to taste good! Yogurt with fruit (instead of ice cream) can satisfy your sweet tooth and carrots with hummus (instead of chips and dip) can give you the crunch you're craving. Baked sweet potato fries can taste just as good as French fries for a fraction of the calories and fat. Don't be afraid to try something new, because you might be surprised at how good it tastes and how many calories it saves.

Reward yourself.

Everyone likes to be recognized for a job well-done. Don't wait until you reach your ultimate goal to pat yourself on the back. Rewards don't have to be fancy and expensive. Celebrate small milestones (like lifting more weight or losing a pant size) by doing something nice for yourself.

Make your goals a priority.

It's easier to hit the snooze button than get up early for a workout. It's tempting to get dessert when everyone else is ordering it. But if you know those things are going to hurt instead of help your progress, it's time to make some tough choices. Sometimes you have to put your goals ahead of other wants and needs in order to be successful.

Have fun!

If you hate eating broccoli, then don't. If you hate walking on the treadmill, then don't. Discover the foods and activities you enjoy, because it's more likely you'll stick with those long-term. Exercise and healthy eating shouldn't be a chore you dread. They should be positive changes you feel you can live with for the rest of your life. However, that doesn't mean you can't kick back and relax or eat your favorite ice cream as a special treat. Everyone needs to live a little now and then!

Believe in yourself.

Maybe you've set goals like these before and not succeeded. You can't change the mistakes of the past, but you can learn from them and move forward. You have complete control over what happens from this moment on, so make the most of it! If you have confidence that you can do it, anything is possible!

This blog is made possible by Yoplait, a SparkPeople sponsor.
Making significant healthy lifestyle changes—and maintaining them for the rest of your life--might seem next to impossible at first. But don't worry! At SparkPeople, we believe in taking small and manageable healthy steps that eventually become lifelong habits. Our sponsors at Meta also believe that small changes can lead to good things, and they even have a name for it: the Meta Effect. When you make a healthy choice like taking the stairs or eating a Meta Health Bar for a snack, you may continue to make good choices to keep the streak going.

We've talked to several people just like you who have changed their lives through this step-by-step approach--and now, they're sharing their secrets with you in this success story series! First up, meet Melody, a hard-working mom who has made small, lasting changes to help her family stay healthy. Her healthy journey has been a long one (over 7 years from the beginning until now), but her determination and hard work has paid off--and her husband and kids are now reaping the healthy benefits with her!
As a busy mom, it must be hard to fit in exercise some days!
What are some of your favorite ways to sneak in small bits of activity throughout the day?
I homeschool my children, which means we work hard throughout the day on our studies. When we need a rest, we like to have a short "brain break" where we get up and get our bodies moving. We have crunch competitions, do jumping jacks, run in place, toss a ball, or even sprint to the end of our road. It gets our blood flowing and helps my kids get a quick break for their brains so they can focus better.
Love the "brain break" idea! On top of the exercise, what small nutrition tweaks have you made to help you eat better and get healthier?
When I first started my health and wellness journey, I decided from the start that I was not going to cook separate "diet" food for myself while my family ate something different. So, I dusted off my recipe books and started learning to make meals we all could enjoy. I taught myself to cook from scratch with fresh, colorful foods. I let my kids pick healthy recipes they wanted to try, and we started keeping a bowl of fresh fruit on the counter and fresh veggies in the fridge for snacks. We even went to a nutritionist together as a family, where we learned about correct portion sizes and healthier food choices.
Read More ›
This workout is part of Jessica Smith's #FITIN15 program.

T

his plan features 15 free 15-minute-or-less workouts with options for all levels of exercisers, so you can progress with the workouts as you gain strength or ease back into a routine.Click here to find out how to sign up for the program!
Yoga is a wonderful way to build flexibility, range of motion and relieve stress. But if you are just starting out, some traditional yoga poses and postures can be a little overwhelming and/or too tough on the wrists. This gentle, yoga-inspired routine uses a chair to help safely support your body into a deeper stretch.
Read More ›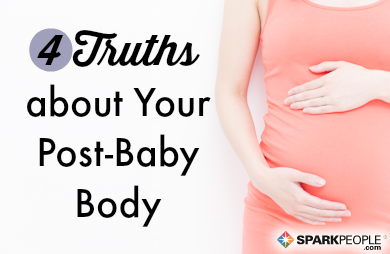 About seven years ago when I was pregnant with my first son, I was on a plane visibly embarrassing my husband as I laughed my head off (loudly). The reason that I was laughing was because I was reading Jenny McCarthy's
Belly Laughs
, in which she tells new moms about all of the amazing changes that come with pregnancy and the time right after. Now that I am the mom of two handsome boys, I can definitely relate to Jenny--and I love to share my own stories with new mommies in my pre and post-natal fitness classes in Los Angeles. Here are some things nobody tells you about your post-natal body that I've learned from personal experience. My intention is to bring laughter and levity to some crazy changes that the gift of motherhood brings.
Read More ›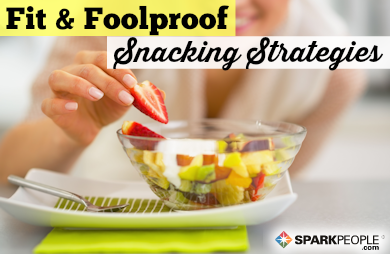 What's the first thing that pops into your mind when you think of snacking? Is it the excessive amount of chips and dip you ate at a party last weekend? Is it eating too many of the cookies in the pantry that seem to be calling your name? Believe it or not, snacking can actually be a good thing! When you plan ahead and make healthy choices, snacks can help prevent overeating, give your diet a nutritional boost and leave you feeling more satisfied throughout the day. The key is learning how to make snacking work for you, instead of derailing your healthy eating efforts. Here are 8 tips to help you snack smarter in 2015.
Read More ›
Have you ever had those nights when it's time to wind down for the evening and all you can think about is your grumbling belly? Is it better to just suffer through it and go to bed, or listen to your hunger cues and have a snack? Contrary to popular belief, late-night snacking doesn't have to be a bad thing. A calorie is a calorie no matter when you eat it, and the last thing you want to do is go to bed hungry. Hunger can leave you feeling deprived and more likely to binge later on, so planning ahead by having healthy snacks on hand will help you resist the temptation to eat the pint of ice cream in the freezer or finish off the bag of chips in the pantry that seem to be calling your name.
Read More ›