SparkPeople Blog Most Recent Post
Gardening season is almost here. Whether you want to start your first
herb garden
or expand on the number of
veggies you grow
this year, now is the time to take stock of your tools and accessories and see what you need. And there's no reason why you have to settle for typical hardware store gear. It's easy these days to find cute gardening tools, hats, stools and more. Here are just a few of our favorites:
Read More ›
This is a loaded question! If you ask 10 different trainers, you'd get 10 different answers. One trainer's answer is likely to be based on what they've seen help clients get the best results or their own personal preference for one type of exercise over the other.
There isn't a ton of research on this topic, but we know that people who do
both
cardio and strength training tend to have better outcomes in terms of weight loss, fitness and even improved blood sugar levels. These two modes of exercise each do very different things. If the issue is time, my answer would be to find a way to fit in both, whether each workout is a little shorter (and maybe more intense) to maximize your time, or you are doing both but doing each thing occasionally (such as just once a week each). Anything you can do will help. Another solution to fitting in both cardio and strength training is to seek out workouts that combine both efficiently. There are many workout DVDs (including
SparkPeople's best-selling titles
), fitness classes (including CrossFit) and workout options (including
kettlebell training
) that give you the best of both worlds.
Circuit training
, which involves lifting weights in a circuit of exercises without resting in between, is another good way to add an aerobic component to your strength-training workouts
Now let's look a little deeper at each exercise component and the role they might individually play in your fitness and weight-loss plan.
Read More ›
We thought it would never happen, but it's true: spring is finally here! If you've experienced some serious cabin fever over the long winter, you're definitely not alone. We're beyond ready to pound the pavement out in the sunshine while listening to some upbeat tunes. Here are 18 of our favorite feel-good songs to sweat to right now. Take them for a spin during your spring workouts!
Read More ›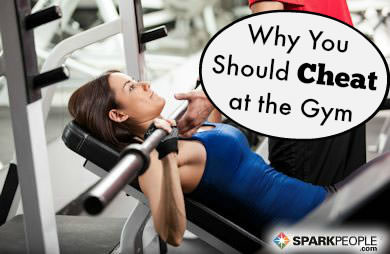 You put on your sweatpants and baggy T-shirt. Throw your hair up into a ponytail and wipe the make-up off your face. You fill your water bottle and head to the nearest elliptical. Headphones in, you tune out the world, focusing on the show you're watching or that new song you downloaded. You set your sights on the console and the clock, watching the numbers—calories, time, and distance—tick up until you've hit your goal on one (or maybe all three). Get in and get out, that's what the gym is to you. You're not there to talk or make friends. You're just there to get through your routine and go home.
But what if I told you that going to the gym could—and should—be a little more
fulfilling
? The truth is that having an affair at the gym happens more than you might think. It can change your mind and your body—and how you feel about yourself. If you've been going through the motions lately, feeling uninspired or tied down, then break free from monogamy and bring the excitement back with an affair!
Read More ›
Tired of the same-old dinners? With just a few affordable ingredients from your neighborhood supermarket, you can turn any meal into a culinary adventure!
Not this again! It's a familiar yet dreaded lament at the dinner table. No one wants to waste food or time, which are both precious commodities. Let us help you make over your meals with everyday ingredients that can lend an exotic flare.
Trying new cuisines from around the world doesn't have to be complicated. After all, while these dishes might be new to you, it's the food that people in other countries eat every day, so it can't be time consuming or expensive.
Today we're sharing five not-so-exotic types of ingredients that can help turn even your usual fare into something different and delicious.
Read More ›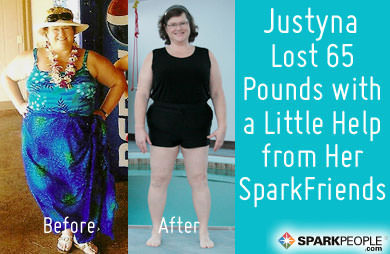 Name:
Justyna Lawrence
Username: Justyna7Amount of weight lost:
65 pounds
Hometown:
Richmond, Ontario, Canada
Occupation:
Bed and Breakfast Owner
Age:
53
Justyna experienced gestational diabetes with her first pregnancy which was complicated by an undiagnosed
eating disorder
(Bulimia) as well as being an
emotional eater
. Once her baby arrived she realized she needed to admit her eating was out of control and sought help.
Overeater's Anonymous
and
their 12 steps
helped Justyna realize the "dragon" in her life was real. In Alcoholics Anonymous, people learn to slay the dragon but in Overeater's Anonymous, participants have to learn how to walk the dragon three times a day.
Justyna got counseling to help her deal with her demons. She battled with yo-yo dieting through two more pregnancies after which she experienced a steady weight increase that was resulting in a ten pound weight gain every year. At her top weight of 264 pounds, walking was like walking on shards of glass. At 46 years of age, she wasn't the best candidate for knee replacements and found herself spending most of her days in an electric lift chair in a bedroom.
Read More ›