SparkPeople Blog Most Recent Post
Name:
Eboney Lewis Haynes
Username: ebielouAmount of weight lost:
122 pounds
Hometown:
Piedmont, Alabama
Occupation:
Teacher
Age:
28
Ebony Haynes has transformed her entire life by taking control of her eating and fitness. After losing more than 100 pounds, she now helps others transition into healthy lifestyles by teaching Zumba and Pound classes and being a walking example of the power of perseverance.
Read More ›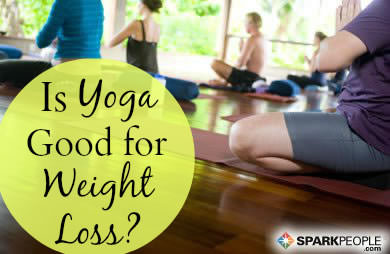 Over the past decade alone,
yoga has exploded
into a multi-million dollar industry. Nearly 21 million Americans actively participate in yoga, spending more than $10 billion a year on classes and products (including equipment, clothing, retreats and videos), with the majority of novice practitioners citing general wellness, stress management or weight loss as one of their primary motivations for taking up the practice.
However, the roots of yoga are spiritual, not physical, which is the way we think of yoga today. Body-focused yoga styles (that focus on toning, weight loss and physical transformations) are a modern, Western phenomenon. There's no doubt that the benefits yoga offers for the physical body appeals to Americans, even though yoga can be so much more than a physical fitness regimen.
So can yoga really help you lose weight? Is there any truth or science to claims that any set of yoga postures can boost your metabolism, help you slim down, or give you that coveted "yoga body"?
Read More ›
Great news!
SparkPeople Radio is back and better than ever
. (
Click here to listen to the latest show
!) Starting today, get an hour of motivation, tips, and advice to keep you healthy and happy from our new host, Bettina Bush, plus special guests like Chris "SparkGuy" Downie, SparkPeople members, experts and more.
Over the last few weeks while the show was on hiatus,
we've been working to make SparkPeople Radio better--and more motivating than ever.
If you were a regular listener, we think you'll continue to love the show! If you didn't listen or stopped listening to the previous version, we invite you to give us another chance. We think you'll LOVE Bettina as much as we do.
(Remember, you can earn three SparkPoints a day for listening!)
Bettina is a SparkPeople member as well as our radio host, and she definitely is an example of healthy living. Bettina and her husband have an adorable son and daughter, and they're committed to keeping their family healthy and happy--by getting the kids in the kitchen, being active as a family, and setting a good example by eating right and exercising regularly. Bettina is passionate about making healthy living fun and accessible.
Read More ›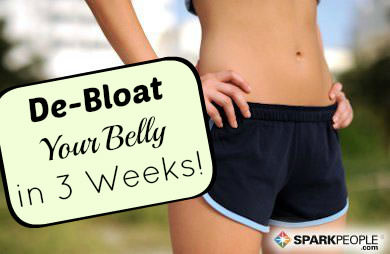 Are you sick of fighting constant tummy troubles? Many people suffer from bloating, discomfort and digestion problems--sometimes for no apparent reason at all. Isn't it time you did something to quit your bellyaching for good (quite literally)? We have a fun way to reset your system and get your digestion into tip-top shape with plenty of help along the way. Plus, it'll only take you 20 days to feel better!
Read More ›
UPDATE 2/18/14 10:43 a.m.:
This amazon.com sale is currently LIVE! It is expected to close by 2 p.m. EST (or as soon as 500 people take advantage of the deal). Visit the
Spark Activity Tracker page on Amazon.com
to take advantage of this awesome deal!
Don't you love that feeling when you know you got a good deal? Well, we've got one for you! We're excited to announce that
on Tuesday, February 18
, the Spark Activity Tracker will be featured as an Amazon Lightning Deal! That means for a limited time,
the Spark will be 20% off
, so you could snag one for less than $48 (plus it's eligible for FREE shipping).
What is an Amazon Lightning Deal?
A Lightning Deal is a discount offered on a specific product on Amazon.com for a limited amount of time. Lightning Deals are available, one per customer, until either the promotion period ends or all the units have been sold. Since Lightning Deals are time-sensitive, it's important to complete your order as soon as possible!
When can I get this deal?
We do not yet know the exact hours of the sale, but once the promotion period starts, it will last up to 6 hours or until all the units have been sold. Set yourself a reminder to check the
Spark Activity Tracker page on Amazon.com
on Tuesday (February 18)
throughout the day to catch the sale. We'll also post an update to the
SparkPeople Facebook page
once the Lightning Deal is live!
How do I get this deal?
Once the sale is live, the 20% discount will be automatically reflected on Amazon.com. No promotion code required! Just place the Spark in your cart and complete the checkout process.
This is your chance to get an amazing deal on an amazing product! Here's what one Amazon buyer said about her
Spark
:
''The (Spark) is great because it tracks my steps and makes me want to reach a certain goal. It was easy to connect, it comes with a second battery, and the clip is really tight. I was a little hesitant because of the price, but I'm really pleased with the purchase, and doubly pleased with SparkPeople!''
--Barbara B.
So
mark your calendar for February 18th
to save 20% on your Spark and get the motivation you need to reach your goals!