SparkPeople Blog Most Recent Post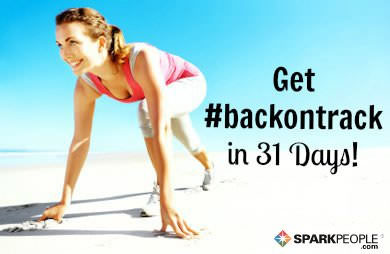 It's almost August, and whether we like it or not, the days of summer are dwindling. Bathing suit season may be mostly behind you, but that doesn't mean it's time to abandon your healthy efforts now that autumn is in sight! Plus, maybe all those barbecues you've attended this summer are starting to show on the scale. Maybe your vacations and kids' activity schedules have taken precedence over your exercise routine. Maybe, now that the wild ride of the season is coming to an end, it's time to get back on track and consciously recommit to your healthy lifestyle. And we're here to help you do it with a brand new challenge!
Read More ›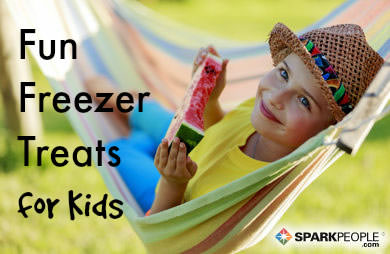 Now that summer is in full swing, you're probably looking for quick and easy ways to cool down. Although the pool and your air conditioner are the usual suspects, have you ever considered just how much of an asset your kitchen's freezer is?
Your freezer is the little culinary assistant that could—if you know how to maximize it. That doesn't mean that you should stand in front of the open freezer as the chilly air blasts you; in fact, there are ways to get your freezer working for you while you improve its energy efficiency in the process.
You can also use your freezer to make quick, healthy snacks that the kids are sure to love—just a freezer's reach away all summer long. When you have these kid-friendly freezer snacks at the ready, you have even more time to get out and enjoy the pool and do the things you'd rather do, instead of spending all summer slaving in the kitchen.
Here are some freezer-friendly foods that will keep your kids coming back for seconds.
Read More ›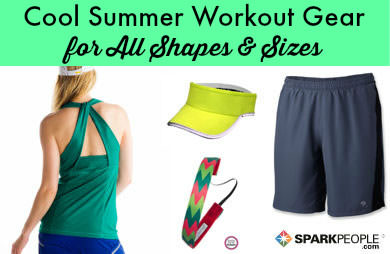 As the temperature climbs, don't let your workout motivation fall. With the right clothing and gear (as well as some
extra precautions
), you can enjoy outdoor exercise at any time of the year. Here are some of our picks for the best workout clothes and accessories to keep you cool and motivated all summer long.
Read More ›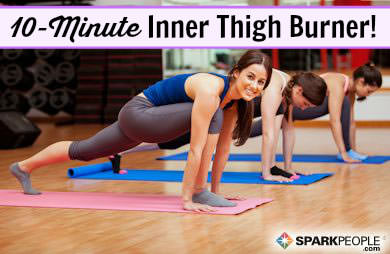 As a certified personal trainer and fitness instructor, people often ask me how to tone up their inner thighs. While certain leg-lift-style moves do target the inner thigh muscles, it is not possible to spot-reduce fat from your inner thighs--no matter how many leg-lifts you do! If you're exercising consistently and eating a healthy diet, your body will tend to lose fat all over, not just in one certain area. However, by following a well-rounded workout plan (that includes total body strength training, cardio and flexibility work) along with a healthy diet, you will gradually help reduce the amount of fat located in the inner thigh region as your total body fat percentage drops.
This video includes moves that work multiple muscles at once through large ranges of motion to help you burn more calories while you strengthen the inner thighs. Since these moves incorporate so many muscle groups, you'll burn more fat in less time!
Read More ›
Editor's Note (Nicole Nichols):
Here at SparkPeople, we know just how powerful music can be as a motivator for your workouts, which is why we try to share new music ideas often. My friend Susie (who is an amazing Spinning instructor) uses a lot of instrumental songs in her classes, and I'm always surprised at how motivating and upbeat they are even though they have little to no words—and are often songs I've never heard before. If you are looking for some new fitness music that will push you, inspire you, and help you focus in your next workout (or race), this list is for you! Here are 15 of her favorite instrumental songs that are great for exercise!
Read More ›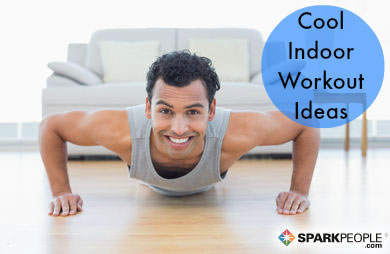 Summer is a great time of year to get outside for some fresh air and physical activity. Unlike the dark mornings and evenings of winter, summer provides plenty of daylight hours for a walk, run or swim in the pool. But as the temperature climbs, there could be days when it's just
too hot to safely exercise outside
. Does that give you an excuse to skip your workout? Not a chance!
There are lots of ways to exercise indoors, which can help you stay safe, cool and comfortable. Then after the hard work is done, you can relax with a cold drink, feeling proud that you stayed consistent with your workout routine. Here are some ideas to get you started.
Read More ›