SparkPeople Blog Most Recent Post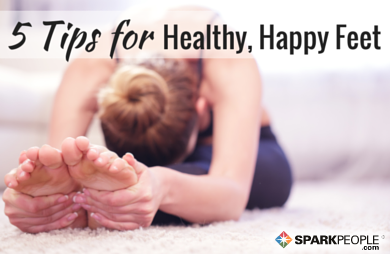 Your feet go through a lot. Believe it or not, the majority of Americans will log almost 75,000 miles on their feet by age 50, according to the
American Podiatric Medical Association
. And if you exercise regularly, that number goes up even more. The experts at
Vionic Shoes
have come up with five quick tips for protecting your tootsies and helping you stay on your feet for many years to come.
1.
Stretch your feet daily.
Yes, your feet! Just like any other part of your body, the muscles in your feet greatly benefit from massage and stretching to keep the tendons, muscles and ligaments flexible and loose. Aim to massage your feet daily using either a tennis ball or foam roller, being sure to focus on the arch and any sore spots.
This routine
is a great place to start.
2.
Be cautious of your flip flops.
Summer is unofficially flip flop season, but most flip flops lack the necessary arch support to keep your feet healthy. Sports Physical Therapist and
Vionic Innovation Lab expert, Brian Hoke
, suggests looking for styles that have a footbed with
built-in orthotic technology
that mimics the natural alignment of your feet, such as the
Tide II Toe Post Sandal
from Vionic shoes.
Read More ›
You're preparing for your race when hunger suddenly strikes, but after months of training you're worried that a meal will slow you down during the big event. Trainers and friends give conflicting advice on what to eat, but your stomach is rumbling louder than they are. Luckily, there are tasty foods that you can eat before a race that will keep you full without harming your performance. In fact, these top foods will help you to harness all of your power during the race! First, let's look at the general timeframe of your pre-run meals before getting into the specific foods.
Read More ›
UPDATE 8/17/15
Today we released a new update for our iOS users that should fix the issues some of you have been having with the app. Scroll to the bottom of this post for a complete list of changes we made in this most recent version of the app.

Hey, Everyone!
You might have noticed something a little different about your SparkPeople Mobile app recently! Our goal for this most recent update was to make the app easier and more fun to use--and we think we achieved that!
If you haven't seen it yet, we think you'll love it; go check it out. You can download SparkPeople Mobile at the Apple App Store or the Google Play Store.
Read More ›
Enjoying a healthy lifestyle doesn't mean reducing pleasures. In fact, one of the healthiest things you can do for yourself is simply adding a tasty drink to your daily routine. Black tea's numerous health benefits are scientifically sound, and along with the drink's rich taste and varied styles, you can't go wrong with a morning or evening cup! Here are the greatest health benefits that black tea has to offer!
A Reduced Risk of Stroke
Drinking more than 3 cups of black tea a day can reduce the risk of stroke by nearly 21%. Researchers found that this effect worked across all genders and ages and is due to the tea's helpful effects on the heart and arteries. While many things factor into the risk and severity of strokes, adding black tea into your diet is a simple, tasty, and effective way of preventing a terrible occurrence.
Prevention of Cavities, Plaque Formation, and Gingivitis
Black tea contains many beneficial substances including polyphenols. Polyphenols help your mouth by suppressing the bacterias and sugars that can eventually lead to tooth decay. They also slow down the production of plaque so that your teeth remain shiny and smooth. This also leads to a decreased risk of gum problems such as gingivitis. As with all oral benefits, your breath will remain fresher throughout the day as well!
Cancer-Fighting Antioxidants
The previously mentioned polyphenols are a group of strong antioxidants that differ from those found in fruits and vegetables. Their main claim to fame is fighting destructive free radicals in the body. By hindering their growth, your body has a better chance of preventing cancers and tumors from forming or spreading. This is especially helpful for those who regularly consume tobacco or alcohol. While black tea cannot cure a preexisting cancer, it still remains one of the simplest and most affordable ways to add daily health and pleasure into your life.
Read More ›
With summer in full swing, we imagine many of you have been putting the grill to work. We recently shared some
easy grilling recipes
and hope that you have been enjoying at least some of them! Of course, no grill-out is complete without a side dish or two, right? Lucky for you, we've rounded up a variety of healthy salads, slaws, veggies and more, all of which are amazing complements to grilled meats. Be forewarned: these delicious, healthy side dishes might just take the main stage!
















Garden Potato Salad
Low-fat, protein-powerhouse cottage cheese sneaks its way into the dressing of this simple summer side.
100 Calories, 0g Fat, 22g Carbs, 4g Protein


Macaroni Salad with Bacon, Peas and Dijon Dressing
Tangy dressing contrasts well with the smoky bacon, sweet bell pepper and red onion.
189 Calories, 6g Fat, 26g Carbs, 7g Protein
Rainbow Fruit Salad
This fruit salad showcases the best flavors of summer--mango, blueberries, bananas and kiwi, just to name a few. Try it as a side with grilled chicken or even for dessert.
98 Calories, 1g Fat, 25g Carbs, 1g ProteinLight and Creamy Coleslaw
This creamy and delicious coleslaw is hiding a secret--it's very low in fat!
52 Calories, 2g Fat, 8g Carbs, 2g Protein



Slow Cooker Boston Baked Beans
Make this picnic staple right in your slow cooker.
170 Calories, 1g Fat, 37g Carbs, 7g Protein
Crunchy Coleslaw
This crunchy coleslaw is a healthier version of that summer favorite: Ramen noodle salad. Two servings of vegetables in every portion!
70 Calories, 6g Fat, 6g Carbs, 1g Protein
Cauliflower or Mock Potato Salad
Cauliflower takes center stage in this ''mock'' potato salad. You won't even miss the heavy potato version.
126 Calories, 7g Fat, 14g Carbs, 5g Protein
Garlic-Herb Potato Packs
Whether you make these on the grill or in the oven, these quick-fix potato packs are mom's best friend. No mess, no clean-up and just five minutes to prepare.
165 Calories, 2g Fat, 34g Carbs, 4g Protein
Grilled Avocado Boats
If you've never grilled an avocado, you're truly missing out. Top a creamy, grilled avocado with spicy salsa and Mexican cheese for a unique summer treat.
181 Calories, 16g Fat, 9g Carbs, 3g Protein
Greek Penne Pasta Salad
The classic cookout side dish gets a healthy Greek makeover. Veggie lovers will adore the edamame, tomato and onion.
190 Calories, 8g Fat, 28g Carbs, 7g Protein
Grilled Vegetables with Pineapple
Add a bit of sweetness to your vegetable kabobs with chunks of summer pineapple.
137 Calories, 7g Fat, 17g Carbs, 2g Protein
Grilled Corn with Lime Butter
Take your grilled corn to the next level by adding a hint of lime.
98 Calories, 3g Fat, 17g Carbs, 3g ProteinWhat is your favorite grill-out side dish? Which of these recipes are you most excited to try?
The next time you get an upset stomach, you might be relieved to know that you don't have to down spoonfuls of gross pink fluid or chew chalky tablets. In case of bellyache, stock your fridge with one thing: Ginger. Hundreds of years ago, people sailed all over the globe in search of this natural soother of upset bellies. Ginger has been proven to reduce nausea and vomiting, even in chemotherapy patients. But that's not the only reason you should start consuming more of this spice.
Read More ›