SparkPeople Blog Most Recent Post
Many people opt for a vegan diet as a way of reducing their impact on the environment and to improve their health. Vegetables, seeds, nuts and other vegan foods contain a variety of compounds and nutrients that are often lacking in other foods. Furthermore, most vegan foods are easy to digest and contain plenty of calories to keep the stomach full, the mind nourished and the energy flowing. However, it is important to remember that a calorie is a calorie, whether those calories come from french fries or avocados, and consuming more calories than you burn, even on a healthy vegan diet, can cause weight gain. If you want to lose weight and maintain your vegan diet, try eating these nine foods.
Read More ›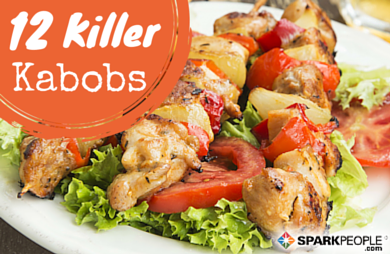 The kids might be back in school and store shelves are filling with fall merchandise, but we're not ready to let go of summer just yet. With the weather still warm and Labor Day right around the corner, now is the perfect time to take advantage of one of summer's favorite foods: the kabob! Popping meats, veggies, fruits and even whole sandwiches on a stick is a great way to add fun and variety to your meals and parties, no matter the time of year. Plus, presenting a meal on a stick will certainly grab the attention of little picky eaters.
Reflect on a summer of sun and fun by assembling and cooking up a few of these crowd-pleasing healthy kabobs.
Read More ›
Struggling to master a full push-up? You aren't alone. Push-ups are a great exercise that engages almost every muscle in your body, but they aren't exactly easy to do! The good news is there are several modifications you can use while you are building up into a full one. In this video I'll show you 4 easy ways to modify a push-up (shown from easiest to most challenging) to help you progress and build the strength and stamina you need to finally master a full push-up on your toes.
Here are the specific modifications we cover in the video, along with my reps/set recommendations for each to help you build proper form and functional strength:
Modification #1: Wall Push-Up
Try working up to 3 full sets of 15 repetitions before progressing to modification #2.
Modification #2: Incline Push-Up
Try working up to 3 full sets of 10-12 repetitions before progressing to modification #3.
Modification #3: Quadruped Push-Up
Try working up to 3 full sets of 10-12 repetitions before progressing to modification #4.
Modification #4: Bent Knee Push-Up
Once you have mastered 3 sets of 10-12 repetitions of the bent knee push-up, feel free to try adding in a few reps of full push-ups (on your toes). You can try to do as many full push-ups as you can with great form and then drop down to your knees to complete the set.
Oh, and keep an eye out for my workout partner Peanut in this video—she wanted to help me with my push-up form! Do you work out with your pets at home too?
Did you try the modifications? Let me know in the comments below which one you are working on right now and just remember no matter where you are starting out, practice makes progress!

Need an effective workout program without a single push up (or even any floor work)? Get our "WALK ON: 21 DAY WEIGHT LOSS PLAN" DVD Set! It features 4, 30-minute walking-based routines that include low-impact HIIT cardio, strength training, standing abs and even chair stretches to help you burn fat while building your energy!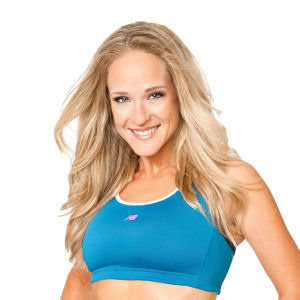 About the Author
Jessica Smith
is co-author of the
Thin in 10 Weight Loss Plan
(Sunrise River Press, 2012), and a certified wellcoach,

personal trainer
and group
fitness
instructor. Having started her own
fitness
journey more than 40 pounds ago, Jessica knows how challenging it can be to lose weight (and keep it off). Recently named one of
Sharecare's Top 10 Online Influencers
, she loves finding and sharing the latest info on

weight loss
, fitness, and
healthy
lifestyle habits. The star of several best-selling exercise DVDs, Jessica has over 13 years of experience in the industry, and holds a
bachelor's degree
in Communications from Fordham University.
Summer is winding down, and though we're sad to see it go, we won't miss the endless sugary summer festival food, ice cream and chili cheese dogs around every corner at outdoor events. Feeling a little out of sorts from a few too many seasonal indulgences? You're not alone! Luckily, sometimes all we need is a short reset to get our bodies (and minds) back on the right track. If you've been feeling a little "blah" lately, we've got just the thing to reboot your body's most important systems and give you a dose of self-care and motivation. Get a healthy tune-up with the
30-Day Fit & Fiber-Full Wellness Challenge
! Think of it as a booster shot to help you feel your absolute best from the inside out, just in time for the busy fall season ahead.
What can I expect from the Fit & Fiber-Full Wellness Challenge?
30 Daily "Mini Challenges"
Each day, you'll get a "mini-challenge" to complete to help you stay on track with your health, focusing on improving your digestive health, heart health and satiety (feeling fuller longer). These daily tasks will help you stay accountable to your plan the whole month, reminding you of what to do, offering great tips, and keeping your goals top of mind.
Yep, you read that right! You can earn 5 SparkPoints for each daily challenge you complete. Just visit the challenge page and click the "Earn Your SparkPoints" button to tell us that you completed that day. It's just that easy!
Use the Team Wall (located on the challenge page right below the daily challenge description) and the
Fit & Fiber-Full SparkTeam
to ask questions, post about your progress, and tell us (and your SparkFriends) how the day's challenge went. Encourage your friends to join you!
Invite Your Friends to Join!
The challenge is currently only open to SparkPeople members, but challenges are a great way to get your friends to join in on the fun here at SparkPeople and see what it's all about!
Share the challenge page
with your friends by posting it on Facebook, sending an email link, and more. The signup process is simple and only takes a minute or two.
Sounds great! How do I sign up?
Go to our
Fit & Fiber-Full Wellness Challenge page
and sign up by clicking the "Join Challenge Now" button to enter your email address. After you've signed up, you will receive one email per day for the next 30 days with a reminder to complete your daily challenge (and get your SparkPoints). Note that once you sign up, you should expect to receive your first challenge email
the following day
at 7 am EST.When does it start?
RIGHT NOW. The challenge is open and ready for you to join—and you can start or join at any time. The sooner you start, the sooner you'll be on the path to a healthier, happier you!
What are you waiting for?
Sign up right now
to get started today—and feel happier, healthier and refreshed from the inside out in 30 days. (Be sure to follow us on
Facebook
,
Pinterest
and
Twitter
, too.) Let's do this!
Will you be participating in our 30-Day Fit & Fiber-Full Wellness Challenge? Let us know in the comments if you're up for the challenge!
Hopefully, you've fallen in love with SparkPoints and use them to help motivate you along your healthy-living journey (you can see all the different ways to earn them
here
). To make SparkPoints even more fun, we're going to have a contest most months where you can win prizes for reaching certain SparkPoints levels. We also added a handy progress bar on your Start and SparkPoints pages to help you see how you are doing each month.
For September, we're going to do a drawing out of everyone who earns at least 300 points. We'll be giving away:
- A $100 Amazon gift card
- 5 Spark Activity Trackers
You don't need to do anything to enter, other than earn SparkPoints!
Click here
for contest rules. Good luck, and have fun!
SparkCheers!
The SparkPeople Team
Flowers and trees are pretty, but sometimes a walking workout needs a bit more than scenery to keep things interesting. Incorporating intervals and strength-training moves into a walk not only adds variety, but also challenges your muscles and can boost your metabolism. Dallas-based trainer Kim Truman developed this varied walking workout, which includes three different intervals and three body moves, for people looking to break up their usual walks.
Keep boredom at bay today with this fun, heart-pumping workout.
Read More ›