SparkPeople Blog Most Recent Post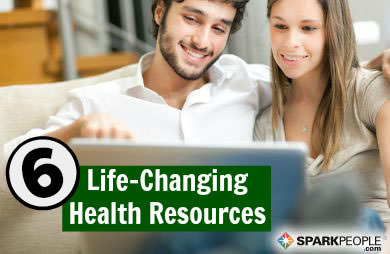 Getting motivated is tough, and staying motivated is health's million dollar question. You might be able to muster up the will to get to the gym a few times a week for a few weeks and then… nothing. Working out starts to feel like a slog. You fall back into your old TV habit and the next thing you know, you're back on the couch instead of taking that after-dinner walk or meeting a friend for tennis. Inspiration can be especially sparse if you're balancing a crazy work schedule, kids, aging parents, and everyday chores. But the good news is, there are now more motivational tools out there than ever to help you get (and stay) inspired to live a healthier life. One of the following helpful resources is bound to help you stick with your goals for the long haul!
Read More ›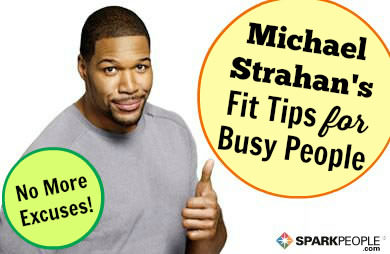 Editor's Note: We had a chance to sit down and chat with former NFL football player and current television star, Michael Strahan, who was kind enough to share with us his tips on balancing fitness, nutrition and motivation while leading a busy life. We'll be sharing his best tips in this ongoing series, "A Minute with Michael."
Between television appearances, media events, constant travel and time with his kids, Michael Strahan has a lot going on (to put it lightly!). But despite a jam-packed daily schedule, Michael knows that it's important to maintain a healthy lifestyle in order to keep up with it all. When we asked Michael how he manages to fit exercise into his full days, he had some great advice for us.
Read More ›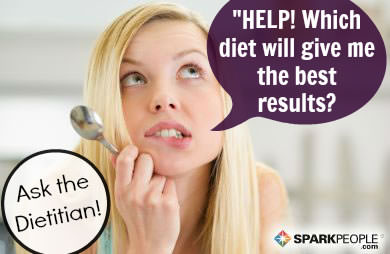 Are you bombarded in the break room by the latest diet adventures of your co-workers? Are you thinking about starting that metabolism-boosting diet splashed on the cover of your magazine? You'd love to lose 30 pounds. But where do you begin? Eliminate carbs, reduce your fat, count points, track calories, push protein, use prepared meals? Is your head spinning from all these choices?
Read More ›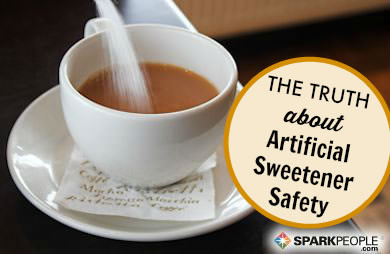 Have you ever wondered why just about everyone likes sweets? Stop wondering. The fact is we are born with an innate desire for sweet taste. And we begin to enjoy sweet taste as soon as we taste mother's milk or infant formula. Some believe that desire was nature's way of leading us to foods that had calories for survival.
As rates of obesity continue to rise in many countries, we know that too often we eat more sweet foods than we need for survival! The problem occurs when we overindulge in our desire for sweets and consume more calories than we burn off. But there is a way that we can have our cake and eat it, too--by choosing foods and beverages sweetened with low- and no-calorie sweeteners. That's one reason why these ingredients were initially developed--to allow us to enjoy sweet things with fewer calories. Another reason is to provide sweetness without sugar that increases blood glucose, so that diabetics could enjoy these foods. However, as an expert in food ingredient safety, I am often asked: are sugar substitutes such as aspartame or sucralose safe?
Read More ›
When we released the new, FREE version of our Nutrition Tracker app earlier this year, we asked for feedback about what would help YOU get more out of SparkPeople. You gave us some great ideas, so we took the most popular suggestions and built them into the app.

Starting today, you can update your app and enjoy these new features:
Take the SparkPeople Community with you! We've built mobile chat boards right into the app for easy access wherever you are. You can also easily check your SparkPage on the go.




Want to set a small reminder to help you reach your goals? Check out th

e new (free!) SparkPeople Coaching Center. Here, you can get small reminders, coaching notifications, and great advice from our SparkPeople food, fitness, and motivation experts.


Connect your favorite fitness tracking device with our app! Set up your Fitbit, Jawbone Up, or RunKeeper app to feed your step data into your SparkPeople account from your mobile phone.
These updates are available now for both Android and iPhone users. If you're new to our Calorie Counter and Weight Loss app, you can download it at Google Play, the Apple App Store, or the Amazon App Store. Give it a try and tell us what you think! Thanks and SparkCheers!
No equipment? No problem! This quick set of exercises is guaranteed to fry your thighs using just your body weight and a small amount of space (making this routine perfect for travel!). Try this lower-body circuit as its own workout (1, 2 or 3 times through depending on how much time and energy you have), add it to your strength routine or try it after a cardio session for one short, but serious, lower body sculpting session.
Keep an eye out for Peanut the French bulldog, who also joins us for this workout (well, sort of)!
Leave me a comment below and let me know if you tried the workout. What was your favorite (or least favorite!) move?
Want more? Click here to try more of our
lower body routines on JESSICASMITHTV!
Like this workout? Be sure to subscribe at
Youtube.com/JessicaSmithTV
to access a full library of over 200 FREE full-length workout videos. New episodes air every Saturday at noon EST!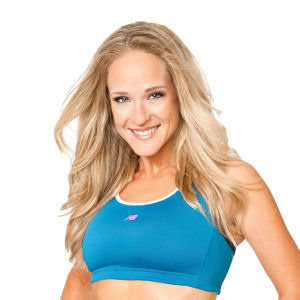 About the Author
Jessica Smith
is co-author of the
Thin in 10 Weight Loss Plan
(Sunrise River Press, 2012), and a certified wellcoach, personal trainer and group
fitness
instructor. Having started her own
fitness
journey more than 40 pounds ago, Jessica knows how challenging it can be to lose weight (and keep it off). Recently named one of
Sharecare's Top 10 Online Influencers
, she loves finding and sharing the latest info on weight loss, fitness, and
healthy
lifestyle habits. The star of several best-selling exercise DVDs, Jessica has over 13 years of experience in the industry, and holds a
bachelor's degree
in Communications from Fordham University.