SparkPeople Blog Most Recent Post
Spending so much time at work can make you worse for wear—and not just mentally. Sitting improperly can up your chances for shoulder, wrist, back and neck injuries. Worse, you may not recognize your body's warning signs, such as muscle stiffness, aching and fatigue, says Jean Duffy Rath, Dip MDT, a physical therapist in Syracuse, NY. That's why it's important to change your workstation to fit your needs. "You wouldn't drive without first adjusting your car seat—you need to do the same for your desk chair," says Dr. Duffy Rath, who suggests readjusting weekly. Here's exactly what to do to minimize pain at a desk job.
Read More ›
Mia Padilla-Schubert (JADEDCUP)Weight Lost:
113 pounds
Hometown:
Rancho Cucamonga, CA
Occupation:
Artist and Stay at Home Mom
What was life like before your weight loss?
I gained weight slowly after I got married. During my second year of marriage, I had a tubal (ectopic) pregnancy, and my weight gain really picked up. After trying to get pregnant for 10 years, my doctor found I had thyroid cancer. I lost a bit of weight after undergoing surgery and radiation treatments. One year later, I became pregnant. I watched what I ate and had a healthy baby girl! However, all of this was still not enough to make my changes stick. Using the excuse that I was a busy mom, I regained the 30 pounds I had lost plus an extra 60 pounds on top of that. At age 36, I was the biggest I had ever been, weighing in at 275 pounds.
I was achy all the time. My hips hurt and I couldn't sit in any seat for more than 20 minutes. It was humiliating to have to ask for extenders for the belts on plane trips. I had to lean into the center of my car to get my door to close all the way. My arms would go numb all the time from the pressure on them. I couldn't go on many rides anymore at fairs or amusement parks. I couldn't walk very far and had a hard time keeping up with my toddler.
What was your 'light bulb moment' that made you get serious about losing the weight?
One day after a parade, I had to roll over on to my knees to get up from where I had been sitting. My in-laws had to help me. I realized that I couldn't do it anymore. I just couldn't go on living the way that I had been. I was going around and taking my daughter to all sorts of places, but I couldn't actually do anything with her once we got there. I was always watching, never able to do. I was afraid that I would spend my life watching her grow up, always from the sidelines.
Tell us a bit about your weight-loss journey:
Read More ›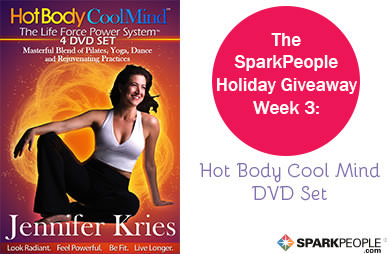 This giveaway is now closed. The 3 winners are:
BAFOXALL
MSTMARY
CATHYGETSFIT
Even though we're still full of turkey, we're super excited to announce this week's giveaway from
Jennifer Kries
, which will have THREE winners. Take a break from your holiday shopping to enter!
Read More ›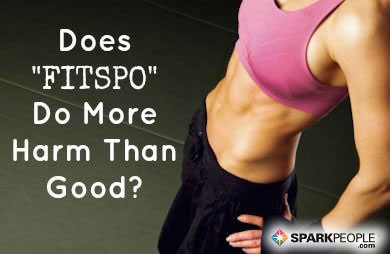 Warning:
The images and words in this post could be triggering to anyone who has had an eating disorder. "Strong is the new skinny." "When I exercise, I wear all black because it's like a funeral for my fat.""Skinny is not sexy. Healthy is."
You've probably heard or read the quotes listed above at some point. They're known as "fitspiration" or "fitspo" for short. Fitspo pictures and posters are typically images of extremely fit, lean, and muscular women, with motivational quotes on them like the ones displayed above.
Fitspo is
supposed
to be a healthy alternative "thinspo" (short for thinspiration). Thinspiration images typically display extremely thin women with motivational quotes regarding getting and staying thin. In general, these were first created by online users who wanted to inspire and support women with eating disorders to continue with their disorders and stay as thin as possible.
Yikes.
Good thing fitspo became popular, huh? At least now we have lots of healthy images floating around the web inspiring women to be healthy and strong instead of
skinny
, right?
Maybe not.
Read More ›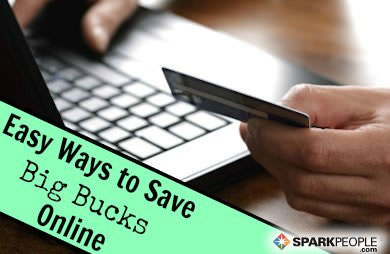 The Internet can be a treasure trove when it comes to getting the most for your money—but only if you know where to look. Denise Winston, author of
Money Starts Here! Your Practical Guide to Survive and Thrive in Any Economy
, and money-saving expert Andrea Woroch recommend the best sites to bookmark for bargains on food, fun and more.
CouponBlender.com
At this gateway to savings, you'll see dozens of deals at a glance from the top couponing destinations (the homepage is constantly updated with a slew of news feeds). Each of the featured sites includes a range of shopping categories, so you can snag coupons for groceries as well as your teen's favorite mall store from the same page.
Read More ›