SparkPeople Blog Most Recent Post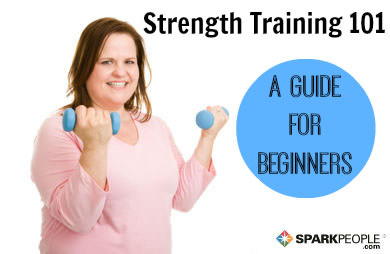 You know that strength training (also called resistance training) is good for your body. It can help you maintain and build muscle mass, rev your metabolism, make you a better recreational athlete, strengthen your bones and reshape your body. But unlike cardio, where you usually just pick an activity you enjoy and get out there and do it, strength training can be a lot more complicated to a novice. Most people don't just walk into a weight room, stare at the sea of weights, and know how to begin.
If you've never lifted weights before (or it's been a long time since you have),
it can be intimidating
to know how to start. There are so many weights, machines, classes and options. Which ones are right for you and your goals?
While the idea of strength training can be complex, hopefully these basics will point you in the right direction so you feel comfortable starting a training program.
Read More ›
Update (4/10/14, 12:45 p.m.):
Thanks to everyone who tuned in to watch today! Because live TV programming is subject to change, we wanted to let you know right away about a scheduling change. The planned 4 p.m. segment will not be airing today. We apologize for the inconvenience. However, you can still take advantage of this exclusive deal
at HSN's website
while inventory lasts! (P.S. If you missed my special announcement,
click here for the news
!)
Original Story:
Hey everyone!
I'm very excited to announce that I will be appearing on HSN this Thursday, April 10! This is going to be a big milestone for SparkPeople—a chance for us to get in front of many new potential members. And it's also a great opportunity for you, as we are offering an exclusive deal on a fitness bundle that you won't want to miss!
Read More ›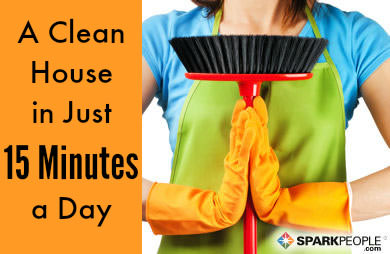 If you hate having a designated cleaning day, but love having a clean house, it can seem that the only solution is to hire a cleaning service. But that can be expensive, and many people who hire others to do the dirty work for them often end up cleaning before the cleaning staff arrives anyway! You can avoid spending an entire day cleaning the house if you break the housekeeping chores up into about 20-minute segments each day of the week. This will let you maintain a pretty clean house much of the time without having to spend your entire Saturday scrubbing.
Here we've broken up most of the cleaning necessities into shorter sessions you can fit into each day of the week—with one cleaning-free day off to enjoy your spic and span house!
Read More ›
Name:
Kim Phelan
Username: KIMPY225Amount of weight lost:
95 pounds
Hometown:
Richboro, PA
Occupation:
Clerical
Age:
28
While growing up, Kim played many different sports including soccer, softball and volleyball. In high school, she weighed 140 pounds. At the time, she felt overweight because most of the girls she knew weighed 120 pounds or less. When Kim started college, she weighed 155 pounds. Over the years, she kept gaining more and more weight until she reached 250 pounds. By that point she had stopped playing sports and stayed inside most of the time because she felt out of breath constantly and hated the way she looked. Unfortunately, she also didn't like herself enough to do anything about it.
Once Kim's doctor warned her that she had high blood pressure, which put her at risk for having a stroke, she knew she had to do something about her weight. Kim decided to do whatever it took to lose weight and be a healthier person. Learn how she accomplished so much more in the process.
Read More ›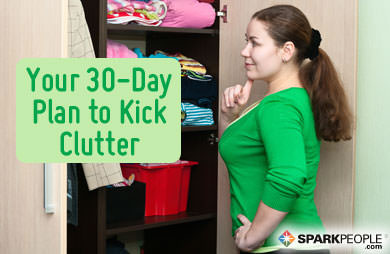 Clutter can get out of control in a hurry. Odds and ends get stashed in a junk drawer to remain for eternity. Mud rooms become places where muddy shoes land and never leave. Nightstands breed glasses of water and hand lotion and books. And bookshelves, well, they become catchalls for way more than novels.
So you want to declutter and maybe donate a few things to charity or gear up for a garage sale, but where on earth do you start? The thought of decluttering the entire house is understandably overwhelming. But we've got a process to help you break this massive task into manageable pieces: a 30-day plan to less clutter.
Depending on the severity of your personal clutter, some tasks may be best suited for longer weekend projects or divided into smaller tasks (such as a garage clean-up). But some are smaller and easy to fit into any day. No matter how long it takes you, each item on the list will have you one step closer to a cleaner house and a lighter outlook on life.
Read More ›
If you enjoy inspirational and motivational messages in your Twitter stream you probably already follow heavyweights like
@Deepak_Chopra
,
@DrWayneWDyer
and
@Oprah
. But Twitter is full of many lesser-known, but just-as-amazing thinkers, who share inspirational quotes, thoughts, questions and messages every single day. Here are the top 10 motivational Twitter streams you should be following right now:
Read More ›