SparkPeople Blog Most Recent Post
Perhaps the most common question I receive from patients is, ''I can't exercise because of knee arthritis. What do I do?'' Over 1 in 10 people over the age of 65 suffer from knee arthritis. This can make exercising more challenging. As a result, many people with knee pain from arthritis just stop exercising. This can lead to obesity, loss of muscle tone, worsening of the arthritis and depression. You heard that right--exercise improves knee arthritis, and lack of exercise makes it worse! If you have knee arthritis, there are some moves you may wish to avoid until your symptoms improve:
1. Bending the knee while bearing weight
2. Flexing the knee past ninety degrees
3. Stressing the ligaments by leaping from side to side
If the above moves cause you discomfort, below are some alternative exercises that will move the knee joint safely while strengthening all the supporting muscles.
You will want to be on the floor for most of these exercises, so take your time getting down and back up again. Use a thick rug or exercise mat for comfort. If you have a firm mattress, you can even do some of these moves in bed.
Read More ›
Hey, everyone! Today, we're excited to announce an update to the Android version of our Healthy Recipes app. We think you're going to love it!
Over the past few months, one of your most frequent suggestions was to be able to sync your favorite recipes back and forth between the app and the desktop version of SparkRecipes. Starting today, you can! Use your SparkRecipes or SparkPeople account to sign into our app for a fuller and more helpful experience.
Read More ›
Squats and lunges are two of my favorite classic moves to incorporate into lower-body workouts because they really work! However,as effective as they are, these particular moves can cause knee pain for a lot of people. The good news is that you can still effectively target the lower body with these alternative exercises that won't strain your joints. This full-length, low-impact workout doesn't include a single squat or lunge and is designed to be gentle on the joints but tough on your hips, thighs and glutes!
Read More ›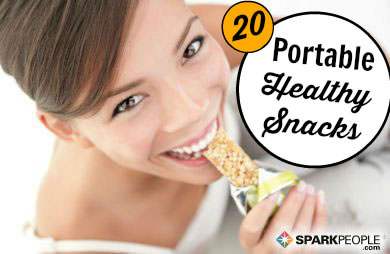 Editor's Note: We had a chance to sit down and chat with former NFL football player and current television star, Michael Strahan, who was kind enough to share with us his tips on balancing fitness, nutrition and motivation while leading a busy life. We'll be sharing his best tips in this ongoing series, "A Minute with Michael."
At SparkPeople, we believe that it's important to
keep healthy eating a priority
, especially if you're constantly on the go. Healthy food helps give you the boost of energy you need to help you feel your best and get through a demanding day. You might think you're too busy to consistently eat well, but it really is possible to fit in positive, impactful habits in minimal time. Take it from Michael Strahan, who always tries to make nutrition a priority--even in between endless travel and television appearances. When it comes to eating right, Michael says, "Preparation is key. Don't let yourself get caught without a healthy snack on hand. You never know when you might be stuck in traffic or held up at a meeting. When you're hungry, your mind is not in the mood to make good decisions. It wants to make the easy decision—and a lot of times, it ends up being something that's not great for you."
So, how do you avoid making that "easy" decision? Simple: Make eating healthy the easy decision! When you arm yourself with good-for-you snacks at all times, there's never an excuse to hit the drive-thru or office vending machine.
Read More ›
Now that school is back in session and you're getting into your fall routine, you're going to need after-school snacks and quick weeknight meals you can prepare in a flash to keep those kids happy and healthy. And you probably have just the secret weapon to do it—your microwave! From defrosting frozen items to preparing side dishes for dinner, your microwave may be an overlooked tool in your kitchen.
Read More ›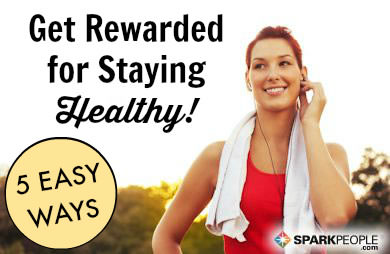 You know how health insurance works: You pay a premium, you pay a deductible and sometimes you also pay a copay. It can feel like a lot of paying, all told. But health insurance doesn't just have to cost you money. Health insurance companies have an interest in you staying healthy and preventing chronic illness, too. After all, someone who is healthy will end up living a longer, happier life--and spending much less on medical expenses.
While yesterday's insurers took a here-and-now approach, today's companies are offering a host of
health-promoting incentive programs
to help their members prevent and manage health conditions. These programs are painless and powerful motivators to keep up healthy habits. Every insurance company is different, but most of the time, all it takes is a quick, baseline assessment in which you create personal, measurable goals (like getting a check-up or tracking workouts), and you'll soon be earning rewards. These rewards most often consist of discounts or points toward the purchase of items or services (like exercise equipment, movie tickets, hotel stays and more) simply for doing basic health-related tasks. Here are some of the ways you could reap rewards from your insurance company (many of which you would probably do anyway!).
Read More ›