SparkPeople Blog Most Recent Post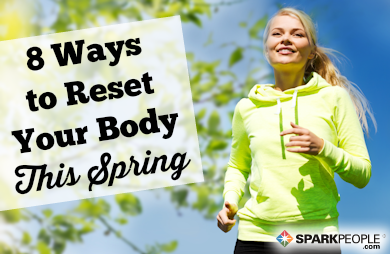 Spring is just around the corner, and we couldn't be more excited! If you're like most people, you probably spent the past several months curled up under blankets, eating comfort foods and forgoing exercise due to nasty weather. With its warmer weather, beautiful scenery and fresh energy, there's just something about the arrival of spring that urges us to make a new start. Are you ready to come out of hibernation and recommit to your healthy habits? Here are some of our favorite ways to get back on track after a long, sedentary winter.
Read More ›
It's been a long time coming, but spring is finally on its way! There's something about the season of rebirth that makes us want to start fresh and re-prioritize our goals. Do you have an ongoing health goal you've been wanting to reach for months (or maybe even years)? It's time to reach it for good with the
30-Day Healthy Habits Reset Challenge
! Over the next month, we will be serving up steps to help you find balance in your life and accomplish your biggest healthy goals--all in a fun, bite-size challenge format.
Read More ›
St. Patrick's Day is usually synonymous with corned beef, cabbage and pints upon pints of green beer (not to mention other unnaturally-dyed foods). But this year, we're celebrating in a way that's both fun
and
good for you! Starting tomorrow and leading up to the day before St. Patrick's Day, we'll be challenging ourselves to get in
five servings of green fruits and veggies every day
—and we want you to join us on Instagram! Even if you don't celebrate St. Patrick's Day, this is still a fun challenge to help you eat those freggies. (And if you are celebrating St. Paddy's in the usual ways, it's a nice way to get in some nutrients before indulging in all that green beer!)
Read More ›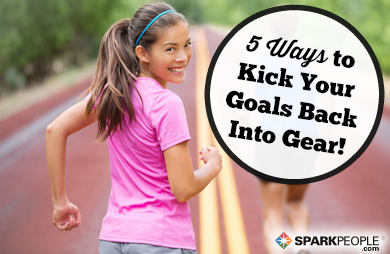 At this point, the novelty of the New Year has worn off. Hopefully you're still going strong with your healthy living goals. However, if motivation is starting to wane, don't despair! You aren't destined to fall back into old habits, or fail at those goals you set just a few months ago. There are simple ways to get back on track and refocus so that this becomes
YOUR
year of permanent change. Are you ready to get started?
Read More ›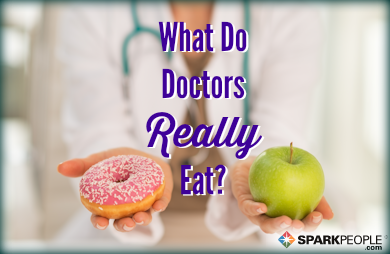 Fact: Doctors love to eat. It is a truth that I learned early on in my medical training and one that has followed me through my career. To survive long shifts and a revolving door of patients, I quickly learned that a solid meal is key, but that doesn't always mean we have time to sit down for a nice meal of quinoa and kale. For doctors, food is energy, plain and simple, and that means carbs, fats and proteins that can be procured and eaten quickly on breaks.
As the treadmill of my life as a surgeon cranked up to full speed, I adopted these poor eating habits to cope with my increasingly hectic schedule. Sporadic eating throughout the day led to overeating at dinner, and bribing nurses with glazed croissants ended with indulging in one or two sweet treats myself. I gave little thought to nutritional value or savoring the taste of what I was eating and thus, as my practice grew, so did my waistline.
Suddenly, 20 years had passed since my days as an eager intern, and my weight was up--along with my cholesterol, triglycerides and blood sugar. Who knew I couldn't just tell my patients how to be healthy without following the same advice myself?
But then I realized something great: It was not too late to make a change. I could save my patients and myself at the same time. Yes, there is a donut shop on the first floor of the hospital, but I don't have to frequent it. While there are bays of elevators taking me up to the 8
th
floor to see patients, I don't have to use them.
In the end, it is about finding the right balance.
The secret to healthy living is not a fad diet or some short term sacrifices; It is about making good choices, most of the time. I am not perfect, but my weight is down, my blood sugar levels are normal and my cholesterol is under control. I don't count calories, but I do exercise five days a week, alternating cardio and weight training.
Read More ›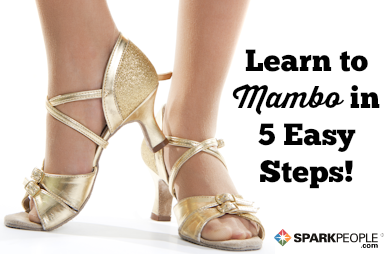 Dancing is one the most enjoyable exercises you can do to be healthy and ecstatically happy while getting fit and losing weight! Dance is fun and exciting, and you're always learning something new and interesting. All you need is your two feet and your favorite music. The best part is that there is no prior experience necessary! The more you dance and the longer you do it, the better it feels and the more skillful you become. Not only can dance workouts can burn up to 1,000 calories in one hour, but dance also builds stamina, strength, agility and flexibility. Dance also helps to lower blood pressure and cholesterol, promotes a healthy immune system, and can even help you sleep better and reduce the symptoms of depression. Try it and see for yourself how good you feel after! Here are some simple and fun dance moves for everyone to try at home.
Read More ›