SparkPeople Blog Most Recent Post
Summer brings to mind a number of scents—sunscreen, salty sea air, chlorine—but for our money, the smell of a hot grill cooking up a meal is the best of them all. Whether you're making lunch or dinner for you and the family or you're entertaining guests, grilling is a great option for making quick, flavorful and healthy meals. From chicken to pizza and everything in between, there is an easy grilling recipe for you to love! Fire up the grill and try one of these new recipes this summer.

Tropical Grilled Chicken
This sweet and savory chicken is delicious as is with a side of grilled veggies, but can also be shredded for tacos.
265 Calories, 3g Fat, 34g Carbs, 28g Protein
Grilled Garlic Citrus Flank Steak
Pair this flank steak with
Chef Meg's Garlic-Citrus Parsley Sauce
, plus a green salad and some whole-grain bread--warmed on the grill, of course!--for a completely delicious meal.
231 Calories, 12g Fat, 4g Carbs, 24g Protein

Simple Grilled Salmon
If you've never considered grilling salmon, this recipe will change your mind. Fresh dill and lemon shine through in this light, quick and easy dinner.
210 Calories, 10g Fat, 0.5g Carbs, 29g ProteinSouthwestern Grilled Pork Tenderloin
The "other white meat" is perfect for grilling! The simple four-ingredient rub helps create a very flavorful dish.
170 Calories, 5g Fat, 1g Carbs, 28g Protein
Honey Grilled Chicken Breasts
Ginger and garlic are the stars of the sauce in this easy chicken dish. Just marinate overnight and throw it on the grill the next day.
189 Calories, 3g Fat, 12g Carbs, 27g Protein
Balsamic Grilled Chicken Breast
The marinade in this grilled chicken recipe can be easily altered to suit your taste. The final product pairs nicely with roasted potatoes, a green side salad and fresh fruit.
210 Calories, 10g Fat, 3g Carbs, 26g Protein
Lime-Grilled Chicken with Cuban Salsa
Looking for a lot of flavor? This lime-grilled chicken is bursting with fresh, tropical ingredients that are sure to please your taste buds.
373 Calories, 7g Fat, 30g Carbs, 48g Protein
Grilled BBQ Chicken Flatbreads
A fun take on pizza that is also lighter on calories! Pile on extra veggies to make it even more nutritious.
233 Calories, 5g Fat, 21g Carbs, 26g Protein
Grilled Pesto & Ricotta Stuffed Chicken Breasts
This delicious chicken recipe requires just four ingredients and takes no more than 25 minutes to make.
382 Calories, 15g Fat, 2g Carbs, 55g Protein
5-Ingredient Grilled Rosemary Chicken Breast
Grilling doesn't get much easier than this chicken, which cooks up in just 15 minutes. Serve with a green salad, summer fruit and whole-grain bread to round out the meal.
170 Calories, 7g Fat, 1g Carbs, 26g Protein

Stuffed Portobello Mushrooms on the Grill
These cheesy stuffed mushrooms are the versatile food every grill master needs. Serve them as an appetizer, a light vegetarian meal or a hearty side dish.
94 Calories, 4g Fat, 10g Carbs, 7g Protein
Grilled Perch with Citrus Salsa
Citrus and cilantro really complement this grilled fish. The light perch goes well with brown rice or whole-grain tortillas warmed on the grill, along with a salad or steamed vegetables.
241 Calories, 8g Fat, 13g Carbs, 29g ProteinWhat is your favorite grill-out recipe? Which of these recipes will be on your grill this summer?Click here for more grill out recipes and resources.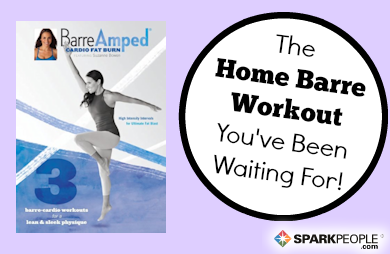 As a busy mom of four, my only time to exercise is before the kids wake up in the morning. DVDs are a regular part of my workout rotation, and I'm always looking for new ones to try. I was excited to check out the
BarreAmped Cardio Fat Burn
DVD to see if it's something I could add to my routine.

BarreAmped Cardio Fat Burn promises ''high intensity intervals combined with body changing barre exercises. You'll do Tabata style workouts, longer cardio intervals, low impact fat blasts and sculpting exercises to hit every main muscle.'' The DVD has 3 different workouts: extreme cardio fat burn (26 min), cardio sculpt (17 min) and cardio core (17 min), as well as a 2-minute warm-up and 12-minute cool-down stretch. So, does the workout deliver on its promise of ''extreme results''? Here's what I thought.

Read More ›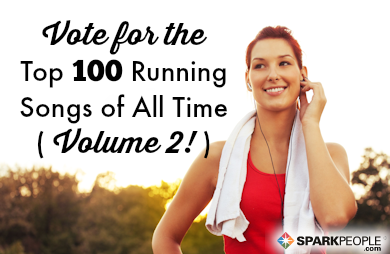 If you've been around SparkPeople for a while, you might remember when we created a list of the
Top 100 Running Songs of All Time
a few years back. Since more great running tracks have come out in the meantime, we decided we were due to create a Top 100 Running Songs of All Time: Volume 2!
Based on your suggestions for songs and artists that we missed in the first list, plus newer tracks that have come out in the past three years, we've created a list of
songs for you to vote on
(you can also write in your own favorite picks that we might have missed). The top 12 songs of the bunch will be made into a continuous playlist that's re-mixed at exactly the right BPM for running to help you become a faster, stronger runner!
Let your voice be heard: Vote for your favorite running songs
here
! Thanks for helping us put together another great list!
What's your favorite running song right this second?
Did you know that simple things like standing taller, engaging your abs and even walking sideways can help you walk further and faster, all while helping you burn more calories?
Here are a few walking posture tips to help you make the most of every step (think of the word P.A.C.E. to help you remember these!)
Read More ›
Whether you're newly diagnosed or have been managing diabetes for years, you know that out-of-pocket expenses can add up fast. The American Diabetes Association reports that, on average, people who have been diagnosed with diabetes spend more than twice as much on medical expenses than people who don't have diabetes.
1
Here's how to keep costs down while managing your diabetes as effectively as possible.
Read More ›
June is coming up fast, which means sweet, sweet summer is almost officially here! With its gorgeous weather, abundant produce and huge variety of outdoor activities, summer is the perfect time for reaching new health and fitness milestones. If you've been looking for a little extra push to get a leg-up on your healthy-living goals for summer, look no further! We're here for you with a new challenge to help you build up some seriously strong momentum as we dive into the season.
From June 1 through June 21
(the official first day of summer!), we're challenging YOU to
''Streak into Summer"
with us.
For these next 21 days
, we'll give you one simple daily action to help you get on the fast track to a healthier, happier you this summer.
Read More ›