SparkPeople Blog Most Recent Post
Are you newly diagnosed with celiac disease or gluten sensitivity? Feeling overwhelmed and aren't sure how to start a gluten-free lifestyle? You've come to the right place! Join the 30-Day Goodbye Gluten Challenge to get tips, meal ideas and more. It's just the blueprint you need to teach you gluten-free basics and help you phase gluten out of your diet to start feeling better in no time.*
Read More ›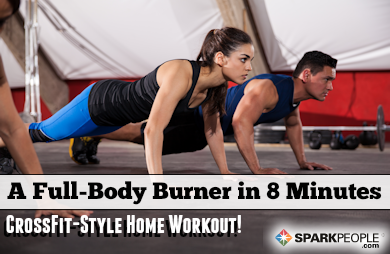 AM
what
? You might have heard the term "AMRAP" floating around on fitness blogs in recent years as CrossFit has surged in popularity. AMRAP is an acronym for "as many rounds as possible" and is a component of many CrossFit workouts in gyms (or "boxes") around the world. In an AMRAP, you are given a circuit of exercises to do, and you must complete as many rounds of those exercises within a given time frame. It's a time-efficient way to work up a sweat, and it can be done virtually anywhere with minimal equipment!
Read More ›
You wake up feeling a bit less than your best: Achy, fatigued, sniffly nose--the works. Yep, seems like you're getting sick (ugh!). But you've got a workout already planned for today, and you took a rest day yesterday. Should you push through your planned workout or take it easy?
When you're sick and are debating a workout, the first general rule of thumb is simple. When you're deciding whether to head to the gym or stay home and cozy up to that bottle of DayQuil, consider "the neck rule" first. If your symptoms are exhibited above the neck (i.e. runny or stuffy nose, watery eyes, scratchy throat), then it is safe for you to head to the gym (but bring some tissues!). If your symptoms fall below your neck (i.e. chest congestion, coughing, or if you have a fever and are taking medications to control your symptoms), you might want to use that gym bag as a pillow instead. Having to press pause on your weekly workout routine can be a motivation killer, but a fully functioning body is your best weapon to stay healthy and fit.
Read More ›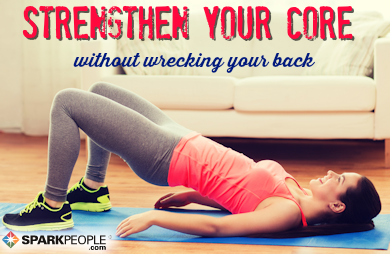 The muscles of your core work together to support posture, protect the spine and improve agility, balance and power, making core strength training an important part of any fitness routine. Unfortunately, for many people, core strength training and back pain or discomfort go hand in hand. Often resulting from weak muscles and poor form, back pain is no reason to avoid core strength training, though. In fact, properly performed core exercises can simultaneously help protect your back and strengthen the abs at the same time.
Decrease the probability of injury with these back-friendly core strength exercises.
Read More ›
The walk-up song is a time-honored tradition in Major League Baseball, offering players a brief moment in the big game to express themselves—and oftentimes their culture or state—by way of song. A great walk-up song has the power to get fans up on their feet, maybe intimidate the pitcher and make that long walk from the on-deck circle to the batter's box a walk that inspires confidence and a bit of swagger. While some players opt for
viral guilty pleasures
, an
unexpected slow jam
or the
not-so-subtly smug
, most players pick beats that get their adrenaline going and the crowd jumping, making them perfect for cardio or HIIT workouts.
To celebrate the return of America's National Past Time, we pulled together a spring soundtrack featuring a walk-up song from one player on each team in Major League Baseball. These are the songs that get baseball's All-Stars, Golden Glove winners, Rookie of the Year recipients and popular players pumped when they step into the batter's box, so pop in your headphones and find out if they have the right stuff to get your heart pumping, too.
All music from MLB.com.
Read More ›