40 Upbeat Songs to Make Your Workout Fly By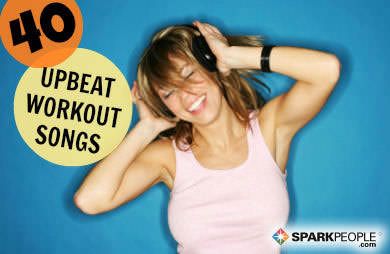 I think most exercisers agree that listening to some great music goes a long way when you're working out. It helps increase your energy and motivates you to work harder. In many ways, it even distracts you from the discomfort of exercise so that you'll keep going even when it's tough.

However, not just any music will do. We all have our own tastes and preferences for what we like to listen to when we exercise: pop, dance, techno, rock, metal, hip hop (Coach Jen's favorite), or all of the above. Sometimes, it's not the genre that matters; it's the pace (or beat). Others like inspirational lyrics. Personally, I think the beat matters. It has to match the pace of my workout—something I can't listen to and sit still. At the very least, I want to know (or be familiar with) the song that's playing. When I go to Spinning class, for example, and I encounter music that's too slow for the tempo of the workout, or too obscure for me to "escape" by singing along with the song in my head, I am not a happy exerciser.

Recently, I've been thinking about song length. Most radio hits are around 3 minutes long—you'd have to listen to 10 songs to get through a 30-minute workout—make that 20 for a full hour! I don't know about you, but my mind perceives that as a long time. So I've started to incorporate some longer songs into my playlists. Think of it this way: Would you rather know you have to exercise through 20 songs or 12? I pick 12. So I've gathered some of my favorite 5-minute workout songs to share with you! By selecting any 6-12 of them, you'll have a 30-60 minute workout playlist that's upbeat and motivating. As each song passes, you'll know you've hit a 5-minute milestone in your workout. Stop watching the clock and start working out with these songs!

Click on each link to listen to a preview (or purchase the mp3) at amazon.com.

Aerosmith – Sweet Emotion (5:10)
Angels & Airwaves – The Adventure (5:12)
Audio Bullys –Bang Bang (My Baby Shot Me Down) (5:48)
Beastie Boys –Body Movin' (Fatboy Slim Remix) (5:32)
Benassi Bros – Feel Alive (4:49)
Coldplay – Clocks (5:09)
Dave Matthews Band –Drive In Drive Out (5:54)
Dave Matthews Band – Tripping Billies (5:00)
DJ Sammy –Boys of Summer (4:55)
Fatboy Slim – Praise You (5:23)
Fatboy Slim – Wonderful Night (4:46)
Faze Action – Samba (5:55)
Flock of Seagulls – I Ran (5:07)
Global Deejays – What a Feeling (Progressive Follow Up Mix) (5:28)
Jefferson Starship – We Built This City on Rock & Roll (4:58)
John Mayer – 3x5 (4:50)
Kanye West – Stronger (5:11)
Lauryn Hill – Doo Wop (5:20)
Lo Fidelity Allstars – Battleflag (5:36)
Lynard Skynard – Sweet Home Alabama (5:00)
Madonna – Get Together (5:31)
Madonna – Ray of Light (5:20)
Michael Jackson – Thriller (5:12)
Miranda –Vamos a la Playa (Ibiza club mix) (5:09)
My Chemical Romance – Welcome to the Black Parade (5:09)
New Radicals – You Get What You Give (5:02)
New Radicals – Mother We Just Can't Get Enough (5:45)
Oasis – The Shock of the Lightning (5:10)
Outkast – Bombs Over Baghdad (5:06)
Red Hot Chili Peppers – Dani California (4:40)
Rusted Root – Ecstasy (5:02)
Silversun Pickups – Lazy Eye (5:54)
Sonique –Feels So Good (5:25)
The All-American Rejects – The Last Song (5:00)
The Jacksons –Shake Your Body Down to the Ground (5:19)
The Killers – All These Things That I've Done (5:02)
The Music – Take the Long Road and Walk It (4:53)
The Verve – Bitter Sweet Symphony (5:59)
U2 – Walk On (4:58)
Vinylshakerz – One Night in Bangkok XXL Mix (5:22)

Do you prefer exercising to short songs or long ones? Which songs above would you add to your own playlist?



You will earn

5

SparkPoints

Like what you read? Learn more

about SparkPeople,

or

sign up

for your free account today!
Got a story idea? Give us a shout!